Working on concrete day in day out can be unforgiving, especially to your feet and shoes. You expose your feet to toxic chemicals and injuries. Also, your shoes wear off super-fast. That means you spend hundreds of dollars on replacing pairs of shoes now and then. The only remedy to this issue is getting the best Rubber Boots for concrete work
Purchasing the best rubber boots for concrete work will  safeguard your feet from harsh chemicals and save your shoes from wear and tear. Our experts have selected for you the top best five rubber boots for concrete workers. That will save you from the daunting task of going through hundreds of rubber boots in different stores.
Quick Comparison Table
5 Best Rubber Boots For Concrete Work
In this section, I'm going to review for you for the first time, five of the best rubber boots for concrete work you will find in the market. Let's start …
1. TREDS Super Tough 17″ Pull-On Stretch Rubber Over Boots For Rain, Snow, And Construction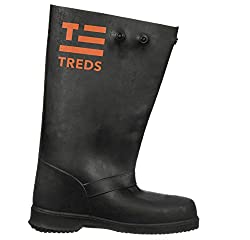 TREDS take care of the construction, gardening, landscaping, and other manual workers by providing safety footgear. If you are looking for all-purpose work boots, TREDS will help get you the best boots ever. Whichever area you specialize in, these tough 17″ boots will protect your feet and keep you dry. Click here to see today's price on Amazon. 
TREDS Super Tough boots are 100% natural latex, meaning lightweight and flexible. The boot is a super fit for your foot, depending on your size. They also stretch to accommodate your foot contours without causing sores.
TREDS offers a tight fit with no need to size up if you are worried about fitting over a leather work boot. TREDs expand ideally for your leather boots to fit in and slide out.
Ever had an awful experience with boots that tore and won't patch up? TREDs boots are extra durable. It is super easy to patch up the hole with a tire patch or super glue if yours gets a puncture.
With no left or right leg specific, these boots are grab-and-slide protective footwear.  It doesn't count which shoe you order. You can match the backup shoe regardless of the left/right order.
A perfectly fitting boot is a safety precaution at the workplace. TREDS comes with a sizing chart to get you the perfect fit for your feet. With the boot's flexibility, it is easy to glide your heel and pop out the boot out.
Pros
Flexible wear.
Stretchy boots that slide on easily.
Heavy-duty and long-lasting.
Boots hold up perfectly.
Keeps feet comfortable and dry.
Cons
Related: Best work boots for working on concrete all day
2. Servus By Honeywell Men's Knee Rubber Boots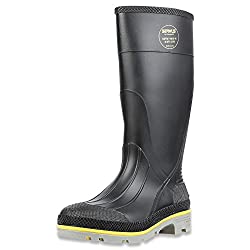 Honeywell men's knee boots are seamless footwear molded to give your feet the utmost protection. The 100% waterproof material keeps your feet dry all day long. These best boots for concrete workers are knee-high and come with a unique comfort technology that keeps your feet in position while stationary or on the move. Click here to see today's price on Amazon. 
The scalloped top-line design also allows comfort regardless of your posture at work. And to be safer, these steel toe concrete boots come with a steel toe (ASTM F2413-05 standard) for impact protection.
With the Trac10 outsole design, the boot is slip-resistant. Its unique design increases stability and lets you work confidently without the fear of slides and falls. A contour heel cup combined with the insole design holds your heel in place, giving more stability.
If you have to work all day long in boots, you deserve comfortable to wear to accommodate your foot contours perfectly. The foot form contour insoles function as a cushion. These perfectly fitting PVC cushions are removable and washable for hygiene purposes.
In addition, the PVC injection moldings include a Triple Density Technology that protects boots from harsh chemicals and degradation.
With Servus Men's boot, you will toil in your farm, construction site, factory, and even walk over flooded walkways and oil rigs without any leakages. The boots are easy to clean. Run water over them, and you are all set for the next day's tasks. An open pattern outsole cleans itself off debris and liquids as you work and walk.
With Servus, you no longer need to bargain with durability, safety, and comfort.
Pros
Good fit.
Comfortable footwear.
Variety of colors.
Lightweight and well built.
Excellent arch support.
Cons
Not durable.
It sucks in water.
3. Muck Boot Adult MuckMaster Hi-Cut Boot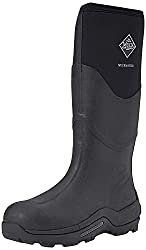 This black commercial muck boot comes in handy for concrete workers, landscapers, gardeners, and all sorts of farm activities. The boots are calf high (up to 20″tall) to keep you dry as you wade through dew and muck in your farmland or field. Additionally, the MuckMaster boot has stretchy fit comfort rubber overlays that prevent your calf muscles from debris and hurt. Click here to see today's price on Amazon. 
The muck boot comes with a unique warmth design to prevent chills as you spend long cold hours outside. Thanks to the 5 mm neoprene that not only retains heat but also absorbs shocks. The Neoprene adjusts to your feet' contours as the day progresses for exceptional comfort.
Your feet require fresh air circulation to cool them and prevent sores. The rubber boots for concrete workers come with breathable air mesh lining and a thermal foam perfectly fixed under the footbed to allow air circulation inside.
With MuckMaster, you are looking at extra durability. The boot is extra thick, 100% waterproof, and comes with a heavy-duty traction sole reinforced enough to wade in mud, concrete mixture, and snow.
Crush-resistant toe, insulation, vulcanized rubber, Nitracel EVA liner, and all-weather boots are what spells concrete boots. All these features are available in MuckMaster boots to give you peace of mind and extra comfort as you handle the most demanding and dirtiest chores at the workplace.
 Pros
The thick lining keeps feet warm.
Flexible and comfortable.
Excellent waterproof.
Great value.
Quality boots.
Large tractions to facilitate walking in uneven terrains.
Cons
PVC material is prone to cracking.
They do not do half sizes, thus a considerable size difference.
4. Kraft Tool Gg923 Over The Shoe Construction Boots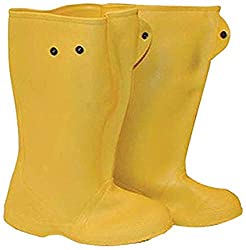 Made in the USA, the Kraft Tool GG923 ends your search for the best concrete pouring boots. That is if you are looking for over-the-shoe tall boots. The 16-inch, size 13 construction boot is a perfect boot for protecting your feet and shoes in construction sites, industries, garbage sites, and other dirty, wet, muddy, and risky areas. Click here to see today's price on Amazon.
Its design which stands for rugged and durability, is a heavy-duty feet protection wear for rough conditions. You can wear the concrete pouring boots comfortably for long hours as the closures adjust according to your foot contours.
One of those is the snap closures that feature on the top. It adjusts and provides a secure fitting for your leg. With this boot, you have the option of using it over your shoes.
If you wear size 11 or 12, you can easily slide your shoe in and out of the Kraft Tool boot. We recommend that you purchase a boot that is one or two sizes larger than your shoe size. If you got size 11 or 12, the size 13 would hold your shoe safely inside without the risks of sliding out or getting too tight.
On the outsole are deep tractions to facilitate an easy walk on rough, muddy, snowy, slippery terrains. Even on a construction site, the rubber concrete boots do not feel concrete, debris, or uneven floors. With a 16″ tall boot, that is an assurance that your feet are kept under protection anywhere, anytime.
Pros
Perfect fit.
Great over the shoe's boots.
Ultra-light.
Durable and handles tough jobs.
Cons
5. TIDEWE Rubber Neoprene Waterproof Boots for Men And Women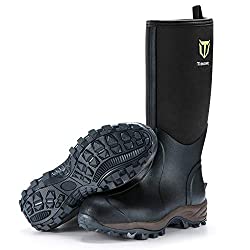 If you area hunting or arctic outdoor activities enthusiast, TIDEWE Neoprene boots for men and women are the perfect option. The footwear is also a plus as rubber concrete boots for light concrete works. TIDEWE comes in handy in extreme outdoor conditions, including cold or heat. Click here to see today's price on Amazon. 
The rubber boots for concrete work have a heat-resistant insulation material known as Neoprene. The material is 6 mm thick to keep your upper foot warm and comfortable. Even on a rainy day, nothing will stop your plans as long as you have TIDEWE rubber neoprene boots. The boot comes with a lower rubber part right above your ankle.
All the upper part of the boot comprises a heavy and water-resistant material. That allows you towork on foot deep concrete mixture or even cross a creek. You can also stand in a foot deep water body without a drop sipping into your boots.
With TIDEWE, you will comfortably sneak out with 100% waterproof boots that are lightweight and anti-slip. The watertight sections material includes a CR flex-foam, which retains heat, absorbs shocks, and allows your foot to walk with flexibility.
Wading on rough terrains such as swampy or muddy areas requires featherweight footwear. Neoprene Boot is unbeatable, light in weight, and comprises 15-way stretch nylon that keeps your feet in a comfortable position even in an extreme setup.
Pros
The inner lining Insulation keeps your body warm.
Clear size chart to get you a perfect fit.
Unisex footwear.
Top-quality boots.
Comfortable grip for extreme conditions.
Cons
Misleading sizes.
Not ideal for heavy construction work as it's not entirely rubber.
Related:  Women's work shoes for concrete floors
Does Concrete Ruin Rubber Boots?
One of the questions you will have before you order your boots is whether concrete will ruin them. That is if you work in a construction site or you are looking for a multi-functional boot. Rubber boots come in different designs and purposes. You will find light, medium, or heavy-duty rubber boots.
Other designs will have rubber material just above your ankle and a super heavy one on the upper portion. The answer to whether concrete will ruin your rubber boots will depend on the kind of boots you order. If your purpose is to perform concrete tasks getting the proper rubber boots for concrete work will guarantee your shoes a longer life.
Tips to ensure that concrete does not ruin your rubber boots:
Buy concrete pouring specific boots like Treds
Get heavy-duty boots.
The boots should be all-rubber material.
Clean boots regularly to remove concrete debris.
Get well-fitting boots; larger sizes let debris inside, thus ruining the inside.
Final Thoughts
You have up to five rubber boots for concrete work on your notebook; the choice is yours. To make a perfect choice, you can narrow down the search by considering the cost, durability, weight, design, and flexibility, among other factors. Getting an excellent fit will give you the best rubber work boots for working on concrete all day.