In this review I'm going help you identify the best farm boots for men and women. Also, you will know, among others, the best rubber boots for farm work, best farm boots for hot weather, best women's boots for farm work, and waterproof farm boots.
Later, I will show you five things you need to look for when sourcing out farming boots. But, first, here is a list of the best farm boots you can trust:
Quick Comparison Table
The Best Farm Boots for Men and Women
1. Irish Setter Men's 83624 6″ Steel Toe Work Boots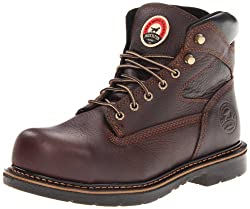 These 100% leather boots are all you need for your daily farm work activities. Being on your feet all day, you require a boot with a good shaft to keep you comfortable. The Irish Setter boot has a 6.25-inch shaft from the arch.  Click here to see today's price on Amazon.
To make sure that your feet are protected from heavy falling objects, these boots are steel toe boots and meet ASTM F2413-11 standards. Therefore, impact from any objects on the farm should be none of your concern.
Having a synthetic sole made of hard rubber, if you are afraid of slipping on the farm, worry no more. The hard rubber offers a firm grip for your feet even when it's wet. Its outer sole is also designed to reduce hazards, which acts as an additional layer of protection for your feet.
A snug fit on your feet is a guarantee as this is a 6-inch lace-up boot. Although you can replace the laces at your convenience that length is recommended to ensure the foot is secured inside the boot. This makes them the best boots for farm work.
Being on the farm all day means that you deserve a boot that is comfortable and fits well. The opening of this boot is circular with a diameter of 12 inches, thus, not tight on the ankle. Plenty of space in the toe box so your toes have room to breathe is ensured by the King Toe technology used while making this boot. So just in case you need to wear an extra pair of socks, there is enough room for that.
Pros
Enough shaft height.
100% leather thus durable.
Synthetic sole.
Steel Toe protection.
Very comfortable and lightweight.
Cons
Inner soles wear out too fast.
Related: Best rubber boots for farm work
2. Skechers for Work Women's Workshire Peril Steel Toe Boots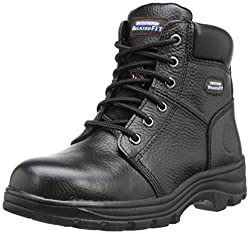 For women who love comfort and style while doing farm work, these are the best women's boots for farm work. One look at the boots and you can tell why Sketchers are the global leaders in the footwear industry for all genders. They have sufficient room around the ankle with a shaft of around 5.25-inch. With such fitting, blistering will become a thing of the past however long you are wearing these boots. Click here to see today's work on Amazon.
These waterproof farm boots keep your feet dry throughout your gardening. Having all-weather farming boots is a must in your wardrobe to ensure you are attending to your farm work all year round. Being 100% leather, these boots are durable and easy to clean.
Also read: Best women's work boots
With a heel measurement of 1.5-inch, the comfort of these boots is incomparable. Being on your feet all day pruning and gardening requires a comfortable heel, which is exactly what the Skechers offer you. The sturdy metal eyelets make the boots flexible creating sufficient room to wiggle your toes.
Notably, the synthetic sole has memory foam, which keeps the foot flat and steady all day. For most work boots, you would need to purchase an extra pair of inner soles. However, this is not required for these boots and you can just slip in and get to work.
Thanks to the extra room around the big toe, these boots fit perfectly and are super comfortable all day long. When you are on the farm, you don't need boots that are itchy and tight on the feet, rather you need some room for wiggling your toes. This is what is lovable about these boots.
Pros
Comfortable heel length.
Memory foam for comfort.
Durable and easy to clean.
Cons
Leather takes time to break-in.
Need polishing.
3. Wolverine Men's Rancher 10″ Square Toe Steel Toe Work Boots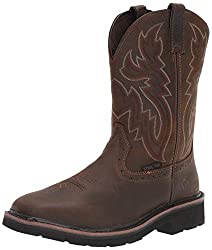 When it comes to the best work boots for farmers, look no further than the Wolverine Men's Ranchers. Being an iconic brand in the market, Wolverine uses superior raw materials combined with the utmost craftsmanship to produce the best farm boots. Click here to see today's price on Amazon. 
The comfort of this boot is not comparable to any other as its upper part is full-grain leather. Talking of the footbed, it is ortholite cushioned to enhance your feet are comfortable and remain steady all day. The footbed is also removable making it easy to clean the interior to remove any soil and gravel from the farm.
Additionally, they can withstand harsh environmental conditions and are waterproof. This makes it easy to access all parts of the farm regardless of the weather conditions, thus, limited interruptions of your farm work.
Putting on the boot is made easy by the 14-inch boot opening. Because the boot has no laces and has a long shaft of 11.5 inches from the arch, it is very fast to wear. This covers the ankle from external hazards like thorns and gravel. Therefore, you can access any part of the farm making these the best farm boots for men.
In designing these boots, 100% imported leather is used except for the sole which is synthetic. Additional grains are also included on the lower part of the boot making it very comfortable and firm on the ground.
Good stitching on the boots makes them resistant to wear and tear and can withstand any harsh farm conditions. Once the stitches run out, it is easy to repair these boots at any repair shop and they look as good as new. If you want to drop that rugged farm look, look no further. The style of these boots is top-notch with their dark brown rusty look.
Pros
Easy to wear.
High shaft.
Removable cushioned footbed.
Cons
The boot is not breathable.
Not durable.
4. Carhartt Men's 6 Work Soft Toe NWP Work Boots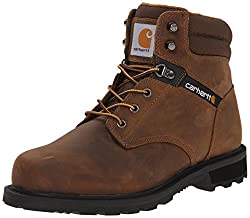 When considering the best rubber boots for farm work, do not skip these Carhartt Men's boots. They have a rubber outsole and their insole has an added cushion. Farm work requires a lot of walking and bending and these boots are the best when it comes to ensuring comfort and reducing foot fatigue. Click here to see today's price on Amazon.
Why would you worry about sweaty, smelly feet when you have a FastDry Technology Lining to rely on? The lining on these boots wicks away any sweat from the feet leaving you comfortable and dry all day. With this, they have been recommended as the best farm boots for hot weather. Therefore, no more worry of sweat, smelly feet when you remove your shoes after a long day's work.
With a removable insole, cleaning the interior of these boots is easy and fast. This makes it easy to remove all those sand particles and dust accumulated during farm work. Drying the boots is also fast as it takes just a few hours.
The soft toe characteristic of these boots makes them appropriate for farm work. Although there might be no electrical hazard on the farm, the non-safety soft toe comes in handy for secondary protection.
Remember, tough farm jobs require tough boots, which can withstand the pressure. These boots are incredibly durable and comfortable making them the best farm boots you can ever wish for.
Having been manufactured using 100% imported leather, the quality of these boots is not questionable. Additionally, with a shaft of 6.5 inches from the arch, they cover the ankle and ensure the foot remains intact. They are also laced up meaning once you tie them tightly, you can walk for miles without the boots getting loose.
Pros
Removable insole.
Durable and very comfortable.
FastDry Technology lining.
Added cushion on the insole.
Cons
Very stiff leather.
Doesn't shine without polishing.
5. Ariat Men's Groundbreaker Wide Square Steel Toe Work Boots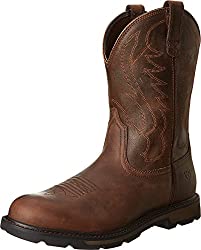 If you are a free-spirited man who desires unbridled freedom, the Ariat boots are made perfectly for you. These boots are set apart from any other by their quality and style making them the best shoes for farming. Click here to see today's price on Amazon.
For that classic cowboy look while on the farm, these boots are hard-wearing as the material used to make them is 100% full-grain leather. This gives them a firm grip on the ground, which reduces instances of slipping even on hard gravel.
As for their construction, they have a fancy embroidery pattern notable on the high shaft, which emphasis that cowboy look. This embroidery also strengthens the outsole making it hard to be pierced by thorns while on the farm.
To enhance their stability and sturdiness all day, these boots have a four-layer bound technology. Even with these layers, the boots are light in weight making it possible to be on your feet all day without getting tired.
Furthermore, the shaft is 10 inches from the arch, which increases its stability and firmness. With this long shaft, it is impossible to slip in these boots as they offer a firm grip on the feet for comfort.
Now let's talk about the EVA midsole. This midsole has extra cushioning to ensure the foot is comfortably resting on the ground. In addition, the Duratread outsole provides both comfort and durability for these work boots. If you were to skip these on your hunt for the best farm boots, you would be making a grievous mistake.
Pros
EVA midsole with additional cushioning.
Offers maximum support on any terrain.
High shaft for stability.
Good quality and stylish.
Sturdy even after several months of wear.
Cons
Not breathable.
Loose on the heel.
Best Farm Boots Buyer's Guide
When you are out to look for farming boots, be sure to check whether the boots have these five important features:
1. Waterproof
You are working in the farm and as you well know, there is mildew, water, and all sorts of wetness. A good farm boot should therefore be waterproof. With this quality, you will be sure that your feet will not be dumb all the time you are in the farm.
You need waterproof farm boots even if you work in a hot environment because no matter the surrounding, your farm needs water.
2. Shaft Size
This point is very essential. Although you are in the farm and know that you will get dirt, you wouldn't want to get dirt before doing anything. In other words, you need a farm boot that has the ability to cover a great percentage of your foot.
A farm boot with at least 6-inch shaft is good. Otherwise, you need to go for a boot with 8-inch shaft or more if any. You need to be sure that your feet are sufficiently covered.
3. Material
The material of the best farm boot should among other things be easy to clean, breathable, polishable, and able to guard your feet against falling objects, injuries or anything that might harm your foot.
Leather is one the best materials for making the best farm boots for hot weather as other weather conditions. However, as long as the material does not retain a lot of heat, does not let water pass through and is easy to clean, go for it.
4. Removable Insole
Why a removable insole? A removable insole makes it easy to clean the boot. While the boot's shaft might be tall enough to guard against anything going inside, it is inevitable that dirt will  find its way into the boot somehow.
With a removable insole, it will be easy to clean the interior of the boot.
5. FastDry Technology Lining
Perhaps you've seen this feature in a number of boots on my list. Like in the case of a removable lining, FastDry Technology helps when cleaning your farm boots. In the event you have used water to clean the boot, the FastDry technology helps expedite drying.
Frequently Asked Questions (FAQs)
What boots to wear on a farm?
Rubber boots are ideal for farming. They keep your feet warm especially in the early morning working hours as well as during winter season. All rubber boots are also waterproof, making them ideal for the farm.
Conclusion
However much you have tried, it is not hard to find the best farm boots. The only things you need to ensure are the five main features, which separate farm boots from any other kind of boots such as those worn by technicians or plumbers. For farm boots to be ready for the next session and to last long, ensure you clean them immediately after leaving the farm.