Wolverine boots is a brand that has been in the market for many years. You have likely come across Wolverine boots during your search for work shoes, but now the question is, are Wolverine work boots good?
Yes, Wolverine work boots are high-quality engineered to be highly durable and comfortable. They are suitable for diverse work environments, from construction to horse riding. There is simply something for everyone, both women and men, who wish to protect their feet with premium work boots.
The brand reputation speaks for itself as the company prides itself on offering boots with strong soles. It ensures its products meet and exceed the safety standards as well.
However, Wolverine boots are excellent; they have their shortcomings. I'll explore this and more in this post.
Wolverine Boot Technologies
The Wolverine brand has been around since the 19th century, established in 1883 by GA Krause and sons in Rockford, Michigan. The company has since manufactured numerous work boots featuring specially-designed technologies formulated to suit the needs of all customers.
The brand doesn't sacrifice the quality of its products to save on cost and is highly innovative. Some of its exciting technologies are:
1. Composite Safety Toe
Composite safety toe work boots are crafted from robust, non-metal materials such as fiberglass or plastic, carbon fiber, and Kevlar. They are highly resistant, making them excellent for engineers and electricians and ideal for sites with metal detectors.
They are lightweight (weighing approximately 30% less than their steel toe counterparts), feature comfort technology, and are better outdoors.
2. Steel Safety Toe
Steel safety toe work boots can withstand more impact than composite safety toe boots, thus providing more protection. They are also cheaper but are less breathable and heavier hence less comfortable when worn for many hours.
3. EAA Safety Toe
Wolverine EAA (Engineered Aluminum Alloy) safety toe boots have an F2413-11 I/75 C/75 MT/75 rating. They help safeguard your feet from rolling or falling objects.
4. Insulation
Wolverine work boots utilize various insulating technologies to offer different warmth levels ensuring your feet remain comfortable throughout the day. For example, Thinsulate insulation is made of microfibers that dry quickly and are equipped to keep your feet warm and cosy even in a wet environment.
5. Metatarsal Guards
These are metal guards situated over the work boots to protect your feet from getting crushed or injured. Wolverine metatarsal guard shoes and boots safeguard the front and top of your feet and are rated F2413-11 I/75 C/75 MT/75.
Wolverine Work Boots Qualities
As mentioned above, Wolverine work boots are prime qualities shoes from their functionality, style, craftsmanship, to safety.
a) Functionality
The brand has boots for every necessity, specification, and specialization. The polyurethane wedge soles provide extreme slip resistance and good abrasion resistance.
You can easily find the perfect Wolverine boot, whether you are an outdoor or indoor person.
b) Safety
your boots need to be secure and safe for your job, so prioritize safety when shopping for your work boots. Wolverine work boots are crafted to exceed the safety standards, ensuring they keep your feet safe at all times.
Wolverine work boots have safety toes, anti-slip soles, waterproof leather and are rated for electrical hazards.
c) Craftmanship
Wolverine boots are made in the United States using long-lasting rubber soles, top-quality composite materials, and genuine leather. These boots can withstand the rigorous work environment and daily challenges.
d) Maximum Comfort
It is vital to be comfortable if you stay on your feet most of the day. For this reason, Wolverine boots are notoriously comfortable, durable, and offer proper foot support.
Most of these boots have a minimum of a 6-inch upper to give comfort and support.
Wolverine Boots Review
1. Wolverine Men's W04821 Buccaneer Work Boots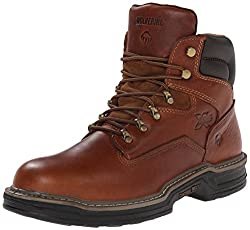 Some of the outstanding features of this boot are comfort, flexibility, and durability. It has heel and foot compression pads to absorb shock giving you the ultimate comfort. Click here to see today's price on Amazon.
Moreover, they offer great flexibility, giving your feet freedom while continuing to protect your ankles. You also get to choose between soft or steel toe but lacks protection for electrical hazard and steel shank, so don't walk in areas with exposed nails.
It is equipped with a slip-resistant sole that excels in gravel, oil, and water. When it comes to insulation, it's average and isn't recommended in freezing temperatures.
Pros
It's durable and strong.
High-quality material.
It's flexible and provides ankle support.
Waterproof.
It has a slip and oil-resistant rubber sole.
It has a steel sole.
Cons
It doesn't have electrical hazard protection.
The boot sole isn't resistant to puncture.
2. WOLVERINE Men's Overpass 6" Composite Toe Waterproof Work Boots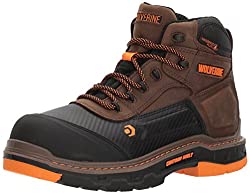 This is a rubber sole, 100% textile and leather work boot with a shaft measuring about 5-inch from arch. It is designed with an athletic contour, flexible welt construction that flexes and bends at essential areas. Click here to see today's price on Amazon.
In addition, it is equipped with waterproof premium leather that has an abrasion-resistant toe. It is also a highly comfortable work boot, thanks to the cushioned footbed that's removable and ortholite, making sure you stay comfortable.
It is made with chemical, abrasion, water, oil, and slip-resistant outsole for added protection.
Pros
It's lightweight.
It's waterproof.
High-quality, durable leather.
Slip-resistant outsole.
Composite safety toe.
Cons
It sets off metal detectors.
3. Wolverine Men's Rancher 10" Square Toe Steel Toe Work Boots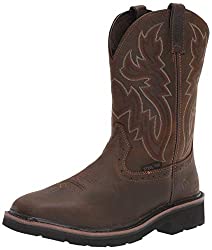 If you fancy cowboy boots, you might want to consider getting Wolverine Rancher 10" work boots made with man-made sole and 100% leather. Its shaft is about 11.5-inch from the arch, while the heel is about 1.75 inches. Click here to see today's price on Amazon. 
On the other hand, the platform is about 0.75 inches and has a 14-inch boot opening. It is strong and durable due to the Goodyear welt construction, making them great in demanding environments.
Moreover, the outsole is a rubber lug allowing it to grip the ground properly.
Pros
Rubber lug outsole.
Lightweight construction.
Goodyear welt construction.
Electrical hazard rated.
Cons
Non-insulated.
Non-waterproof.
4. Wolverine Women's Piper Comp-Toe Work Boots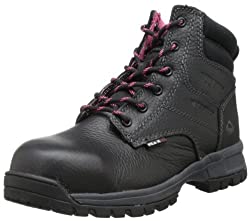 This women's Wolverine work boot is 100% leather, has a cement attached rubber sole, Nylon shank, wave mesh lining, and an Ethylene Vinyl acetate midsole. In addition, it is lightweight, but rugged so it can withstand your daily work routine. Click here to see today's price on Amazon. 
Due to the waterproof membrane lining and waterproof leather, you are sure to stay dry even in wet conditions. Furthermore, it has a composite safety toe that will keep your feet protected from falling or crashing objects.
Pros
It has a removable footbed.
It's waterproof.
Lightweight and rugged.
Quality leather boot for women.
Superb ankle support.
Cons
The insole doesn't provide arch support.
Frequently Asked Questions (FAQs)
Are wolverine boots comfortable?
Yes, Wolverine boots are highly comfortable as they are designed to provide full support to your feet. However, the comfort levels vary in different boots, so check how comfortable the boot you wish to buy is beforehand.
How long do Wolverine work boots last?
Wolverine work boots are made of durable, high-quality material, so the shoes are exceptionally long-lasting. Your Wolverine boot can last for 3 to 10 years or even longer, depending on where you work.
What country are Wolverine boots made?
Wolverine boots are made in Michigan, USA, using the best materials sourced from different areas.
Conclusion
Wolverine boots can withstand any work environment and terrain and due to their high-quality leather make them worth buying with the ability to last for several years. They come in different sizes, thus fitting various shoe sizes, and they are exceptionally comfortable.