Danner has been a strong contender in the boots market since its debut in 1932.
And their bottom line is this: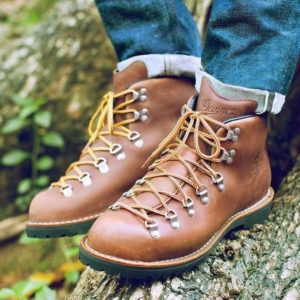 To give you the best Danner work boots that you can use for hiking, standing, walking, working, hunting, backpacking, and everything in between.
Whether you prefer slip on work boots or you need to go laceless with boots that have shafts raised a couple of inches above the ankle, or you prefer lacing boots that look too cool for the price, Danner has something for you.
And let's not forget Danner waterproofing technology, which keeps Danner boots from getting wet, not to mention the Gore-Te lining for breathability to keep your feet cool and dry.
Also Read: A list of American made work boots
In short, if you need a pair of boots that can hold up really well, Danner is the best brand to consider. And here are some of the best Danner boots in the market.
Danner Boots – Quick Comparison Table
What are the Best Danner Boots?
8) Danner Tachyon GTX Duty Boots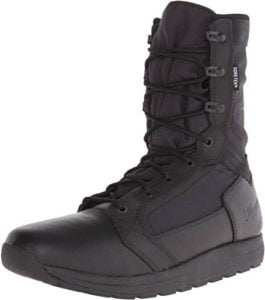 Danner Tachyon is a well-made, almost artistic, pair that aligns with Danner's decade of experience in the footwear market. The Danner GTX Duty is a combat boot. And that should tell you that they're just about as tough as the kind of work shoes that you'd want to bring to any kind of job. Click here to see today's price on Amazon.
Some folks describe Tachyon as a success for Danner. And in our eyes, Danner Tachyon is the most comfortable work boots to wear for hiking or to work sites.
Design and Performance
Laws enforcement boots aren't often the most fashionable to be frank. But when it comes to performance, they cut it really well – if not perfectly. The Danner GTX Military boots fits this description, because they are less fashionable and more functional.
In our eyes, Tachyon is a flexible pair of boots that allow you to walk naturally – and fast if you have to. And they run true to size than many boots in the same price range.
It's not just the GTX's upper leather design that's impressive. Even the mid calf design is imposing, mostly because it provides sufficient feet protection during training and when on a job.
And get this:
GTX Duty military boots promise the kind of comfort that suprcedes the price. Hats off to Danner for this one; they've nailed it.
In other words, the tongue padding, which runs a few inches from the toe cap all the way to the collar, provides sufficient cushioning on the upper. And the sole unit features a EVA footbed that provides the comfort your feet need to walk, train, and even work for long hours.
Then there's the polyeutharane footbed that provides better shock absorption for your feet. And while we aren't sure about the ASMT rating for this, we're confident that they survive in the electrical hazard environments.
The stitching of these boots feel about right, mostly because it provides your feet with a better sitting by ensuring that the boot aligns to their shape. We like that there's enough toe room for your feet. Even better is the speed lacing system that enables you to achieve a better fit faster.
Pros
Good footbed that provides additional feet protection.
EVA midsole for additional comfort.
They're waterproof; take them to even the dampest job site and they'll hold up fine.
Cons
We wish they had steel toe.
Doesn't offer the best arch support.
7) Danner Vital Waterproof Hunting Boots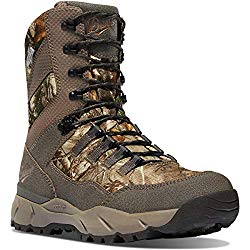 Danner Vital is the best Danner boots for hunting. So in those moments when you itch to go to the woods and fire your crossbow in hunt for some game, Vital should be part of your safe wear. Click here to see today's price on Amazon.
Whether you look forward to hunting every season or only occasionally, this pair will get you through even the most unfriendly terrains in the jungle.
Design and Performance
Our take on design and performance is this:
Danner excellently weaves its way around this pair, using an abrasion resistant leather and textile for the upper and adding an easy to use lock and load lacing system.
The tongue feels soft and comfortable. And the toe box isn't too tight or too big, just the right size for your feet especially after breaking in.
Danner even goes as far as to include a multi-density foam pattern to help eliminate pinch points and hot spots. So you can hunt in these boots without worrying about blisters, especially if you're going to be in them for long hours.
The sole unit is a composition of a simple rubber outsole, Danner's plyolite midsole, and a polyurethane footbed for comfort. The lugs on the outsole aren't multidirectional, but they easily adapt to any ground and provide a better grip and sufficient traction.
If there's one simple thing that we've loved about Vital after just a couple of testing is how lightweight they're. Granted, they won't feel lightweight like your standard pair of walking shoes. But, frankly, Danner has trimmed down the weight quite a bit so you can log hours of pleasure trips in the jungle without needing a break.
For water resistance, Vital includes the Danner Dry System, a technology that easily wicks out moisture and bars water from getting in. The boots stand up against light rain, puddles, and dew soaked grass really well. And that means comfortable, dry, and cool feet all day long.
Also Read: Waterproof work boots
What's more?
Danner Vital also includes a 400g Thinsulate ultra insulation, which makes it a good pair of boots to use in arctic environment. And since its shaft is about 7 inches from the ankle, Vital can get you through deep snow and ice rather easily.
Danner tries to cut down its boots' break in time to as short as one day, with some of its picks fitting quite well straight out of the box. Vital follows almost a similar trend, taking less than a week to break in and becoming solid and comfortable after that.
Pros
These boots are very comfortable.
Versatile, you can even wear them to work or a date on a weekend.
Enough room in the toe box and no squeeze on the sides.
Cons
Its grip on wet rock is somewhat weak.
Not the best boots to wear if you have wide feet.
Also Read: Should Boots Fit Too Tight or Loose
6) Danner Bull Run Moc Work Boots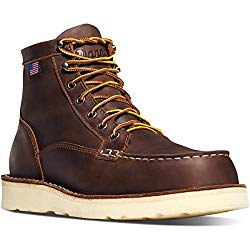 Bull Run reminds us of Danner's history. Because, in a way, they look exactly like the first work boots the company ever designed. It seems to us that Danner is sticking to the basics, while incorporating modern technology to make these ones functional and legendary. Click here to see today's price on Amazon.
Danner Bull Run work boots looks exactly like Thorogood and Red Wing boots, mostly because it has Moc toes. And we like how the brand combines simple colors to give this a cool look.
Some people may argue that these are only good work boots on concrete, but you can use them on other floor surfaces as well. But they also make a good fit for weekend wear when you have some time to chill out with your "homies". In fact, you can wear these with blue jeans and white or black t-shirt.
Design and Performance
Put to test in different work environments, Bull Run, no doubt, stands up quite well. They're seriously oil and slip resistant, not to mention they can withstand electrical current. Danner has even gone as far as to ensure that these are OSHA certified, so you get real work shoes for the money.
And understand this:
The Moc toe doesn't add weight to the boots, at least not too much for your legs to handle. They feel light just like other boots in the brand's collection.
If we were to say anything about performance, we'd say the same thing we said about Tachyon GTX Duty, only these aren't exactly for the military.
Pros
These Danner boots are lightweight.
They are versatile, you can use them for work and as casual outfit.
Good for working in all environments.
Cons
The sole is somewhat unstable.
This pair requires some time to break in.
Read Also: Wedge sole work boots made in USA
5) Danner Men's Quarry USA Alloy Toe Work Boots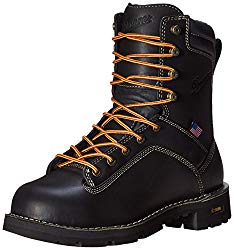 Choosing the best Danner boots means getting the value for your money. And when it's a tough job you need boots for, there isn't a better choice than Quarry USA. Click here to see today's price on Amazon.
We aren't kidding when we say that these boots are the toughest of Danner's collection. And isn't that what you should expect for the price point?
In their over ten years of experience in the boots market, Danner has never compromised the quality of its footwear. And if there was ever a time they did that, then we have no idea why Quarry USA is such a solid build.
In short: these boots are seriously tough. They will last for months to come. And they can hold up well in just about any work environment.
Design and Performance
Danner down stitched Quarry USA to give your feet a wider platform for stability.
The alloy toe construction together with the full grain leather provides sufficient feet protection, so you can work all day long without worrying about falling objects potentially hurting your feet.
Quarry USA boots are waterproof and have a Gore-Tex lining for breathability. So not only will they keep water from leaking in, they'll also ensure your feet remain cool and dry.
For better grip, Danner implements a 90-degree heel, non-linear lug pattern, which provides better traction in different conditions. It even goes as further as to release debris so you have nothing stuck on the soles, not to mention that the sole unit is slip and oil resistant.
Pros
ASTM compliance, good for use in environments prone to electrical shock.
Tripe stitched for durability.
Fit straight out of the most, requires no time to break in.
Cons
4) Danner Mountain 600 Hiking Boots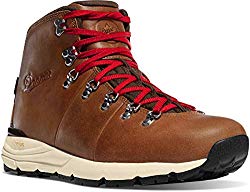 If you're looking for the best Danner hiking boots for men and women and you're wondering which one can be a good fit, Danner Mountain 600 is a good fit. Built to tackle even the toughest trails of the jungle, these can log a couple of miles of climbing and still feel like new after a day of adventure. Click here to see today's price on Amazon.
You could say the design looks a bit ancient. And we like how Danner has modernized the look quite a bit, making the pair appealing to all season hikers. They promise a better fit, they're comfortable and tough, and they're stylish enough to wear with your casuals on a typical weekend.
Design and Performance
Dubbed megagrip, Mountain 600's vibram outsole provides just enough traction to get through different conditions. Performance test shows that traction is great on rocky trails and dry grounds. But even with the multidirectional lug profile, which easily adapts to the pattern of the terrain, Mountain 600's traction on wet and muddy conditions is sadly lacking. And we wish it could be better.
The sole unit has a nylon shank between the out and mid sole, which provides some level of comfort to your feet. The midsole itself is a combination of EVA and lightweight synthetic rubber. This provides decent cushioning without adding to the weight of the boots.
These boots feature Danner Dry, a waterproof mechanism that keeps water at bay. To be clear, these boots are water resistant, not waterproof. It means you don't have to worry about puddles and light rain. But anything too much and expect the boots to get damp.
Pros
Comfortable and durable hiking boots.
Provides better traction in different condition.
These boots are versatile, you can even wear them with your casual outfit.
Cons
3) Danner Vicious Non-Metallic Toe Boots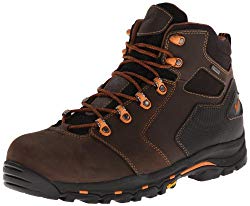 Fashionistas always say that first impression matters. And if we ever have to assume the same for Danner boots, we're confident that Vicious look too cool. It has a black and brown tone with a bit of orange. Even the laces are colorful without shouting too much. Click here to see today's price on Amazon.
In our eyes, Vicious are versatile boots. They're the kind you can wear for hiking, working, and dining out. But unlike Tachyon GTX Duty, they're a bit pricier. So if you're on a budget, you might want to consider other options from the same brand or simply look elsewhere.
Danner does get around the design of Vicious quite well. They choose the right materials and ensure the boots have an ASTM rating for the price. So cost isn't even a deal breaker here; it's more of a bargain instead.
Design and Performance
Boots hardly ever awe us the first time we buy them because they require some time to break in. But Vicious are different. And if anything, you'll love them instantly because they fit straight out of the box and. That means there's no break in time required; just slip your feet in, lace them up to your fit, and get going.
There's enough room for your feet and they are the most comfortable danner work boots. We also like how light these are for safety toe boots. These boots give you literal stability on rough surfaces, slippery grounds, and soft trails. Add to this the ASTM compliance and you get a pair of work boots you can use anywhere, for any job.
Pros
Features an ergonomic footbed that easily adjusts to your feet's pattern.
Includes an EVA midsole with a TPU shank for additional comfort.
These boots have deep heel caps.
Cons
They're somewhat expensive.
2) Danner Men's Tachyon 8 Military and Tactical Boots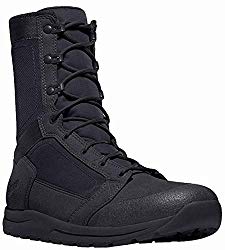 Tachyon Duty looks almost the identical to the GTX Duty. The shaft is about the same height from the arch. The toe box is almost similar in size. And the cushioning of the two is indistinguishable. But when we dig just a little deeper, we realize that the two boots have some differences that set them apart. Click here to see latest price on Amazon.
Let's put it this way:
Danner Tachyon boots are neither waterproof nor shockproof. So you can't wear them to damp environments or use the pair for electrical jobs. But if you're seriously interested in breathable, light, and mobile work shoes, these can make a perfect fit.
Again, the pair is more expensive than the GTX Duty. But the difference in cost, in our take, isn't that big per se. So the cost isn't really a deal breaker here.
In fact, Tachyon almost scoops a five-star rating despite its shortcomings. And it has even earned a spot on our list of the best Danner boots. But does it even hold up?
Design and Performance
From a design standpoint, we strongly believe that Danner's choice of material is on point. The performance is good, only we wish it were as close to perfect as that of GTX Duty.
The sole unit features Danner's own rubber. And it features pentagonal lugs that provide better grip and traction on different surfaces. Unfortunately, these aren't slip-resistant, so you shouldn't buy them if you work in slip susceptible environments.
Tachyon's toecap is as good as that of a standard work shoes. There's, in fact, enough room here for your feet. And once you lace up the boots right, you'll feel the snug fit.
These aren't steel toed, at least in favor of making them as lightweight as possible. They don't feel light like a feather but they aren't heavier either.
Pros
Lightweight boots thanks to the 500 Denier Nylon Technology.
Strong and durable outsoles, stand up to even the toughest job yet.
Cons
They aren't waterproof.
They don't feature steel toes.
These boots aren't even slip resistant.
1) Danner Acadia Work Boots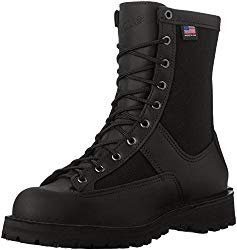 Look:
Everything you've ever wanted in the best work boots seems to fit in quite well in the Acadia. And rightly, so, these are breathable, slip-resistant, waterproof, and comfortable Danner boots. Click here to see today's price on Amazon.
In fact, Acadia is the kind you can wear to any job site and log hours of work in. Whether you're a cop, a militant, an electrician, a pole climber, or a casual lawn mower, go with these.
Design and Performance
Danner gets the stitching right the first time, turning the leather into the highest quality footwear that you can wear in all seasons.
To say that Acadia's cushioning is nice probably sounds dumb at this point. But that's what it is and exactly what you want it to be. At the end of the day, the price point of these boots demands that they be as comfortable as possible. And from the experience of our testers, Acadia provides sufficient comfort that you need to work without straining your feet.
Ever since its debut, Acadia has earned the reputation of being slip resistance. And it continues to shine in that line of business to this day. Non-slip means not worrying about slippery floors and focusing 100% on being productive in any work environment.
Besides, the boots' Vibram sole, with its uniform lug profile, provides a solid grip in different conditions when you stand and better traction when you walk.
Pros
Offers better traction in different conditions thanks to the Vibram outsole.
Waterproof work boots enough to use even in extremely damp environments.
They're breathable, able to keep your feet cool and dry no matter how many hours you have them on.
About as lightweight as you'd want work boots to be.
Cons
These aren't steel toe boots.
They're very stiff and require some time to break in.
Our Final Thoughts on Best Danner Boots
Choosing the best Danner boots doesn't have to take you forever. As long as you understand the basics of the construction, only the price becomes the determining factor. After all, all Danner boots feature rubber or vibram soles unit and leather upper.
Something to give much thought to would be the type of the toe you want. There are steel toes, soft toes, square toes, alloy toes, and even soft toes. Again, the kind you choose comes down to your personal preference.
The most important thing when buying Danner boots is to ensure they fit well. We'd like to advise you to try the pair you like first before buying. This will go a long way to ensure you get your fit right the first time.
Frequently Asked Questions (FAQs)
What are the Best Danner Boots?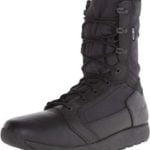 These are the best Danner Boots in 2022:
1.Danner Acadia work boots
2.Danner Men's Vital Insulated 800g Hunting Boots
3. Danner men's mountain 600 4.5 hiking boot.
4. Danner Men's Tachyon 8" GTX Duty Boots.
5. Danner Men's Bull Run Moc Toe 6″ ST Work Boot.
6. Danner Men's Quarry USA 8-Inch Alloy Toe Work Boot.
 
Are Danner vicious waterproof? 
Yes, the upper part of vicious is lined with waterproof and breathable GORE-TEX which ensure that no water gets in, while allowing sweat and moisture to get out.
 
 
Are Danner boots slip resistant?
Yes, Danner boots are slip resistant because they have a combination of Vibram SPE midsole and Fuga outsole which gives unparalleled grip on wet and dry surfaces while providing superior cushioning without the weight.
What type of leather does Danner use?
Are Danner boots wide?
While the majority of Danner boots comes in a standard medium (Men's D and Women's M) and wide (Men's EE), they do offer several styles in both narrow (Men's B) and extra wide (Men's 3E/EEE and 4E/EEEE).
 
What is the best Danner hiking boot?
Danner Men's Mountain 600 4.5″ Hiking Boot is the best.