If you don't have leather boots in your closet, you are missing out on owning the most versatile, highly durable footwear that can go with any outfit, from date night outfits to office wear. However, proper maintenance is vital to enjoying your boots for many years, so how often should you apply mink oil to leather boots?
You should apply mink oil to your leather shoes every two weeks to restore and maintain their nutrition, shine, and moisture. Make sure you stick your application to only one in two weeks because excessive mink oil on your boots may cause moisture build-up, making the leather rot eventually.
There is plenty you should know about mink oil application on your leather shoes, and this post is dedicated to providing that information. This includes its benefits, how to apply, and its waterproofing capabilities.
Well, I won't keep you waiting longer, so let's get to it.
What Does Mink Oil Do To Your Boots?
Mink oil replenishes the natural oil of leather lost during usage. This is essential because oil loss makes leather boots prone to cracking, making them deteriorate faster and fibers separate.  
It replenishes oils and lubricates the leather boots' fibers, rendering them more durable and flexible. Moreover, mink oil makes your boots resistant to water and able to withstand light and heavy rains and even snowstorms for a short time.
However, it's worth noting that using too much mink oil or frequently can oxidize and harden your leather boots.
Also Read: How to clean smelly work boots
How To Apply Mink Oil To Leather Boots
Applying mink oil to your leather boots is a straightforward endeavor that you can achieve by following these steps.
Step 1: Clean Your Leather Boots
Never apply mink oil to dirty boots, so clean yours with a dry, clean lint-free cloth to eliminate loose grease and dirt. While the oil will reverse the damage caused by friction, it will not magically clean your shoes.
If need be, use water and soap to clean the boots, but ensure they fully dry up before moving to the next step.
Step 2: Warm Your Leather Boots
Administer warm air to your boots from a hairdryer or another heat dispensing device to allow them to absorb the mink oil more easily.
Step 3: Prepare The Monk Oil
Heat your mink oil to facilitate easy application if it comes in paste form.
Step 4: Apply The Mink Oil To Your Boots
Dab mink oil on your leather boots in layers using a clean cloth, then wipe down the shoes' corners to promote optimum absorption.
Step 5: Eliminate Excess Oil
Wipe your leather boots thoroughly to remove any mink oil that may have gotten into their eyelets, buttons, laces, and soles.
Step 6: Let The Boots Dry
Leave your leather boots overnight or at the very least 2 hours to allow them to dry.
Also Read: How to Get Rid of Foot Odor in Boots Easily
Mink oil boots Before and After Pictures
Is Mink Oil Good For Leather Boots?
Mink oil is good for your leather boots because the thick waxy matter soaks inside your leather boots' pores, softening their fibers and, in turn, the shoes. It will also protect your leather boots from damages caused by water by offering waterproofing capabilities.
Mink oil helps restore your boots into good condition after suffering injuries from constant friction as you run errands or work. However, remember that mink oil requires a regular application to ensure your shoes stay waterproof and soft.
Furthermore, mink oil will lower your leather boots' shine.
How Often Should You Apply Mink Oil To Leather Boots?
You should apply mink oil to your leather boots once every two weeks to have your shoes in good condition, soft, and resistant to water. Avoid applying it too often because doing so might damage your leather boots.
Why Mink Oil For Leather Boots?
You should use mink oil on your leather boots because it raises their durability and lubricates their fibers. Mink oil-formulated leather creams effectively replace natural oils lost by your leather boots, increasing the flexibility and texture.
Mink oil has fatty acids which repel water and moisture, elements that speed up the process of fiber decay. In addition, this product is not oily or greasy.
Does Mink Oil Waterproof Boots?
Mink oil offers waterproofing elements since it is formulated from a minks skin's fatty layers, which typically have a wax texture. Apply mink oil in wax form to your leather boots to make them waterproof.
Can Mink Oil Cause Damage Too Boots?
Use of mink oil on your leather boots in moderation doesn't cause damages to them. However, applying it too frequently or in excess amounts causes oxidization, which hardens the shoes.
Additionally, leaving your boots in a dark, damp place and letting them stay longer could turn the mink oil rancid, causing a strong smell that's hard to remove.
How Long Can You Leave On Mink Oil On Leather?
Mink oil can stay on your leather boots overnight or about 12 hours, depending on the extent you want your shoes to dry. However, you typically need an hour or two for your shoes to dry thoroughly.
What Is The Best Mink Oil For Leather Boots?
If you are in the market for mink oil for your leather boots, here are some excellent options.
1. Fiebing's Golden Mink Oil – Soften, Preserves, And Waterproofs Leather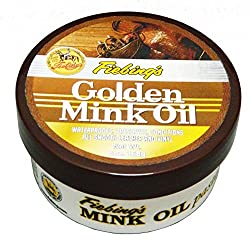 This product is excellent for vinyl and leather items like boots, jackets, harnesses, baseball gloves, shoes, and horse saddles. It helps prevent perspiration stains, water, and salt. Click here to see today's price on Amazon. 
In addition, it waterproofs, preserves, and softens vinyl and smooth leather for use outdoors. This mink oil is formulated using vitamin E, lanolin, and silicone to restore lost oils after repeated drying and wetting cycles.
This product is produced in the United States by Fiebings.
2. Red Wing Heritage Unisex-Adult Mink Oil-U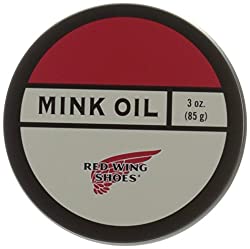 Lengthen and protect your leather boots with this mink oil from Red Wing made with silicone and lanolin. It conditions and softens the leather and increases the water resistance. Click here to see today's price on Amazon. 
Conclusion
Your leather boots deserve the best treatment, and for many people, mink oil remains the go-to for leather preservation. However, that doesn't mean it is perfect as it has its adverse side effects like darkening your shoes if left to soak in for long.
Mink oil makes your leather boots flexible, supple, soft, waterproof, and more durable. Therefore, consider buying if you want to wear your shoes for many years to come.