This is the ultimate guide to the best wedge sole work boots made in the United States of America.
Whether you're a carpenter, a plumber, a construction worker, or a professional paramedic and EMT, you'll need these boots to work in the best of time.
Unlike traditional heeled sole boots, wedge boots don't feature treads under the arch of the foot. Instead, the outsole extend to the entire length of the shoes, so you get more contact surface, which cushion your feet and absorb as much shock as possible with every step you take.
In this guide, we'll look at some of the best work boots with wedge soles. Specifically, we'll look at the models made in the USA, check on their design, and evaluate their performance.
So if you're ready to upgrade from heeled sole boots to wedge work boots made in USA, check the recommendations below.
Best Wedge Sole Work Boots Made in the USA
1. Thorogood Men's American Heritage 6″ Moc Toe Boots
Even if you care less about style and need more of performance and durability, the Thorogood American Heritage work boots are the ideal model to consider. With all the features you want in work boots, from vibram wedge sole and fiberglass shank to welt construction and durable upper, it feels like these have no alternatives – although we know they do. Click here to see today's price on Amazon.
Since Thorogood respects the comfort of your foot the same way you'd like to honor them with your wallet, they've made sure that the American Heritage are comfortable for work and casual use.
They may not break in instantly, but they won't feel stiff on your with your feet inside. With a dual density insole, a soft vamp lining, and a padding on the tongue and collar, the contact between these boots and your feet should be comfortable.
As you walk and work, the ground beneath the sole will be ruthless and cruel to your feet. That given Thorogood ensures there's minimal impact reaching your feet, so you don't have to worry about too much pressure on your soft soles. In particular, the dual density inserts the boots come with have a shock absorbency power, which lowers the pressure the boots absorbs from the ground. With every step you take cushioned, you can walk comfortably without ever having to worry about foot fatigue.
Thorogood hasn't paid full attention to safety as far as the American Heritage is concerned. The toe box is soft and that means minimal protection against objects that may land on your feet. For what it's worth, these boots may be good for landscaping and working on concrete than they're for construction sites and plumbing.
Despite the steel toe design missing, Thorogood American Heritage work boots feature durable fiberglass shank, which provides sufficient ankle support, so you can walk comfortably.
The wedge sole design is a good innovation to add to the boots. This model  doesn't just give your feet a wider contact surface. You even get better grip and traction to walk and work in different places. And no, you won't lose your grip even on the most slippery surfaces because the sole is slip and oil resistant.
Related: Is Moc Toe The Same As Steel Toe?
When it comes to durability, you can be sure that this pair of work boots will last for years. All you have to do is to give them better treatment after every three months. Again, the brand uses the good-year welt construction to attach the leather upper to the sole. With this construction being the most durable in the boots design, it's hard for the upper to rip way from the sole.
Also Read: Wedge Sole vs Heel Work Boots
2. Red Wing Heritage Men's Classic Moc 6″ Boot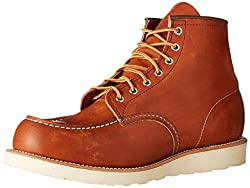 The Red Wing Heritage takes us back to the time when old-fashioned work boots were quite trendy. So if you were the kind of person who doesn't mind taking a step back, why would your feet not enjoy the taste of traditional design? Click here to see today's price on Amazon.
To be clear, the Red Wing Heritage isn't a pair that runs true to size. They tend to run large, so you'll need to pick half a size down. If you're not sure about your size, you should consider trying two or three pairs to find what fits.
Again, this isn't exactly the most comfortable work boots to wear to a job site initially. So if you're the kind of person who needs immediate comfort the moment you wear a new pair of work boots, give this pair a pass.
But when they break in, and they will after a while, the Red Wing Heritage will mold to your feet and become comfortable enough to take to any job you like.
These are American made, so you're going to have to pay a premium price. However, it doesn't mean you're getting a perfect pair of boots that will last for a very long time to come.
The sole will probably wear out faster than many similar work boots will. And that's true because the wedge sole is soft on the edges and doesn't look like something that would hold up to regular use on hard surfaces like concrete.
Given the relatively low quality of the sole, you might want to consider two options. You can alternate them with another pair of work boots so they don't wear down first. Or you can simply get another pair with a hardwearing sole unit instead.
The upper is a handcrafted construction, built to last for the longest time possible and easy to clean and condition. Unlike the sole, the leather upper will stand up to regular use and abuse just fine. And don't be surprised if they even outperform the replacement soles because they're sturdy enough to stand up against whatever you throw them to.
3. Thorogood Men's American Heritage Wedge Pull on Boots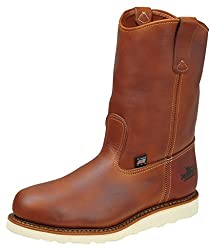 I'm always a fan of pull-on work boots because they're easy to wear. No lace up design to deal with, no lacing techniques to worry about, and no eyelets to spend your time on. Simply slide your feet in, pull the shaft up, and get moving. That's the case with Thorogood Heritage Wedge Work Boots. Click here to see today's price on Amazon.
The Heritage features a leather upper singles stitched to the sole unit. With an opening wide enough to accommodate your feet, you don't have to apply force on the side loops to get a proper fitting. Since they don't run true to size, you'll have to get half a size down if you need a snug fit.
These American Made Work Boots won't feel comfortable straight out of the box. Their boots break in time isn't long either. They should feel comfortable within 3 to 5 days, although the period may be somewhat longer for some people.
Thorogood sets it bar higher when it comes to comfort. With the Heritage Wedge Boots, they give you the kind of cushioning that the value for your money deserves. There's a shock absorbing footbed that manages impact from rough surfaces such as concrete. That's enough to make every step you take feel comfortable, even in the days when you have to be on your feet the whole day.
Attached to the footbed is the Poron comfort cushion insole, a good area for foot to spread out nicely and rest as you walk and work.
Then there's the wedge outsole that gives you a wider surface contact. It provides the grip and traction you need to walk comfortably.
4. Danner Men's Quarry USA 8 Inch Alloy Toe Wedge Work Boots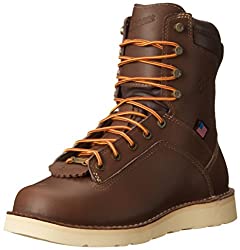 If there's something that Danner does very well with the Quarry work boots model, it's the combination of style, comfort, and safety to give you the best of its collection. And if you've been wondering whether to go for imported boots or a model made in the USA, I strongly recommend the Quarry USA 8-inch model. Click here to see today's price on Amazon.
Built for tough jobs and occasional walks, with a color tone that can easily complement different work attire in your closet, the Men's Quarry USA are as versatile as you'd want them to be. You'll see construction workers using these a lot. And if you're a mechanic who needs comfortable boots, don't hesitate to get yourself a pair.
If you ask for my opinion on the design, I'd say Danner does put a lot of thought to the model. The Nubuck leather upper, which features an integration of Gore-Tex liner, features triple stitching for strength and durability, with a single stitch connecting the upper to the sole unit.
The thick padding on the collar gives your ankle exceptional comfort. With an inch and a half padding, even your heels can keep in place and not move more than expected. So you may not have to worry about heel slippage in boots if you go with the Quarry USA model.
As you work, you'll probably walk in water and wade through mud puddles more than you can even count. And that's okay because these boots are waterproof, able to keep you from drenching as you work your shift.
On top of the waterproof membrane is a breathable liner that ensures constant airflow in and out of the boots.  This keeps your feet cool and dry, no matter how long you stand, walk, and work.
Danner maintains the lace-to-toe design for many of its boots. You even see it on the Quarry USA work boots. While this patterns somewhat started to disappear a long time ago, it's not a foolish choice that Danner added it to this boot. In fact, this style anchors your feet well in the boots, even making it easy for the pair to supply the power and protection that you need to walk and work in the best of time.
Danner adds an Ortholite footbed to the pair. It provides a cushioned surface for your feet to rest on. Add a good pair of work boots inserts on top, and you can walk and work for extended period without worrying about foot fatigue.
Then there's the wedge sole. Made of the popular and durable vibram rubber, the sole unit gives you the traction you need to walk on all surfaces just fine. Thanks to the non-linear design of the lug patterns, Danner Quarry can release debris fast, so you don't lose grip and traction as you walk and work.
5. Danner Women's Bull Run Moc Toe 6″ ST Work Boot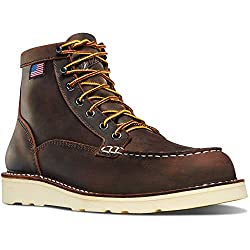 Danner always put some serious work into its boots. And the Bull Run is a perfect example of how far they can go to design comfortable work shoes for the women who grind hard under the hot sun. They don't run true to size and they're not suitable for wide feet. But for those who find them fitting, the comfort level is quite exceptional. Click here to see today's price on Amazon.
For women, work boots that scream fashion statements tend to be better than the plain, laidback models. The Bull Run boots are somewhat iconic, yet not comparable to the Wheat Nubuck from Timberland. The stitching is well up to the standard and the lace-up design lets you get a good fit fast.
The open cell Ortholite footbed nicely graces and soothes your feet, providing the highest level of comfort that regular work shoes simply can't.
Since Danner takes the safety of your toe seriously, they use steel instead of regular leather to construct the toe box. Made in a way that wholly exceeds the ASTM and EH standards, you get maximum protection against objects that are likely to fall on your feet by accident – especially if you're a construction worker.
Bull Run features the most durable rubber outsole a pair of work boots can have. Not only does the sole construction makes it easy to walk on oily and slippery floors. They also offer better grip on the entire contact surface and provides the traction you need to walk on all floor types.
What are the Advantages of Wedge Sole Boots?
Work boots with wedge soles are such a big deal that they're becoming a lot more popular than the standard heeled work boots are today.
Below are some advantages, and therefore reasons, to invest in work boots that feature wedge soles:
1. Wedge Sole Work Boots are Versatile
Flexibility isn't something many of us consider when it comes to choosing the right pair of work boots. We're all about fit, comfort, and safety. Not to mention some of us are even job specific when it comes to picking work boots.
When it comes to wedge sole boots, though, you have to think beyond the obvious. In fact, you'll want to wear these because they're the most versatile work shoes that money can buy.
Whether you need a pair for working on concrete, you're in the plumbing field, you landscape every day, or you fix water systems and you need the right boots for the job, any wedge sole pair should do.
In other words, it doesn't matter what your type of job is because wedge sole boots can give you the ultimate user experience that you need to do and complete your work in the best of time.
2. Wedge Sole Work Boots are Comfortable
The biggest drawback with heel boots is their inability to distribute body weight evenly on the sole. Wedge sole boots easily solve this problem by ensuring even weight distribution so that you can walk without worrying about strained feet, especially when you have to be on your feet for an extended period.
The cushioned footbed of these boots elevate feet comfort to another. Combined with the layer of EVA insole, there's just enough cushioning for every step you take. Your walks feel natural, especially because the design of the sole conforms to the shape of your feet. In a way, wedge sole work boots let you walk without messing your natural gait.
3. Wedge Sole Work Boots are Easy to Clean
If you look at a pair of wedge sole work boots closely, you'll notice that they're closed off so dirt can't easily get in. Even the sole unit itself doesn't attract dirt and dust easily. More often than not, you're going to have an easy time cleaning wedge sole work boots than the standard heeled work boots.
4. Wedge Soles Work Boots Have Many Unique Features
When it comes to choosing wedge sole work boots, you do want to make sure you get a pair that has all the special features that you'd want in any work boots.
The boots should be breathable. You don't want to drench your feet in sweat unnecessarily. Rather, you want constant airflow that keeps your shoes cool and dry throughout the day.
Keep in mind that not all wedge sole boots feature steel or composite toes. Don't assume that they meet all the EH and ASTM standards either. Check to make sure that they have the safety features that meet your workplace's safety standards before buying pair.
Consider a waterproof pair of boots with wedge soles if you'll be working in damp conditions. This will ensure water doesn't get in the footbed and that you can work well even when it gets cold and damp outside.