Are you looking for warehouse work boots that won't sweat your feet or wear and tear after a month of work?
Maybe you already have a pair of work boots but you need another brand that you can alternate with existing ones from time to time?
You've come to the right place because we have the best recommendations for you.
It doesn't matter if you work a few hours a day or your boss needs you to complete a long shift. The work boots reviewed in this guide have the comfort and the warehouse safety features necessary to get your activities done, no matter how busy you expect to be.
Best Boots for Warehouse Work
1. KEEN Utility Men's Detroit XT Low Steel Toe ESD Work Shoe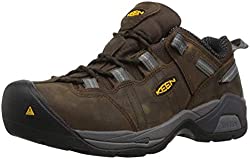 If you're the one person that would trade money for a quality work footwear for concrete floors, you really don't want to look past the Keen Utility Detroit XT work boots. Whether you're planning to retire your old Timberlands or you're starting a new warehouse job in a town nearby, the ESD work shoes are a good option to go with. Click here to see today price on Amazon.
I'm not about to say that the Detroit XT are fashionable. They're not. But the black, gray, and brown color combination gives them a cool complexion touch that makes them pop a little.
Since the Detroit XT run true to size, you don't have to get a half a size up or down. Go with the usual fit instead. Keep in mind that the pair won't feel comfortable straight out of the box. But they should mold to your feet and feel cushy as soon as you break them in. With enough room in the toe box area, your forefoot can wiggle a little without feeling loose.
I should say that these are versatile boots, which fit even the busiest warehouse worker. In terms of performance, these should hold up quite well in different environments. The waterproof upper bars water from soaking into the boots. The breathable membrane enhances airflow to keep your feet cool and dry, and the oil and slip resistant outsole gives you the grip and traction you need to walk on all surfaces.
Also Read: Best Work Boots for Walking on Concrete
Keen integrates a 3-part interlocking midsole system to give you a higher level of stability and flexibility even on uneven ground.
2. Timberland PRO Men's Powertrain Sport Alloy-Toe EH Industrial & Construction Shoe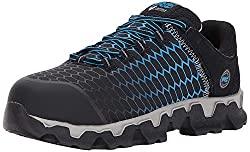 Timberland PRO isn't always just about regular work boots as we've made ourselves to believe. They've even stretched out to making sporty shoes for work, and the Powertrain are the best in its class, especially for the men that need industrial and construction work boots that meet all the safety standards of workplace shoes. Click here to see today's price on amazon.
The Powertrain is no doubt an iconic pair made of ripstop nylon upper and synthetic rubber outsole. The upper features a breathable membrane, which boosts constant airflow to keep your feet cool and dry as you walk and stand for an extended period.
You'll love how Powertrain Sports construction shoes conform to the shape of your feet, because this, if anything, goes a long way to ensure that every step you take feel natural.
When it comes to the looks, I strongly believe that the pair will make your work outfit stand out from the crowd. And as someone working in very busy warehouse, these should provide the comfort and the safety you need to start and complete your shift.
It's not that using steel or composite toe is a bad security option. But Timberland moves completely away from these materials and uses alloy instead to make the shoes safe. Again, alloy is a great option that not only lasts for long but also doesn't add too much weight to the shoes.
While the rubber outsole gives you the traction you need to walk without worrying about skidding and falling, the grip isn't exactly stable enough to hold up on slippery surfaces.
3. New Balance Men's Composite Toe 589 V1 Industrial Shoe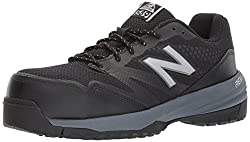 In our eyes, New Balance is a brand that gives you the best of style and comfort in industrial shoes. And their Composite Toe 589 V1 inarguably gives you the best of both worlds. They're iconic and colorful, and nicely scream a modernized fashion statement that can blend with just about any work attire. Click here to see today's price on Amazon.
The upper is 50% leather and 50% synthetic, a combination that makes the pair strong and durable. And for the warehouse workers that like to give safety the first priority, the composite toe construction can protect your toes from the impact of landing objects.
When you're on a long shift, the last thing you want to worry about is your feet getting sweaty and drenched. After all, who wants to go back home groaning of blisters and stinking feet after a long day in a warehouse? With the breathable mesh upper, the New Balance 589 V1 ensures consistent airflow to keep your feet cool and dry, so you can work well even when you have a long shift to complete.
Also Read: Best Work Boots for Sore Feet
New Balance 589 V1 feature rubber sole, which, although not oil or slip resistant, offers solid grip on most surfaces and gives you the traction you need to walk just fine.
4. Skechers Women's D'Lites Memory Foam Lace-up Sneaker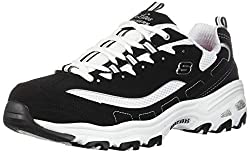 Depending on who you ask, buying memory foam shoes can be the best or worst decision you'll have to make. And with the Women's D'Lites looking astonishingly beautiful, what opinion should you buy into exactly? Click here to see today's price on Amazon.
I do recommend D'Lites for their cushioning and comfort. But they may not exactly be the best option to consider if you work in a warehouse where there's high temperature. That's because while memory shoes are breathable, they don't guarantee the consistent airflow that your feet needs to stay cool throughout the day.
The first time you wear these sneakers, you'll notice just how soft they feel to the touch. And while their design structure feels casual and fashionable at the same time, you'll love them mostly because Skechers has cushioned them well enough for frequent walks.
There's a thick padding on the tongue and collar, so both the heel and the forefoot feels comfortable with every step you take. The air-cooled insole adds a layer of comfort to the shoes, but it's not exceptionally breathable.
While they'll wear out lot faster than standard work boots, they're a budget pair that can log hundreds of steps before you ever stop to think about replacing them.
The sole is pure rubber, with tread patterns that provides a solid grip and traction necessary for waking for an extended period.
While these shoes are good for the price point, just keep in mind that they won't be the most breathable warehouse shoes you'll buy.
5. Timberland PRO Men's 6″ Pit Boss Steel-Toe Boots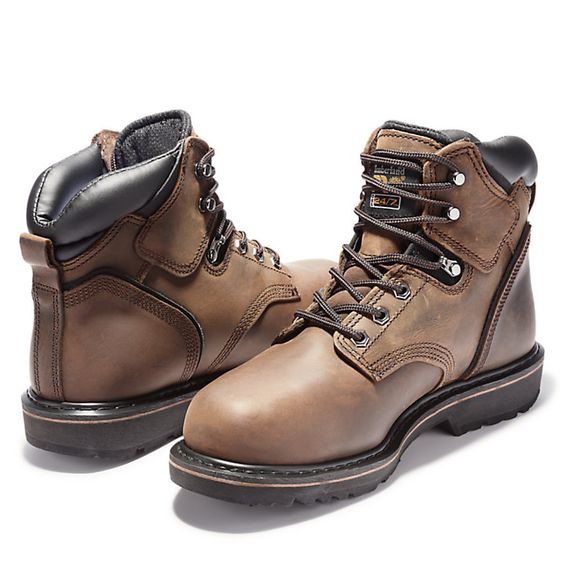 While Timberland PRO Pit Boss steel toe boot is a lot less stylish compared to some work boots in the brand's footwear line, it's not doubt a safe and comfortable pair to wear to any warehouse job. Click here to see today's price on Amazon.
Timberland PRO integrates the right tech to make these boots comfortable enough for warehouse work. For starters, the 24/7 suspension system minimizes foot fatigue, making it easy for you to walk and work for an extended period. Attached to the collar is a guard that protects your feet against rubbing, and the padding on the collar soothes your feet for a more comfortable feel.
On long walks and tough shifts, your feet had better be breathing better. And with Pit Boss, you get a consistent airflow to keep your feet cool and dry thanks to the breathable liner on the upper. Plus, odor isn't anything to worry about, because Timberland PRO treats the liner with an antimicrobial touch, which ensures your feet don't smell.
Pit Boss wouldn't have been any good without a shock absorption system. In my view, the shock diffusion plate is an addition of a kind, because it absorbs pressure from the ground while stabilizing and supporting your feet with every step you take.
With the Pit Boss boots, Timberland tries to give your feet the maximum safety possible. And they do so without making mistakes. First, the toe box, which is roomier for flexibility and a more comfortable fit, is all steel toe, which offers you the protection you need against falling objects. Designed to meet the ASTM standards, the Pit Boss can even protect you from electric shock just in case you step on a live wire by mistake.
With Pit Boss, you aren't going to lose your grip or traction. The sole unit has rubber treads that hold any surface tight, allowing you to walk steadily even for long hours. You'll like that they're oil and slip resistant, so even if you work in a very slippery environment, the sole unit will keep you on your toes for the longest time possible.
With every last one of us wanting nothing but the most durable work boost for the price point, Timberland's Goodyear welt construction is something to admire. The chemical bond between the leather upper and the rubble outsole make the Pit Boss a durable pair of work boots that you can use for months or years to come.
6. Caterpillar Men's Second Shift Steel Toe Work Boot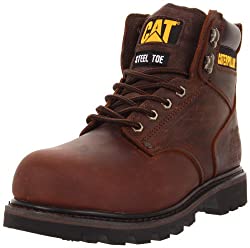 Caterpillar Men's Second Shift has sold like candies and burgers since the model appeared. That's partly because the pair is stylish and mostly because it's comfortable and safe for different jobs, including warehouse work. Even with a more rugged detailing that would make the design feel somewhat ancient, its high level of performance creates an immediate mind shift from looks to usability. Click here to see today's price on amazon.
The leather upper has a waterproofing treatment, which prevents water from soaking into the boots. So the days when the warehouse gets damp and you have to do a lot of mopping, you can do so with confidence in these water resistant pair of work boots.
In addition to the waterproof membrane, these work boots have breathable liners that ensure constant airflow to keep your feet cool and dry. They even have Climasphere insoles, which breathe well to keep your feet cool and dry as you walk and work.
For warehouse workers who need work boots that feels grippy from every step, while providing better traction on different surfaces, the Second Shift are the ideal pick. Moreover, the outsole is also oil-resistant, so they should hold up quite well even on the most slippery surfaces.
The Caterpillar Second Shift won't feel comfortable straight out of the box. But once they break in, in about a week or so, they should be easy to wear and walk in for an extended period.
Buying Guide: The Elements of a Good Pair of Boots for Warehouse Workers
When it comes to choosing a pair of work boots for the warehouse work, picking a model that isn't comfortable for the job is the worst gamble ever. That's why it's important to consider the following:
Choose Boots with the Right Features for the Job
That's why instead of picking a pair right off the bat because it runs true to size is a bad idea. You also need to look at factors such as cushioning, toe protection, breathability, waterproofing, and durability.
I recommend choosing boots with durable leather upper and grippy outsole that give better traction. The boots should be obviously breathable, with a waterproofing membrane being a definite plus.
Check the lace up design and make sure they are up to the standard enough to give you a good fit. If you're a fan of pull on boots for work, choose a pair with fitting loops and sizeable opening for easy wearing.
Allow Your Time to Break In
A majority of boots take time to break in. And this is a stage that a pair of work boots must pass so that they become comfortable. You can break in the boots fast, but you can still let the break in naturally by walking and working in them. Proper break in happens within seven days, and the boots tend to be comfortable thereafter.
What are the best shoes to wear while working in a warehouse?
7 best shoes to wear while working in a warehouse:

1. Reebok Men's Rb4041 Sublite Cushion Safety Toe warehouse work Shoe.
2. Skechers for Work Women's Synergy Sandlot Alloy Toe Work Shoe.
3. Merrell Men's Moab 2 Vent warehouse work Shoe.
4. Keen Utility Men's Atlanta Cool Steel Toe Work Shoe.
5. Timberland Men's White Ledge Mid Waterproof Ankle Boot.
6. SUADEX Steel Toe Shoes for Men Lightweight Comfortable Slip-Resistant Composite Toe Shoes.
7. Irish Setter Men's 6″ 83605 Work Boot.