Zero drop work boots are the new craze in the footwear arena because they're barefoot in design to allow your feet to flex naturally, enhancing your gait as you walk and providing the comfort you need to keep moving.
Also called minimalist work shoes, the flatness and flexibility of zero drop work boots make them the best alternative to the traditional work boots that you've probably worn for months or years now.
To be clear:
I'm not against wearing traditional work boots for your next day job. After all, they're well made and quite protective.
The only problem is:
They may not be comfortable to wear to jobs that demand standing, walking, and working all day because they feature thick and stiff soles and heels that don't often work well for extended period.
So if you want to work for an extended period and keep your feet healthy and strong at the same time, go zero drop with the following minimalist work boots.
 The Best Zero Drop Work Boots 
1. Caterpillar Brode Men's Steel Toe Zero Drop Work Boots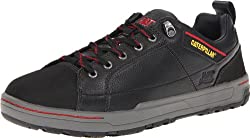 Just when you thought that Caterpillar is all about heavy-duty work boots alone, they slap you right in the face with some minimalist work shoes called the Brode. Brode makes it feel like Caterpillar is slowly dropping the black color standard, but what may be significant regardless is the iconic look. Click here to see today's price on Amazon.
The men's Brode look like converse sneakers that you can wear to the next basketball or tennis match. And on top of that, they feature slip resistant sole profile and a steel toe for maximum safety.
When it comes to performance, the men's Brode can take the beating and keep going for an extended period. Put them to simple jobs and they win. Walk and work in them for an extended period, even during the toughest jobs, and they'll hold up quite well.
The water resistant leather upper keeps moist at bay. So in the days when you can't avoid working in mud, puddle, or rainy weather, these are the water-resistant work shoes to take to the job.
What's more to the model is the breathability, which is something that the nylon mesh handles quite well. If anything, this means you can work, walk, and stand for an extended period without worrying about your feet getting wet, sweaty, and sore.
These aren't slip on sneakers per se, but that isn't something I'd expect from a pair of work shoes as I would from boots. A pair of 5 eyelets doesn't feel like too much because at least you can lace these up quickly and get going.
In my opinion, the Brode steel toe work shoes can flex with your feet quite well. With a flat sole profile that gives you the feeling of barefoot walking, every step you take in these shoes will feel more natural.
2. TACTICAL RESEARCH TR Men's Mini-Mil TR105 Minimalist Combat Boot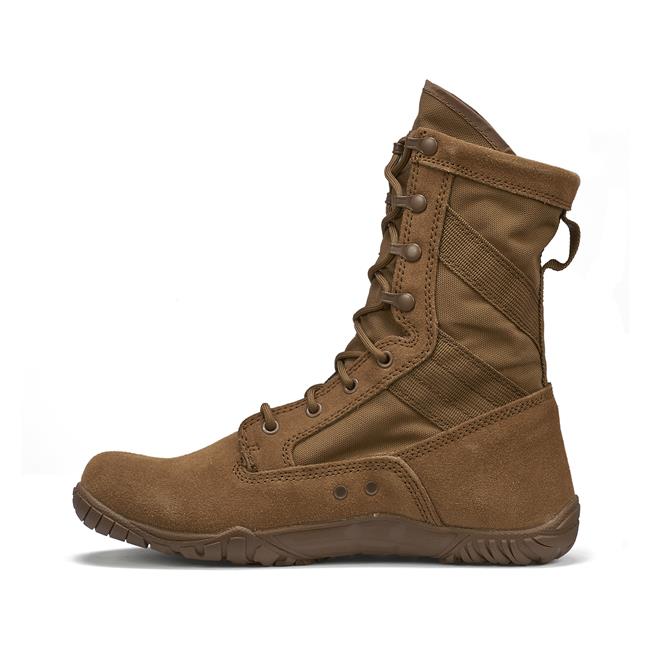 Tactical Research is up for some serious business with its footwear line. And they've given their shoe persona the kind of build that many new similar entrants can only admire. Their TR Mini-Mil TR105 is as useful for military work as they are for any other kind of heavy-duty work. Click here to see today's price on Amazon.
The TR Mini-Mil TR105 Zero drop work boots are made of pure cattlehide leather and denier Cordura nylon. The upper features a durable mesh fabric, which promotes constant airflow to keep your feet cool and dry all the time, especially in the days when you expect to be too busy to stop.
If you look closely, you'll notice double and triple stitched seams, which mean better construction and guaranteed durability.
The removable insole features a single density design. While it's lightweight in form, it's comfortable enough to provide the comfort and support that your feet needs to stay on the move.
Then there's the outsole. As the link between the sole of your feet and the ground, the sole unit, even for minimalist shoes, must be up to the standard. Turn these boots upside down and you'll notice some uniform lugs, which not only provide stability as you walk but also provide better traction even on slippery floors.
TR Mini-Mil TR105 features a wide toe box, so your forefoot gets enough room to move about. And don't worry because you won't feel as if your feet are too loose inside. Provided you lace up the boots properly, you're good to go.
The first few days of using these boots may feel like you made a wrong purchase decision. But you have to give the pair time to break in because they fit well once the do. If you feel like the inserts aren't comfortable enough, you can replace them with some of the top insoles recommended for work boots.
3. Reebok Work Men's Soyay RB1910 Skate Style EH Safety Shoe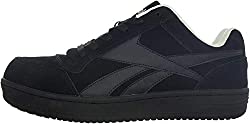 Reebok footwear line is so popular that it no longer needs an introduction. Started in 1958, few of us, if any, knew it would become such a powerful household name that it is today. And if I'm being honest, everyone I know would choose Reebok over some new footwear brand in the market – or so I think. Click here to see today's price on Amazon.
Their Soyay RB1910 Skate zero drop work boots iare a masterpiece of its kind. It's somewhat crazy to recommend them for work, as they're primarily sports shoes. But their minimalist design and safety construction make them a good recommendation to wear to your every day job.
Reebok blends safety feature and athletic level technology to make these shoes flexible and safe for any environment. To begin with, the sublite technology makes the shoes feel more lightweight for sports and work, and the SR helps with smooth feet landing on any ground.
The leather upper construction is artistic in appearance and well-built overall. Plus, these minimalist work and sports shoes are breathable, so you can walk and work in them for an extended period without worrying about your feet getting sweaty, wet, and sore.
Foot Fuel is another interesting technology that Reebok integrates to the shoes. Not only does it make your feet comfortable enough to move around for an extended period. It also provides a responsiveness, so you can walk naturally and improve your gait.
If you examine the outsole, you'll notice that they feel solid in design. In terms of performance, the sole unit provides a firm grip and enhances maximum traction with each step you take. Non-slip in design, the rubber outsole keeps you grounded nicely, even when you step on slippery floors.
Keep in mind that Reebok Men's Soyay RB1910 safety work shoes are somewhat heavy. And they'll take some time to break in.
Also See:
4. Vivobarefoot Scott Men's Casual Lace Up Thermal Winter Boot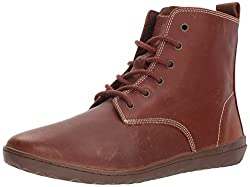 Winter comes and goes and that's the time when your feet can dance like a leaf if you wear regular work boots. So instead of picking just any pair from the shelf, consider getting yourself some work shoes that can give you comfort and warmth. And if you have no idea what to pick yet, the Vivobarefoot Scott just might be what you need. Click here to see today's price on Amazon.
If you're into zero-drop work boots, chances are your conventional shoes pinch and hurt as fuck. Vivobarefoot solves the problem, allowing you look nicer and walk comfortably for an extended period. As for the look, you could probably mistake them for dress shoes if you wear them with pants that go all the way down to the ankle. Yet they're multifunctional, so much that you can use them for working, hiking, and snow play.
The boots' camel hide interior, canvas, and fabric lining offer a high level of warmth, thus making the pair suitable to use in extremely cold weather.
The toe box is pure leather. While that may be a downside for extremely heavy-duty work environment, where object falls are as common and frequent, it still offers some level of protection. I'd recommend using these for jobs such as landscaping, mechanical jobs, and even plumbing.
Even from just a general glance, you'll notice that the toe box isn't as big, which means it may not be roomy enough for some people. So the only way to find out if these would fit is to try them out first before paying for them.
The thermal insoles included in the boots are great because they provide a good level of warmth to keep you going in winter. But you should replace them as soon as you realize they're thinning out, as you don't want your feet to get cold.
5. Marugo Magic Safety Velcro Steel Toe Jika-tab Zero Drop Work Boots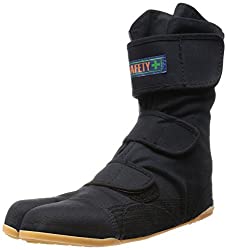 I hadn't heard about Marugo before until someone shared a link to their brand's website on social media. And looking at their Magi Jika-tabi, it's hard to deny that these are some well-made zero-drop work boots under $100. Cheap as the pair may be, you'll find them quite functional as Marugo optimizes them for performance. Click here to see today's price on Amazon.
If you're one of the person that loves Velcro closure work boots, you'll love the Jika-tabi. With the lacing system completely stripped away, you can easily wear and take the boots off in under 30 seconds. You wouldn't even need the Velcro closure system all the time if these were slip on boots. But for the price point, I'd say the Velcro closure is quite an interesting feature.
The sole unit appears well constructed and can tackle simple to tough jobs quite well. It's made of rubber and features a uniform tread profile that enhance grip and provides better traction on different surfaces. As much as the outsole of the Marugo Magic Jika-tabi feels soft on touch, it's actually non-slip, able to hold up quite well even on slippery floor.
Talking of protection, I wish Marugo Magic Jika-tabi featured a steel toe box instead of the reinforced plastic. Still, the plastic offers some decent level of protection, allowing you to work easily even in an environment where frequent falls of objects are common.
Keep in mind that the upper of these work boots is pure cotton. So while the pair is breathable, it isn't water-resistant. If you're looking for truly water-resistant shoes that you can use in any work environment, check out my review on boots that are waterproof.
To be clear, these boots aren't warm enough to use in cold environments. So if you need a pair that can provide a decent level of warmth, you'll be better off with the likes of Vivobarefoot winter boots.
6. ALTRA Men's ALM1895H Smith Minimalist Boots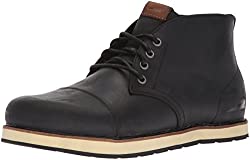 Minimalist work boots don't have to be expensive. And while that isn't Altra's central message, it's clear from their ALM1895H Smith Boots that you can spend less and still get quality in return. Click here to see today's price on Amazon.
These boots aren't in any way iconic, and there isn't any single design element that suggests so. But they're well built, and you can wear them to any outdoors activity, a night date out with your loved one or daily job. To begin with, the upper is made of pure leather, with double stitching that nicely holds different pieces together.
The shaft is about 4. 8 inches from the arch, so these are perfect if you're interested in work boots that go up a little above the ankle.
The EVA property is a nice addition to the midsole. It adds to the level of comfort of the shoes, though the cushioning isn't as good as what you get from other shoes. The inserts are removable, so you can replace them with work boot insoles that can add more comfort to the shoes.
The Foot Shape toe box feels roomy. Therefore your toes can nicely spread out and easily relax, so every step you take can feel a lot more natural no matter how long you have to be on the move in your day-to-day job.
Like many work boots in the footwear space, the outsole of these shoes is made of rubber. 100% zero drop in design, the soles place your forefoot and heel at the same level from the ground, so there's low-impact force evenly distributed across as you walk and work.
The ALM1895H Smith Boots don't have steel toes, but they can still protect you in case an object falls onto your forefoot by accident. Plus, they're easy to clean. Not to mention they take a short time to break in.
7. Xero Shoes Mika – Women's Vegan Lightweight Minimalist Barefoot Boots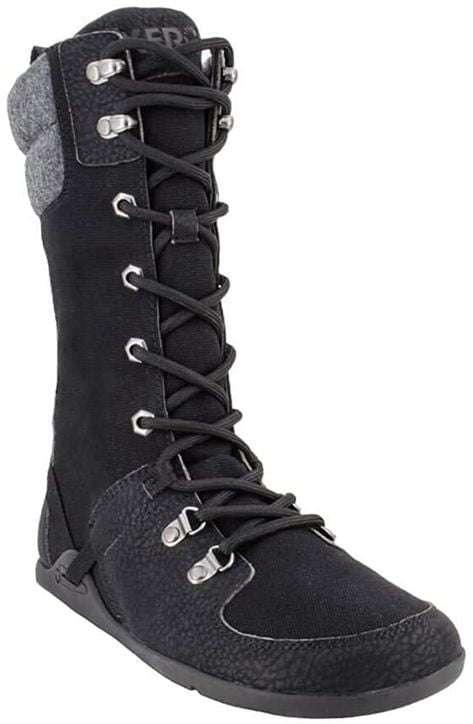 Xero Shoes are popular because of their excellent design and almost straight out of the box fit. And that's a true case for the Mica Cold Weather Work Boots. The construction approach of the pair is similar to the many work boots we've reviewed. That's to say the pair features a rubber outsole, a leather upper, and lacing system. Click here to see today's price on Amazon.
The thing that has become undeniably obvious about Xero is that they design with comfort in mind. Based on multiple testing reviews, their Mica are comfortable enough to wear to your workplace on a daily basis.
Thanks to the minimalist design with no elevated heels, you can be sure agility and balance, with every next step you take feeling a lot more natural as the previous. To begin with, the pair is perfectly fit for cold weather, thanks to the heat reflective insoles.
Featuring a blend of rubber design and a Feel True technology, there sole unit is so flexible that it bends moves, and flexes easily, so there are no chances of discomfort as you move about. What's more, the dual-chevron tread profile gives you better grip and traction, so you can walk on different platforms without worrying about slipping and/or falling.
The cushioning of these boots is simply on another level. From the moment you start walking in them to the time you take them off, you'll feel as if your feet were in heaven. Of course, they won't provide warmth in extremely arctic conditions as they lack the Thinsulate lining found in many boots. But if you just need work boots that can kick the usual cold in the ass these can be a great pick.
Xero Mica cold weather work boots are so lightweight that you might forget you're wearing them. At only 12 ounces, these give you a true barefoot walking experience without adding any significant weight to your feet.
8. Xero Shoes Prio – Men's Minimalist Barefoot Trail and Road Running Shoe
Unlike the Xero Shoes Mica for women, the Prio feel somewhat heavy. However, the similarity between the two models is that they stay true to the zero-drop design, they fit well, and they're very comfortable. Prio shoes aren't the kind I'd personally bring to a heavy-duty job, as I feel they aren't quite as robust for complex tasks. But they're comfortable for professionals such as plumber and quick responders, although that's still subject to scrutiny. Click here to see today's price on Amazon.
There's something particular about the outsole that makes this pair good enough to include in our list of zero-drop work shoes, and that's that flat design. Not only does the sole unit enhance grip and provide better traction, it also ensures better foot positioning from the ground, allowing you to improve your gait as you take natural steps.
With a 100% breathable mesh upper, the Prio zero-drop shoes are the kind to wear if you'll be on your feet all day and you need your feet cool and dry as you go about your daily job. Plus, the toe box is roomy, so your forefoot can easily flex without running the inner edges of the shoes.
The inserts are removable and easy to replace, so if you're up to some more personalized comfort, you can add up to 2mm cushioning to the sole unit. A common problem with the Prio's outsole is that it doesn't shed mud easily, so you may have some hard cleaning to do if you use the pair in a muddy environment.
The laces feel strong and durable, but I wish the eyelets were metallic because those who tighten such minimalist shoes so much can easily break the lace up design structure. Since they tend to run small for mall people, it makes a lot of sense to pick half a size up.
Frequently Asked Questions
Are zero drop shoes good for your feet?
There are many good reasons to wear zero drop shoes for work. Or to put it in another way, wearing minimalist shoes is good for your feet because:
1) They promote low-impact gait as you land on the ground on your forefoot or midfoot. As a result, you get a more natural contact between your feet and the ground, so you can walk freely and easily with a lot of stability.
2) With the heels out of the way, zero-drop work boots tend be lighter and therefore easy to walk and work in for an extended period. Thanks to the reduction in weight, these shoes tend to have stress on joints and muscles. And they can even help to alleviate back pain if worn consistently.
3) Conventional shoes rely on the design of the heels for artificial support. This is something you won't see on zero-drop work boots. It's that reason why they help to strengthen your feet by improving alignment, stamina, and even stability.
4) They allow your feet to function as naturally intended. First, they reduce the impact from the ground. And then they evenly disperse it from the heels across the mid feet to the forefeet. In the process, your calves become the shock absorbing agents, which ensure there's minimal to no risk of injuries.
Are zero drop shoes good for running?
Yes, zero drop shoes are good for running for the same reason they are good for walking and working. Just to reiterate, they can help to eliminate back strains and lower knee pain and enhance feet movement so that your steps feel more natural.
Conclusion
Because of the role they play and what they're worth, zero drop boots and shoes are becoming a commonplace in workplaces. If you haven't tried them yet, feel free to take them for a test ride and determine whether they're a good fit for you. I can guarantee you'll feel the difference.