If your job involves logging of trees, falling branches, and or climbing tall trees even when it is raining or snowy, you deserve thumbs high. Men and women who engage in this kind of job work under some of the harshest conditions, something that warrants the best logger boots. The beauty is that the market offers some of the best logging work boots, some with irresistible traction, breathable,  waterproofing, and sturdy workmanship to withstand conditions such as bad terrain, poor weather, wet barks, and slippery leaves.
Also Read: Comfortable rubber work boots
You may ask, are there logging boots I can trust? This article looks into that and offers the best answer on 8 best logger boots of all times.
The Best Loggers Work Boots 2022
1. Danner Men's Logger Boots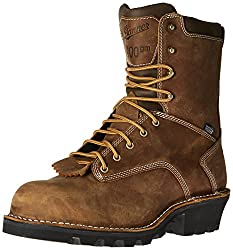 If you have been asking, "What are the best logger boots?" then the answer lies right before you. Danner Men's 8-Inch 400G is the right boot for you. The boot has some of the best features you have ever fancied a logger boot to have. Click here to see today's price on Amazon. 
For instance, these insulated logging boots have a rubber sole, something every logger work boot must have. The upper of these forestry boots is made from nubuck leather. That is a clear indicator that at no time will you worry that water will penetrate the boot to reach your feet. Apart from being waterproof work boot, the upper leather is also durable. You buy the logger boot today and you are bound to stay with the boot for many years to come.
From the arch upwards, the boot measures some 10.5 inches. With the shaft this height, you are sure there will be minimal injuries in case you are working on a bad terrain.
To increase rigidity level at the heel, Danner boots features a Bi Fit board base, which in turn allows for a lot of flexibility especially at the forefoot.
Pros
Oily nubuck leather upper that protects against penetration of water.
Sturdy logger boots.
Durable bodywork.
Rigid heel, ideal for rough terrains.
Cons
Waterproofing doesn't last long.
Not very good in containing shocks.
2. Timberland PRO Men's Rip Saw Logger Boot with Composite-Toe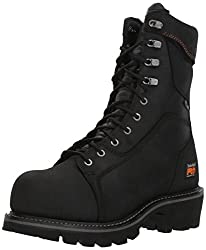 Whether you like it or not, there is definitely something, you will like about Timberland. First, the name depicts nothing but high-quality boots. Second, Timberland does all it can to ensure the boots come in different sizes and designs, so that no one will be left out. Whether it is a high heel logger boot or a low heel logger boot, you will get the work boot you are looking for. Click here to see today's price on Amazon. 
This composite toe logger boots come with 100% synthetic material that forms the larger part of the work boot. The sole of these logging boots is made from rubber, something you will appreciate because the boots are designed to be used in extremely rough and smooth conditions.
If you do not prefer fancy-colored logger boots, then you need to turn your attention to these boots because they are available in a black color, which is so far a neutral color to many people.
The platform of these Timberland logger boots measures about one inch, making the boots ideal for heavy-duty works. In addition, the heel of these steel toe logger boots measures 2 inches, while the shaft measures some 9 inches from the arch upwards.
In order to offer underfoot protection, Timberland logger boots come with a puncture-resistant plate, a premium feature that makes it possible for wearers to walk comfortably irrespective of the terrain or condition of the working area.
The boots come with an additional defense when you wear them. Inside the boots, you will find a thick lining that is aimed at offering the wearer the needed dryness especially if working in wet environment.
Pros
Neutral black color.
Inner dryness and comfort.
Thanks to the puncture-resistant feature, your underfoot is protected.
Boot-to-ground resistance thanks to the 100% rubber sole.
Cons
They are stiff especially at first.
Short laces.
3. Georgia Boot Lace-To-Toe Gore Tex Waterproof Insulated Work Boot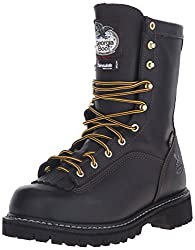 Georgia are classified under high heel logger boots. One of the things that stand out about these boots is that they have full-grain leather. Once you brush them properly, it will take you several days to repeat the process, irrespective of the working conditions. Click here to see today's price on Amazon.
With a 100% rubber sole, you will not encounter any unnecessary falls unless, of course, something or someone pushes you hard. Even so, you might not fall.
These cheap logger boots also feature solid hooks as well as eyelets for easy fastening. Thanks to this important feature, you are able to work the whole day without the fear of the boots getting off your feet.
Other features that make Georgia the best logger boots to look for this year and beyond is that they come with a 9.5-inch shaft that starts from the arch. In addition, these forestry boots come with a 0.25mm platform, which is ideal for ensuring your endless stability.
An orthotic insole lines the entire interior surface and the sides, making the boots extremely comfortable to wear even if you choose to wear them without socks.
To ensure maximum flexibility and durability, Georgia best logger boots feature Goodyear construction. Thanks to the ingenious construction, you are bound to use this boot for as long as you want.
Pros
Removable brush guard kiltie.
Nice hooks for tightening.
100% waterproof.
Light and very comfortable.
Durable and flexible thanks to the solid body construction.
The leather is so soft.
Interior lining makes it easy to wear even without socks.
Vibram low heel for longer wearing.
Oil and slip resistant.
Cons
You might contend with interior heat.
The hook and eyelets are somewhat small.
4. Adtec Women's Work Boots with Steel Toe – Best women's logger boots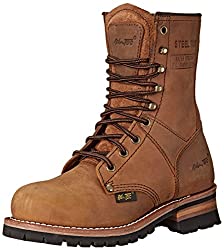 These are the first best women's logger boots in this list and they come with exceptional features that you don't want to miss. For instance, perhaps you have seen from the name that these boots measure approximately 9 inches. Click here to see today's price on Amazon.
The entire bodywork, except the sole is made from crazy horse leather. Think about it for a moment. How many times have you seen or owned a work boot or any other shoe for that matter that is made from 100% horse leather? Hardly!
Adtec best women's logger boots come with a platform that measure some 0.5 inches. In addition, the heel and the shaft measure 1.5 inches and 8 inches respectively.
The base of these logging boots are made from 100% rubber, something that is aimed at ensuring you do not incur unnecessary falls when you are at work. You can agree with me that the choice of the brown color for these logger boots under 100 dollars is another feature that shows consideration to the female gender that loves nice colors.
Looking at the price of this product, you might conclude that these are cheap logger boots. The truth is they have a fair price but it doesn't mean the boots are cheaply made. By the way, the boots are sturdy, durable and comfortable.
Pros
Nice color.
They are slip-resistant.
Economical in terms of price.
The upper leather is smooth especially when conditioned.
Cons
Takes long to break in.
The lining isn't as helpful as such.
5. Chippewa Men's Insulated Steel Toe Logger Boots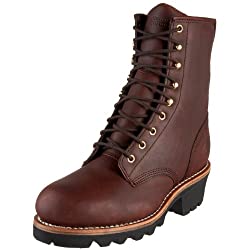 When it comes to men's logger boots, every well-researched list must include Chippewa Logger Boots. But you may ask, "Why?" The straightforward answer is; these composite toe logger boots come with all the features required for the best logging boots. Click here to see today's price on Amazon.
I must also mention that these boots have something that most logger boots on my list don't. I'm talking about a removable orthotic insoles. Yes, these steel toe logger boots are fitted with inserts you can remove, clean, and replace. The good thing about this feature is that it gives you the freedom to change to whatever insert(s) of your choice.
Other things you will appreciate about these logging boots for men are an imported synthetic sole, a medium arch, and 100% leather upper. The leather design is water resistant, keeping you dry and protected while working.
The shaft of these high heel logger boots measure 9.3 inches from the arch, while the heel measures about 2 inches. The platform on the other hand, measures 0.75 inches.
Something more about Chippewa Men's 8" Logger Boots that you are likely to appreciate is that the boot is available in two distinctive colors; black oil and redwood. With these two colors, you have the liberty to choose. However, I recommend buying the two colors. After all, there is no harm in having a variety of logger boots.
Pros
Nice choice of colors.
Steel toe protection.
You can remove and replace orthotics if need be.
Nice arch size.
Decent insulation.
Comfortable interior.
Waterproof logger boots.
Complex bodywork for durability.
Cons
Not 100% slip-resistant.
The tongue has deep scratches.
6. Georgia Boot Steel Toe Waterproof Logger Boots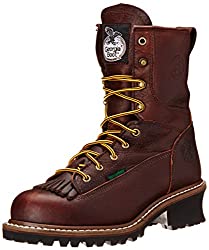 Another pair of the best logger boots you need to check out is Georgia's G7313. As you can see, this is the second time I am featuring Georgia product on my list. The beauty is that these logger boots come in a leather brown color. Click here to see today's price on Amazon.
These best logger boots are made from genuine imported leather. In addition, the work boots are waterproof. That means you will wear then and work comfortably whether it is snowy or rainy season.
Protective steel toe makes these boots to be among the highly protective composite toe logger boots in the market. Besides, they feature a lace-up closure method, making them among the lace to toe logger boots today.
Each pair weighs approximately 6 pounds. Although this might look like they are heavy, it is actually the ideal weight of the best logger boots. In addition, these logger boots come with a height of 8 inches from the arch upwards.
Pros
The boots come with a 12-month manufacturer warranty.
Slip resistant.
100% waterproof.
Nice brown color.
They feature a lace-up closure that holds your feet tight.
Secured toe area.
Cons
The tread and the material are sleek especially when walking or working on icy environment.
Insole is not very comfortable.
7. Skechers USA Men's Cascades Boots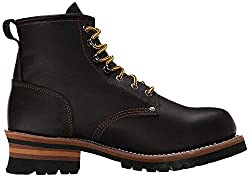 There is no doubt that if you've ever shopped for logger boots or work boots for that matter, you have come across Skechers. The boots are one of the best logger boots in the world. They offer quality services to the point that if you happen to use them for a while, chances of changing to another brand are minimal. Nonetheless, it is important to look at the features that make these logger boots stand out. Click here to see today's price on Amazon.
The boots are currently available in three distinctive colors to choose from, namely dark brown, black oily, and crazyhorse. A rubber sole covers the boots at the bottom while nice 100% leather features the upper.
With a midsole measuring a half an inch, you will never go wrong with these logging boots.
The topsole trim is stitched. Whether this feature adds any value to the life of the logger boot, I'm not aware. All I know is that with a stitched topsole, the logger boot looks great. Besides, the side of the boot is embossed with a smartly engineered company logo.
The boot's heel measures 0.5 inches, while the shaft measures 8 inches from the arch upwards.
It is important to note that the boot features a smooth oily upper. Because of this feature alone, Skechers USA Men's Cascades Logger Boots stand out among the rest because once brushed, you will wear the boots for several days before you do the same again.
Pros
Smooth oiled leather upper
Shock absorbing midsole.
Medium-sized shafts and heel for comfort.
Nice look and design.
Beautiful yet robust thanks to the stitched topsole trim.
Comfortable wear with guarded and padded tongue.
100% waterproof thanks to the oily upper.
Cons
Metal eyelets may tear the laces.
The arch support isn't sufficient.
8. Red Wing Men's Waterproof Steel Toe  Boots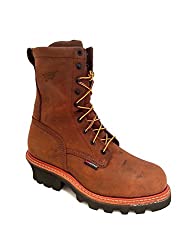 One of the things that make these logger boots stand out is the fact that they feature an electric hazard. Yes, only a handful of logging boots in my list have an electric hazard protector. Most of the logger boots on my list only feature a composite steel toe. Click here to see today's price on Amazon. 
The other thing you will appreciate about these redwing logger boots is that they are 100% waterproof. Even with these two features alone, you are certain that no harm (water or electricity) will come your way when you are on the site.
In addition, the boot features a steel toe. Red Wing 4420 will always protect your toes from debris and other falling objects.
Pros
Great toe protection.
Oil and chemical resistant.
Highly waterproof.
Excellent traction and stability in uneven terrain.
Nice color.
Cons
The boots are a bit heavy.
Also Read: Landscaping Shoes
Special Features for Logger Boots
It is reasonable to believe that whether you are a novice in buying boots or you've been buying logger boots for a long time, there is something that will always warrant your decision. In this section, I'll try as much as I can to bring to your attention some of the key features you need to look for when you are shopping for the Best Woodsman Boots.
You might ask yourself, why is it necessary for logging boots to have high heels? One of the reasons for this is the working environment. Logging boots are worn to help protect your feet from dampness and wetness that might be caused by water.
When working on unconducive environment, it is inevitable for your feet to get into contact with dirty water. Nonetheless, wearing logging boots with raised heels helps you walk, work, and wad in muddy environment without the fear of contracting any waterborne infections.
High heels also play an important role especially if you are working on a road construction. The site might pose some challenges especially if you are stepping of bitumen, the main component in making tarmac roads.
As it were, bitumen is hard to remove once it gets contact with the skin. As such, high heels come in handy.
Insulated logging boots are hard to puncture. Apart from offering waterproofing ability, the boots are also good at ensuring interior warmth. Once the logger boots are insulated, it is hard for them to wear off easily.
Besides, insulated logging boots can withstand tears that may be brought by falling branches, nails, or even straying saws.
Weather resistance or waterproof is one thing. It would be a lie to say that a boot is good for logging if it doesn't protect your feet against water, rain, or even any other liquid that might be coming your way.
In this, you need to consider the type of leather that forms most parts of the boot. Full grain leather is the best in constructing the upper part of logging boots.
Besides, a good choice of leather used to construct the boot will help you use minimal attention when caring for the leather. If you choose the boots in a rush, chances of finding wrong leather that is light and allows the percolation of water or snow is inevitable.
Without a steel toe, it is hard to say that the logging boots you are about to choose will be of help. The best logger boots must at least assure the wearer that the toes are fully protected. The beauty about steel toes is that it depends on the discretion of the manufacturer to decide where to place it.
In fact, certain companies, not necessarily logging companies, require that all of their workers wear boots with steel toes. According to OSHA regulations, when construction, warehousing or even cargo workers wear boots with steel toes, chances of minimizing feet accidents are imminent.
While a steel toe is the best recommendation, you might settle on a composite toe in case you don't like a steel toe. Nonetheless, steel toes are still the best in offering complete toe safety.
The American Society for Testing Materials (ASTM) is a body mandated to check for the standards of the shoe, boot, and cloth material. The aim of the body is to regulate safety standards and measures of the various materials.
As such, each logging boot should at least attain the required ASTM standard (ASTM F2412-81a/ASTM F2413-18) in order to fit the market.
A steel shank (carefully inserted between the insole and the outsole), it would be difficult to obtain optimum balance and support when working as a logger. A logging boot that does not have a steel shank makes it difficult for the wearer to comfortably carry his/her duties.
Steel shanks increase the boots' lifespan, minimize injuries from sharp objects, and keep your best logger boots in excellent condition.
Final thoughts
As a logger, you will never go wrong with the best logger boots that I have shared on this list. The good thing is whether you are starting out as a logger or you've been doing this job for a long time, this list will help you gain incredible insights especially in choosing the right forestry boots. It will be my pleasure and honor to see you get the best woodsman boots that will serve you for several months even years.
Frequently Asked Questions (FAQs)
What is the point of logger boots?
These boots are designed for people who work in the logging/tree falling industry or linesmen. The boots come with special features that include steel to, steel shank, high heel, waterproof ability, and stable and slip-resistant soles among others.
What are caulk boots?
Caulk boots have enhanced studs that are attached or fixed to the soles. The aim of putting studs on the soles of these logger boots is to ensure no falls or unnecessary slips when working on slick logs and floors. Logger boots that have studs have increased traction, something that offers the wearer the intended stability on wet floors as well as uneven surfaces.
 
What are the best logger boots?
Here is a list of the best logger boots:
7) Chippewa Men's 9″ Waterproof Insulated Steel-Toe EH Logger Boots.
6) Skechers USA Men's Cascades Logger Boot.
5) Danner Men's Logger 8″ 400G Nmt Work Boot.
4) Georgia Boot Men's 8″ Safety Toe Logger Boot.
3) Danner Men's Logger 8″ 400G Work Boots.
2) Carhartt Men's 8″ Waterproof Composite Toe Leather Logger Boot.
1) Timberland PRO Men's Rip Saw Composite-Toe Logger Work Boots.