The most comfortable slip on work boots are not necessarily the most expensive. Yes, many people have made a mistake thinking that when a work boot sells at a premium price, that is the right work boot. That is not always right.
Nonetheless, I am not disputing the fact that best slip on work boots cannot sell at premium prices. Instead, all I am saying is there is more into low cut slip-on work boots than their price. For instance, the work boot's weight is a matter of concern among warehouse workers, mechanics, plumbers, and other workers who are on their feet for long many hours.
With that in mind, let's now jump straight into some of the most comfortable slip on work boots.
Quick Comparison Table for Slip On Work Boots
The Most Comfortable Slip On Work Boots
5) Ariat Groundbreaker Chelsea Men's Waterproof Steel Toe Work Boots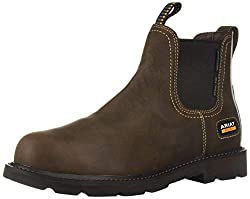 Ariat Groundbreaker Chelsea Waterproof is among the best slip on steel toe work boots I have seen personally. The boot has 100% leather covering all over its body except of course the sole, which is made of rubber. Click here to see today's price on Amazon.
If you are wondering how high, the shaft is, well, I am glad to tell you that this boot has a high shaft, so that you can remain comfortable the whole day.
Thanks to the western detailing, the boot is fitted with essentials such as metatarsal protection, supportive cushioning, and sturdy construction that help make the boot stand out. In addition, the boot is waterproof thus you should not fear of water percolating to reach your foot.
Also Read: Best Metatarsal Boots
Still on the outsole, the duratread sole comes with among other qualities, oil and slip resistance. Besides, the sole come with markings that make it possible for the boots to maintain high traction no matter the terrain.
For enhanced comfort, this lightweight slip on work boot features four-layer rebound alias 4LR. In addition, the added mesh lining ensures your work boots are breathable especially when working under intense heat environments.
Pros
Provide constant airflow to the feet.
Slip-resistant.
Guards your toes against harm.
Ensures your feet are warm throughout.
Cons
They are heavy.
Sometime the high shaft is uncomfortable.
Related: Best Pull On Work Boots
4) Redback Men's Safety Bobcat USBOK Slip On Steel Toe Work Boots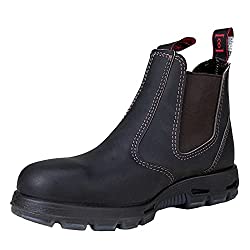 If you are a man of nice looks even when you are on your industrial, construction, electrical, plumbing, or any other heavy-duty work, this is the boot for you. Apart from the dark brown color that stands out, the other thing that you are likely to notice fast is the elastic side. Click here to see today's price on Amazon.
Thanks to the elastic side, you are able to fit in whatever size of the foot. The fabric is made from genuine leather while the sole is a product of high-level synthetic.
With a shaft height of 6 inches, you are sure that your foot is guarded against any harm that is orchestrated by low shafts such as when walking in stagnated water.
For superior comfort, this slip-on work boot for men comes with 3 layers on its heel. According to the manufacturer, the purpose of doing this is to ensure there is superior support and exceptional heel comfort.
Unlike other best men's slip on work boots the upper of this boot is made from a 3-piece leather. With this in place, you are sure that before a sharp object hits your foot, the three genuine leather layers would have provided their guard.
Pros
Waterproof upper.
Durable 3-piece upper leather.
High shaft for ankle protection.
Slip resistant.
Comfortable heel.
Easy to fit thanks to elastic side.
Cons
The elastic side gets lose each passing day.
The sole width is heavy.
Markings at the sole side hide dirty.
3) ROCKROOSTER Work Boots for Men, Steel Toe Slip On Safety Shoes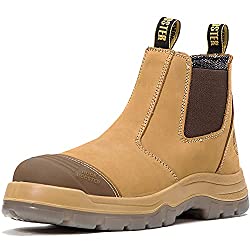 If you think you have seen a smart slip on work boot for men, then you are wrong. ROCKROOSTER AK 227, 222 Work Boots for Men is the real deal. The boot features among other things, a steel toecap that guards your toes against any harm that may be brought by falling objects. Although it is a work boot, the boot can also double up as a fashion or casual boot. Click here to see today's price on Amazon.
When it comes to water resistance, ROCKROOSTER Work Boots are among the best in the market. Still on the upper, the manufacturer has used nubuck leather, which is among the top-level work boot materials in the world today.
In order to provide your feet with the needed comfort during work, the footbed of this most comfortable slip on work boot is anatomically contoured, which cradles the feet.
Inside of this slip on work boot for men is an anti-fatigue memory foam, and an insole with the same anti-fatigue qualities. All these enable you to work the whole day without feeling any sort of fatigue on your footbed.
Although with a thermoplastic polyurethane sole, which is less durable than rubber, the non-slip and static dissipative nature of the outsole makes this boot unique. Thanks to the mechanism, the sole releases static electric energy to the immediate ground, allowing for slip and oil resistance.
For impact and heat protection, the boot is designed with COOLMAX technology. Thanks to the technology, moisture is easily and quickly transported from your feet, allowing your feet to remain dry.
Pros
Water resistant.
Steel toe protection.
Oil resistant.
Durable build.
Comfortable interior.
Cons
You may need heavy socks or two pairs for comfort.
2) Ariat Groundbreaker Men's Round Toe Work Boot – Safety Wide Calf Work Boots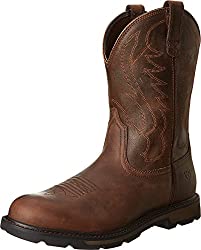 Of all the most comfortable slip on work boots I have come across, Ariat Groundbreaker Round Toe Work Boot with a wide calf takes the lead when it comes to high shafts. The boot is built with all manner of robust you can ever imagine of. Click here to see today's price on Amazon.
In fact, if there is slip on work boot that comes with genuine and hardened leather upper, this is the one. The upper material also comes with decorations – original deep-rooted engravings that make the boot stand out. You will never go wrong with this boot.
Earlier, I spoke about the shaft. Yes, the shaft of this slip on work boot for men measures some 11.5 inches.
Although built with hardened genuine leather, the boot also features a breathable mesh lining, which makes it possible for your feet to stay warm. In addition, for higher rebound, the boot comes with a dense insole.
With a round toe shape, you are sure that your toes and the entire foot will be comfort without any necessary burns that may be brought about heavy work, walk or long hours of standing.
Pros
Heavy duty leather for durability.
Oil and slip resistant.
Comfortable footbed and entire interior.
Full foot guard thanks to high shaft.
Comfortable toe design.
Cons
Very high shaft.
Needs much and constant brushing to shine.
1) Wolverine Unisex-Adult I-90 Waterproof Soft Toe Slip-On Construction Boots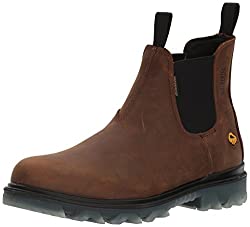 Like most of the slip on work boots on this boots review with elastic side, Wolverine Unisex-Adult I-90 has also its fair share to offer you. One of the things that stand out about this Sudan brown boot is that it has a middle-low shaft. Click here to see today's price on Amazon.
Fast forward to the sole, which also has interesting features. To start with, this boot features contours at its base. The good thing about these contours is to increase traction especially if you are working on slippery ground, which is a norm about work boots.
The only thing the sole is that it is made of synthetic, which as you may beware, is less slip-resistant than rubber. Therefore, it is in order to mention that with contours, you are almost certain that there will be no more falls.
Back to the upper, the boot's entire top is covered with imported leather, except of course with the elastic side. Although made of genuine leather, the upper material is breathable, waterproof, and has a moisture-wicking membrane.
Pros
Easy to wear and accommodate all types of feet.
Nice fit.
Highly slip-resistant.
Medium low shaft.
Comfortable interior.
Cons
Factors To Consider Before You Buy Comfortable Slip On Work Boots
Like most work boots, the most comfortable slip on work boots have standing out features that you must look for before you spend your money on any boot. Although there could be many characters to look into, I invite you to look at these four features closely before you spend your hard-earned penny:
Of course, I have started with this point with a reason. Even if the slip on work boot is going to have all the features that I am going to enlist below or more yet it does not fit you, that boot is useless.
Therefore, the first thing is thing is to ensure that the boot will give you the comfort you need. Granted, you may argue, "I am purchasing this boot online, how I am going to test whether it is comfortable?"
Come on! This is not the first time you are buying a slip on work boot. Is it? Assuming we agree on that, you may know that boots with high shafts make you uncomfortable. Boots that do not come with a mesh lining make it hard for your feet to breathe and so on. That is how you test whether the boot can give you a comfortable fit.
The second important feature to look for is if the low cut slip-on work boots you are interested in have safety toes. It is especially imperative if you are an electrician, a water engineer, plumber, and work at a warehouse or at a construction site where objects may fall on your feet.
Slip on steel toe work boots are the best when it comes to guarding your feet against foreign objects.
Yes, a safety work boot is not safe anymore if it is not waterproof. Ask yourself, "What is the need for wearing heavy boots to a site if they allow water to penetrate?" There would be no need.
Whether they are lightweight slip on work boots or heavy, quality slip on work boots must not allow water or any other liquid to penetrate to reach your feet. Speaking of waterproof, it doesn't just mean the upper.
The sole of the most comfortable slip on work boots should also not be the type that develops cracks a fortnight after purchasing. On that note, we go to the fourth and last point to consider.
If you thought this is a lesser point because it is last on my list, you are wrong. Every slip on work boot whether it is designed for men, women, or its is unisex, it must have a slip resistant sole.
Thankfully, most of the best men's slip on work boots or best women's slip on work boots I have seen come with slip or oil resistant soles. Therefore, whether you find a boot made with rubber, synthetic, polyurethane or any other material, as long as the manufacturer has assured you of its resistance against water, or oil, take it.
In essence, you need to ensure the boot can guard you against unnecessary falls.
Conclusion
So what now? Is it easy to find the most comfortable slip on work boots? Well, I want to believe that now that you have all the necessary details at your palms, you are better placed to choose the right low cut slip-on work boots for yourself, family or friend.