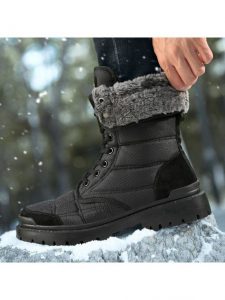 The warmth that insulated boots offer is something that makes them the ideal footwear for extremely cold condition. In fact, with insulation levels ranging between 200 and 2000 grams, these boots allow your feet to brave even the dead of the winter.
Since insulated work boots have cushioning that provides the comfort you need to walk and work in winter, it's not unusual to find someone asking if they're fit for everyday use. But can you wear insulated boots in the summer?
Yes, you can wear insulated boots in the summer as long as you stay within the range of 200 grams of insulation, which is considered the most suitable for hot months due to their moderate temperature.
If you go beyond 200 grams you'll only end up overheating your feet, causing more sweat that may lead to foot problems such as blisters. Since insulated boots would produce excess sweat when worn in the summer.
Also read: how much do work boots weigh
Understanding the Significance of Insulation in Boots
To answer this question better, let's first understand what insulation in a pair of work boots actually does.
Insulation creates a protective barrier between cold air and your feet. Further, it keeps the heat that your feet generate from walking and working so that the warmth doesn't escape. The insulation levels often range between 200 and 2000 grams, with the latter being denser, warmer, and protective.
When it comes to application, insulated boots are the ideal footwear for arctic weather conditions. Whether you work in snowy and icy region or in a space constricted into freezing temperatures, insulated boots are the footwear option to consider.
Related: Are Winter Boots the Same as Snow Boots
Can You Wear Insulated Boots in the Summer?
Yes- you can still wear insulated boots in the summer, but there are a few considerations that you have to keep in mind.
First, the boots should feature breathable linings or membranes that allow constant airflow so that your feet can breathe and stay cool and dry throughout the day.
Second, the insulation level can only be up to 200 grams to be suitable for summer months. Wear boots with insulation above this value and your feet will sweat like hell.
Third, stay away from these boots if your feet tend to sweat a lot in the summer, especially from walking and working for extended periods. It won't even matter if the insulation is lower and the boots are breathable. The insulation tends to lock in heat that can as easily drench up your feet and eventually make walking quite difficult.
Also Read: Metatarsal Boots vs Steel Toe
The Right Way to Wear Insulated Boots for Summer
Some people find the comfort of insulated work boots so appealing that they'd definitely wear them for everyday use, even in the hot summer months. It's completely understandable if you're one of them.
The most important thing to do is to make sure you wear these boots right so that you don't have to worry about drenching your feet and suffering from soreness and blisters later on.
Below is how you should wear insulated boots in the summer:
1. Wear the With Socks Designed to Keep Your Feet Cool
If you've never worn insulated boot in the summer before, you may never have come across the option of buying socks that keep your feet cool and dry during the summer season. But they do exist.
Take the Timberland CoolMax socks, for example. These are some of the best models in the market. You'll love them because they can keep your feet cool and dry, no matter how much heat the insulated boots produces.
2. Go for Pull On Boots Instead of a Pair With a Lace-up System
The best pull-on work boots aren't just a thing for their easy to put on and take off design. They have a wide opening that makes sufficient air circulation possible.
So if the boots have not more than 200 grams of insulation, is breathable, and has at least 11 inches of opening all around, you can wear them in the summer.
The boots opening will supplement the breathable mesh lining or membrane in a great day. Since the opening is big enough, there will be more air flowing in and out, and this will keep your feet cool and dry as you go about your daily business.
3. Buy Moisture Wicking Socks if You Don't Have Some Already
Perhaps the easiest way to wear insulated boot in the summer is to do so with moisture wicking socks.
I mean, think about it:
You'll probably be on your feet all day long. And that means walking in insulated boots in the summer will make your feet really wet. But when you invest in some high quality socks that wick out moisture easily, you can be sure to work with ease without worrying about sweaty feet.
Socks that wick moisture are good in socking up the sweat that your feet produce as you stand, walk, and work in insulated boots.  That means they'll make it easy for your feet to manage the effect of heat produced from walking in insulated boots in the summer.
4. Use Moisture Wicking Liner to Make the Boots More Breathable
Sure, insulated boots feature breathable membranes and liners that allow for consistent airflow in and out of the boots. But since you're wearing these in the season for which they weren't made, you should consider enhancing the breathability even further.
This is where moisture wicking liners come into play. The purpose of the liner is twofold, to absorb as much sweat as possible and to ensure sufficient airflow to keep your feet cool and dry.
Provided you keep the insulation to the very minimum, about 200 grams to be precise, the moisture wicking liners should be effective in making these boots easy to wear in the hot weather.
Can I wear snow boots in summer?
No, it's not advisable to wear snow boots in summer because they have a higher level of insulation, if worn in summer you will end up overheating your feet, causing more sweat that may lead to feet problems.