The lace up design on women's work boots, with metallic eyelets harmoniously married into each other, from a system that you can use to get a snug fit.
But if you want to slide your feet in a pair and get going about your daily business, that's when you go for laceless work boots and invest in the best women's pull on work boots.
It doesn't matter if you're a woman in the construction business, if you are a professional landscaper, or if you are a first responder paramedic. Pull on work boots will get you bundling up for your next job faster than boots with lace up design do.
To be clear, it's not that slip on boots are any better than the traditional design. It's the ease of wearing that that matters in this context.
In this guide, I'll review some of the most comfortable women's pull on work boots that you can get right. Whether you are upgrading from an old pair or this is going to be your first to invest in boots, you'll love the recommendations in this guide.
Let's get to it, shall we?
Best Women's Pull on Work Boots
1. Caterpillar Women's Revolver Steel Toe Work Boots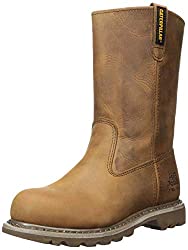 Caterpillar Remover may not be a fashion item, but it's the best women's pull on work boots. Think of a standard boots' feature, you name it, and the Revolver has it. Featuring a cushioned footbed, a durable rubber outsole, safety toe design and a wide boot opening, the Revolver portrays itself as one of the most comfortable pair to wear to your next job.  Click here to see today's price on Amazon.
With these running true to size, terms like half a size down and half a size up remain foreign. And as soon as your feet are in, expect them to fit straight out of the box. Even if you're a woman with extra wide feet, Caterpillar Revolver's opening is accommodative, allowing you to toss your feet in – and fast.
The design is up to the standard, with the choice of material being inarguably spot on. While the leather and outsole are thick, the design feels so lightweight.
I'd forgive you to think the soles of lightweight boots don't do jerk, because the Revolver for women are so aggressive. Heck, the sole even delivers a solid grip and traction that gives you the balance that you need to stand, walk, and work for an extended period.
With Caterpillar Women's Revolver, you'll feel a bend in the ankle for a couple of days, but beyond that part of the lower body, you shouldn't expect any kind of rubbing whatsoever. Once you break them in, usually in under a week, the Revolver becomes the most comfortable boots that you can put to frequent use and they just won't surrender to merciless abuse.
Also Read: Pull On Vs Lace-Up Work Boots
2. Ariat Krista Women's Pull on Steel Toe Western Cowboy Boots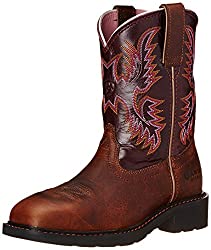 I know I'm going to, more than likely, sound gimmicky to conclude that Ariat Krista is everything you need in a pair of work boots. But without a doubt, what you get for the price is a pair of  women's western cowboy boots that will give you value for weeks, months, and years to come.  Click here to see today's price on Amazon.
When it comes to construction, Ariat marries function and fashion harmoniously into these boots. No mistake.
The full grain leather marries well onto the non-marking, oil-resistant rubber outsole. With steel toe design for safety, not to mention fully EH and ASTM rated, these boots can stand up to even the most hazardous work environment under the sun.
Krista's U-Turn entry system works behind the scenes to make it easy for you to "make the turn easier". That simply means that the work boots have an easy entry. Krista won't give you the feeling of walking on clouds, but their exclusive 4LR technology gives more cushioning that you need to kick hard floors in the ass and keep moving especially if you're working long shifts.
Related: Are Ariat Boots Good?
Then there's the sole unit that meets different types of floors, from the ruthless concrete to the gravel grounds. It features a duratread system, which not only makes you feel comfortable as you walk but also provides the grip, traction, and stability necessary for walking and standing.
Also See: Women's Work Boots for Concrete Floors
For the price point, you'd expect these to be more than just stylish. But they aren't perfect to some degree. First, they aren't waterproof, so you'll have to look elsewhere for that. Second, they offer only moderate arch support, so they may not exactly be good for workers that have flat feet.
3. Dr. Martens 2976 Chelsea Women's Slip on Work Boots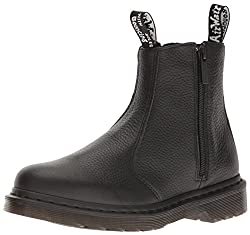 When you first look at  2976 Chelsea  women's slip on boots, you develop the feeling that the color of Dr. Martens' footwear is something already written in stone. But if you're a loyal boots lover who cares more about the comfort and the performance than the fashion statement a pair of work boots make, Dr. Martens Women's 2976 is an ideal pick to consider. Click here to see today's price on Amazon.
Dr. Martens Women's 2976 are versatile in function.  Apart from being the best women's pull on work boots, they are also the kind you can wear to any job – well, almost any.
Match them with a grayish coverall to a mechanical job and the blend will turn heads. They even go well with blue jeans and black pants. And if you're the kind that doesn't mind nature walks in boots under the warm sun on a Saturday afternoon, these are a bang.
Speaking of design, Dr. Marten offers you a real treat. First is the soft leather that looks durable and is exactly so for extended use. They're going to develop deeps scratches from regular use – maybe even deep one give or take. And I'd be lying if I tell you they won't crease from a lot of walking. Yet isn't that the price you have to pay for putting the Women's 2976 to use and abuse? It's a fun ride altogether.
For those of us that don't get pleasure from scrambling with laces, the pull on design of these boots is a savior come the rescue. And as if that isn't even enough of a design thing, Dr. Marten adds two branded pull-tabs for easy wearing.
Turning to the sole unit, it takes just a second to get the big picture. You see a uniform lug profile, which, in my opinion, offers sufficient grip on most surfaces. The traction is on point and the stability you get is up to the standard.
Related: Most Comfortable Slip on Work Boots
4. ARIAT Women's Fatbaby Western Boots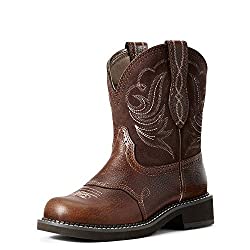 Ariat Fatbaby has been a big hit since debut, with testers praising the brand for making the pair as comfortable as possible. Even if you're deeply and insanely loyal to another boots brand, the Fatbaby looks too cool and strikingly eye-catching not to try out. And if you think that boots are more comfortable and less classy, the Fatbaby will definitely change your mind. Click here to see today's price on Amazon.
If you're thinking about how to use these booties, I have some ideas for you.
You can wear them to a landscaping job. If the shafts were just a few inches above the ankle, they'd make a good fit for roofing. They're even good for blending into your casual wear, not to mention you'll still look good in them if you wear them with plain clothing.
They're even perfect for daily motor rides. So if you need a pair of boots that will make you look fly and different from other roadies, take this pair home before it temporarily runs out of stock.
When it comes to design, the Fatbaby features a leather upper construction. While this is clearly imported material, the brand doesn't sweep the quality of the design under a rag. And even if the stitching weren't as colorful, at least you'd still have a robust design that can level up to any outfit.
Speaking of stability, the pro-crepe sole unit features duratread that offer solid grip and stability, so you can walk easily and naturally on different surfaces. Ariat also adds their 4LR technology to the boots, and this is important for more cushioning and feet support.
Ariat Women's Fatbaby are neither heavy nor featherweight. While they look bulky to the eyes, they don't feel heavier unlike many competing boots in the pull on category.
Also See:  Best Pull On Work Boots
5. Bogs Women's Classic Waterproof Insulated Rain and Winter Snow Boots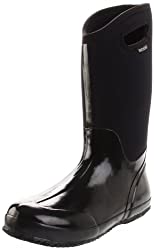 Bogs may not be anything close to a pair of fashion footwear. But when it comes to performance, they have the right drive. Click here to see today's price on Amazon.
Designed to keep water away, Bogs Women's Classic are the kind of work boots that you can use to wade in mud puddles and work in damp environments. You don't even have to worry if the ground gets dirty because your feet will stay clean.
The performance of these boots on different environments is satisfactory overall. For starters, the pair will keep your feet warm in extremely cold environments. So in the days when the outdoor is too icy and slushy, Bogs Classic Insulated work boots for women will make a big difference.
Bogs Classic upper is a waterproof neoprene, which bars moisture form soaking into the boots. It does a good job of protecting your feet from winter precipitations such as ice and snow. And it dries a lot faster than many similar boots. The only problem is that it doesn't dry as quickly if water gets inside; you might need to air them for a day or two.
These boots may not be suitable for milder climates. But if you're seriously interested in rain and winter snow boots that offer better traction, grab this pair and get down to business.
The insoles of Bogs Classic boots are relatively comfortable. They aren't so thick, so don't expect the cushioning to be that great. Since the toe box is roomy, there's enough space for your feet to wiggle without feeling too loose.
So where do you use them? The pair is ideal for activities such as farming and landscaping. I wouldn't recommend taking them to a construction site or a plumbing job, unless you're the most careful person to keep objects from falling onto your toes.
Bogs Classic's wavy horizontal treads aren't that deep, yet they still offer a good grip on both wet and dry surfaces. The only problem is that that the treads may not hold so well in thick mud, although you can still balance your posture so you don't exactly risk falling on such surfaces.
6. ARIAT Women's Tracey Waterproof Composite Toe Work Boot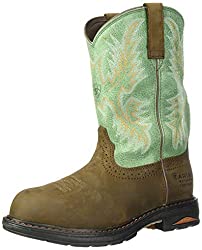 Tracey boots are an epitome of beauty. And even if they don't have a strong fashion statement like some work boots in the pull on category, they'll turn heads at workplaces give or take. Click here to see today's price on Amazon.
The leather upper features a waterproof membrane that bars water from soaking up into the shoes. With a wide boot opening and a breathable lining, the airflow in and out of the pair is quite consistent, allowing your feet to breathe as you go about your daily business, so you don't have to worry about your feet getting wet and sweaty.
For more cushioning in the footbed, Ariat includes its famous 4LR technology, something that has become a unique design blend in many of its pairs. With a composite toe that feels tough just like steel, Tracey is safe enough to use even in busy environments where falling objects are quite common.
With its duratread outsole, which features a uniform lug pattern from close examination, Ariat Tracey can stand up to the force of any surface. You don't just get a promising and solid grip. The kind of stability the sole gives guarantees to prevent slips and oil.
My Top Recommendations for Best Women's Pull on Work Boots
There are so many best women's pull on work boots out there. But the Caterpillar Revolver and Dr. Martens 2976 are my top recommendation.
Caterpillar Revolver has all the features you'd want in a pair of work boots, only it doesn't make a very strong fashion statement like the Ariat Tracey does. Plus, they run true to size, so you'll order the usual size instead of a half a size down or half a size up.
The Dr. Martens 2976 are versatile and therefore suitable for wearing to almost any job. Like Ariat's models, these boots are super comfortable and genuinely lightweight.