Bundling up for work in the cold months goes beyond wearing a winter jacket and a pair of warm gloves.
Even your feet need best, maximum protection to stand up to the arctic weather.
It doesn't matter if you work in the snow or in cold confined spaces. If you're not giving your feet the warmth it needs to kick the chill in the ass, you're putting your body at risk.
But what kind of footwear gives? And, what type of work boots should you avoid completely?
When it comes to working in the extreme cold weather, regular boots with waterproof lining won't cut it. What you need is any of these best insulated work boots to wear to your next job.
Also See: Can I Wear Insulated Boots in the Summer
Quick Comparison Table
6 Best Insulated Work Boots in 2022
1. Chippewa Men's Steel Toe Insulated Logger Work Boots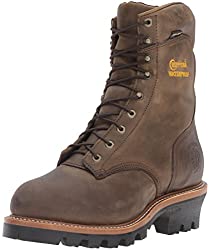 Kick the extreme cold in the ass with the Chippewa insulated steel toe  work boots. Whether you work in extremely chilly environment in the dead of the winter or you work in cold refrigerated environments, these boots are a fair grab and go. Click here to see today's price on Amazon.
Like many work boots with waterproofing design, the Chippewa EH logger boots feature a leather construction with a durable lace up system. Plus, its Goodyear welt construction enhances the waterproofing of the shoes, so your feet don't get wet when the snow melts. The shaft is 9 inches from the arch, so most part of your feet get a good cover almost to the knees.
With a Ruby Dri Lex 2000 lining, your feet get more than enough warmth to withstand low temperature. Even when your work requires working in the most electric hazard environments, these boots will hold up quite well because they're and EH rated.
The boots' synthetic outsole feature durable lug profile that gives you a solid grip in wet conditions. Not to mention give you better traction as you walk and work on ice and in snow. The steel toe construction gives you the protection you need against falling objects, hence its high ATM rating.
Related: Are Winter Boots the Same as Snow Boots
2. Carhartt Men's 10″ Waterproof Insulated Composite Toe Boots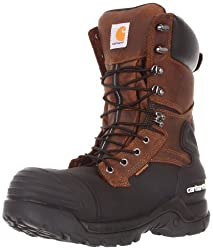 The Carhartt PAC boots are some of the warmest work shoes that you can wear to work in extremely cold environments. Not to mention it has some unique features that make it comfortable pair to wear for any kind of job. Click here to see today's price on Amazon.
To begin with, and perhaps the most important aspect, is the insulation. With the 1,000 Lite Fire insulation, an aluminum membrane built to reflect heat, the PAC composite toe boots provide the level of warmth you need to get by in extremely cold weather.
Carhartt uses a Storm Defender Waterproof Breathable Protection technology, which bars water and melted snow from soaking up in the shoes. From a performance standpoint, the waterproofing will keep your feet dry even in extreme wet conditions, so you can go about your daily work without worrying about damp feet.
There's a breathable membrane on the upper, which promotes consistent airflow in and out of the boots as you walk and work. So you don't have to worry about moisture building up and causing sores and blisters.
Also Read: Steel toe boots with metatarsal guard
Carhartt PAC offers maximum protection against fallen objects and compression hazard with its non-metallic composite toes. Unlike steel toe construction, composite tends to be lightweight and therefore doesn't add too much weight to your feet.
The electric hazard rating, which meet the ASTM safety standards, make these boots ideal for working in environments subjects to electrocution.
Also Read: How to Clean Timberland Boots at Home
3. Wolverine Men's Insulated Pull-on Work Boots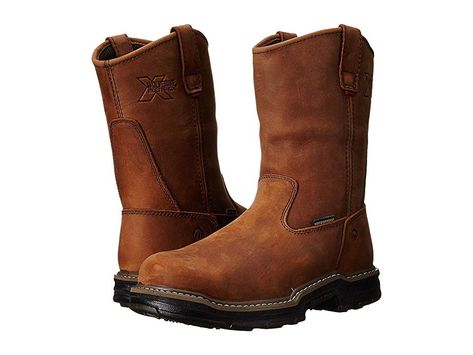 Wolverine Marauder may not be the best-looking pair of pull on work boots on the shelf. But they're some of the well-insulated cowboy boots that you can wear to cold working conditions. You'll love them because they're waterproof, they run true to size, and they're comfortable enough to walk and work in for an extended period. Click here to see today's price on Amazon. 
Few boots fit well straight out of the box, and it's fortunate that the Marauder is one them. In other words, they feel already broken in, which means you won't feel them tight or rubbing against your feet as you stand or walk at work. You'll notice that they feel a bit tight when new, but forcing your feet in them a couple of times should loosen them up and make them fit quite well.
Since their insulation level is up to the standard, then Marauder Wellington are the best alternative to popular models in the Red Wing boots category, and you can use them in the extreme dead of the winter.
You'll love these boots because Wolverine has built them to last. They can even stand up to tough areas such as concrete floors, and can stand regular use and abuse for up to two years before they give in.
4. Keen Utility CSA Philadelphia+ 8″ 600G Insulated Work Boots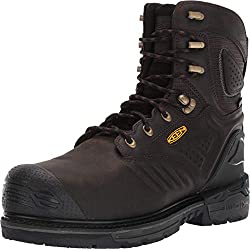 Why let cold weather slow your workday down when you can bundle your feet in the Keen Utility CSA Philadelphia+ work boots? Featuring a tough leather construction, a carbon fiber toe, an underfoot comfort, and a stylish design, these boots can keep working for an extended period, particularly in the days when you expect to be too busy to stop.  Click here to see today's price on Amazon.
Thanks to the full grain leather that can easily resist acids, the CSA work boots may be ideal for working in environment where getting into contact with toxins is common. Plus, the waterproof lining bars water from getting into the boots, so you can easily work well even in extremely damp environment.
These boots have 600 grams of Keen's warm insulation that provides the necessary warmth required to work well in cold environments. Plus, the insulation helps to retain the heat that your feet generate as you move about. And this goes a long way to retain the warmth of your feet throughout the day.
Since the insulation isn't enough to make these boots the most comfortable, Keen adds a dry breathable membrane to the design. And this is important because it not only ensures consistent airflows in and out of the boots, but also contributes to keeping your feet cool and dry throughout your workday.
5. Georgia Gore-Tex  Insulated Winter Work Boots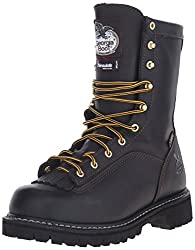 Are you tired of wearing insulated work boots that either don't last long or take a long time to break in? Or maybe you need a cheap pair that looks good and performs well long to break in? You might want to consider the Georgia's Gore-Tex insulated work boots. Click here to see today's price on Amazon.
Georgia Boot uses full-grain leather on the upper. And while the material feels tough on the touch, it's extremely flexible and naturally soft on feet. The eyelets and stud hooks lets you achieve a quick snug feet, and if they had zippers on the side, they'd be extremely easy to put on and take off.
These boots have 200 grams of 3M Thinsulate insulation, which is good enough to keep you warm in cold weather. Moreover, the removable orthotic insole provides a decent platform for your feet. The steel shank is a great addition to the design, because it gives your feet both arch support and steady footing.
When it comes to buying insulated boots you can walk and work in for an extended period, you need to make sure the outsole is up to the standard. Georgia insulated work boots are generally sturdy and tough. Thanks to the Goodyear welt construction and hardwearing vibram outsoles, you can expect these boots to stand up to harsh environment and keep going for a long time.
The lug outsole doesn't just provide better grip and traction on ice and now. They're also heat, abrasion, and chemical resistant, so they're flexible enough to wear to any work environment.
6. NORTIV 8 Men's Insulated Waterproof Winter Work Boots
Aren't we so used to big name such as Timberland Pro, Thorogood, and Wolverine that we forget other companies that design work boots that are up to the standard? If you're one of the persons that are looking for something different in terms of brand name, try the NORTIV insulated work boots for men. Click here to see today's price on Amazon.
These boots are suitable for extremely cold weather thanks to the 200 grams of Thermolite insulation. Add to this the waterproof shell technology, and the result is a pair of work boots that you can wear in environments with temperature below -25F.
The footbed is made of EVA, and that provides a cloud-like layer, which makes the boots comfortable enough to use for extended period of work.
The outsole construction of the NORTIV 8 is what you need in a pair of work boots. Made of 100% rubber, and feature a uniform lug profile with multi-directional design, the outsoles provide the grip and traction that you need to walk comfortably in snow and ice without worrying about skidding and falling over.
Add to that the oil and slip resistance mechanism, and what you get for the price point is a pair of work boots that you can wear to any place in a cold, snowing environment.
| | |
| --- | --- |
| Level | Recommended Environment |
| 200 grams | Common in standard winter boots. Good for temperatures between 30 and 50 degrees F |
| 400 to 600 grams | Good for typical winter boots, between 40 and 50 degree F. Go for this kind of insulation of you won't be doing a lot of movement |
| 800 to 1000 grams | Insulation for environment with temperatures below 30 degrees F. |
Keep in mind that the higher the insulation, the more weight there is to the boots. So choose your insulation depending on how much extra weight your feet can handle.
Buying Guide: How to Choose the Best Insulated Work Boots
There's a lot that goes into a pair of work boots than just the looks.
When making your selection, you need to look beyond the lacing style, color, and fit.
After all, what's the point of buying a pair of boots simply because they're easy to wear and look good on you?
My take when searching for boots you can use for work in extremely cold weather is that performance is more important than how easy it is to fit – or how it looks.
So with that in mind, below are factors to consider when searching for the best insulated work boots.
Insulation
A pair of work boots can be promising. But if it doesn't feature an insulation in its construction, you had better wear it in the warm summer months.
Or else, you put your feet at risk of ailments such as frostbite.
But:
What is insulation in work boots and what does it do?
Insulation is the fancy term that simply refers to the warmth a pair of boots can supply to your feet.
And it's a must-have feature to consider if you're going to work in ice and snow, or in freezing temperature.
The insulation does two things:
First, it creates a barrier between your feet and the boots, so that even if weather becomes unfriendly, or you work in extremely chilly places, your feet won't easily catch the cold.
Second, the insulation ensures that the heat your body generates as you walk and work doesn't escape. This goes a long way to keep your feet warm, no matter how long you work in arctic condition.
To be clear, there's more to insulation than just what it is and what it does.
There's also the amount of insulation, usually measured in grams, with the heaviest level being the warmest.
Generally, insulation falls between 200 and 1,000 grams. See the table below:
Now that you have the gist around insulation, it should be easy to choose your warmth accordingly.
There is more to insulated boots than just the warmth they provide.
It means that, beyond the amount of insulation these shoes can provide, there's also a need to ensure the boots are as waterproof as possible.
Look:
Working in snow and winter isn't the rosiest of the things you can do.
Because as much as you need to work hard and wean some bread for yourself, snow is the master that causes trench foot, which is a condition that results from the skin being exposed to cold and wet conditions.
To be on the safe side, something as simple as buying waterproof and insulated work boots can make a big difference.
Insulated boots with welt construction are the best by far.
That's so because they keep melted snow far away from the boots upper and outsoles. This way, they are able to keep your feet cool and dry throughout the day.
Comfort is also a key factor to consider when looking for the best insulated work boots for extremely cold seasons.
There are several things you need to look into to determine if the pair of work boots you're about to buy is comfortable enough.
First, you need to make sure the pair of the boots that you buy fit well. Most boots tend to run true to size, which means they fit straight out of the box. If you've loved a pair and it isn't fitting, consider getting a one or half a size up or down depending on the size of your feet.
The boots you buy must be breathable, because your feet must breathe properly to stay cool and dry. So make sure they feature a breathable mesh lining. Otherwise don't get them.
Insulated boots come with standard insoles already. But not all pairs include the best quality inserts per se. So check if the insoles are comfortable. If they're not, replace them.
And who doesn't love boots that are easy to put on and take off? Make sure the opening is the right size so that you don't force your insteps in. Your forefoot should easily land on the toe box without force.
Good Pull on boots tend to be easy to wear. You can also get a pair with side zippers if you want to handle laces less.
Since toe protection is something hard to ignore when it comes to work boots, consider checking that as well. I recommend steel or composite toes, as they tend to offer maximum protection against accidental impacts.
Lastly, choose boots that are easy to break in. And if a pair you like takes a lot of time to be comfortable, you can quicken the process by learning how to break in work boots.
Before I bought my pair of landscaping boots, I researched to make sure they'd hold up for a very long time.
I didn't have more money sitting on the table to throw to another pair of boots. So I had to examine closely to see if the construction was up to the standard.
You want to do the same thing when it comes to choosing insulated work boots.
There is no magic bullet to knowing how long boots can last, especially since people wear them at different frequencies.
Yet I do believe that as long as these work footwear are made to the standard, there's no reason why they shouldn't last long.
Snow is messy in its solid form, and it only gets worse when it melts.
So if you walk and work in ice and snow without the right pair of boots, you are taking chances and that's pretty much a recipe for disaster.
The last thing you want happening is accidental slips and falls.
And the best way to avoid that is to go for insulated pair of boots that have slip resistant outsole. Such outsoles not only provide grip and better traction on snow, they also give you the confidence to walk faster and never have to worry about falling over.
If the pair you like doesn't have the slip resistant feature, consider adding some traction cleats, which are available on online stores like Amazon for some bucks.
Price is my least favorite factor to consider when it comes to buying work boots. In my opinion, it doesn't exactly reflect the true value of a footwear.
The most important thing to keep in mind is that as long as the pair of insulated work boots is up to the standard, and you can pay for it, go ahead and buy.
Cheap doesn't mean bad quality, and expensive never means more value either. So the price of a pair of any work shoes will always be relative.
Frequently Asked Questions
What are the best warm insulated work boots for winter?
Here's a list of the best warm insulated work boots for winter:
1] Carhartt Men's 10″ Waterproof Insulated PAC Composite Toe Boot.
2] XPETI Men's Thermator Mid-Rise Waterproof Hiking Trekking Insulated Outdoor Boots.
3] Carhartt Men's 8″ Rugged Flex Insulated Waterproof Breathable Soft Toe Work Boot.
4] Chippewa Men's 9″ Waterproof Insulated Steel-Toe EH Logger Boot.
5] KEEN Utility CSA Philadelphia+ 8″ 600G WP Carbon-Fiber Toe.
How many grams of insulation do I need for winter boots?
You need at least 200 grams of insulation for winter work boots. The amount is enough to provide the enough warmth and heat retention, so you can walk and work in the best of time.
If you're going to be standing for a very long time, consider going for a pair of boots with between 600 and 800 grams of insulation. If your work involves standing for long and working in freezing and arctic environments, go for boots that have the insulation of 1,000 grams.
What makes winter work boots better than regular boots? 
Winter work boots are better than regular boots because they have an insulation feature, which is able to keep your feet warm in extremely cold temperature. Also, then insulation helps to retain the heat generated as you walk and work, so your feet doesn't catch cold at any time of the day.
My Top Recommendation
While there are many insulated work boots in the market, with each pair flaunting different features, my primary recommendations are Carhartt PAC Composite Toe Boots and Keen Utility CSA Philadelphia+.
You'll love the Carhartt PAC model because of its 1,000 Lite Fire insulation, which provides enough warmth even in extremely cold weather. They're waterproof and breathable, and the rubber outsole provides provide better grip and traction on different surfaces.
The Keen Utility CSA Philadelphia is another great pair of work boots thanks to the tough leather construction, durable rubber outsole, and 600 grams of insulation. These boots are also breathable thanks to the dry membrane technology added to the design, so they'll keep your feet cool and dry no matter how frequent you have to move.