If you're anything like me, you'll want to check the sizing of a pair of boots before buying. You'll ignore anything that's either too big or too small because ill-fitting boots don't offer a ready-for-anything vibe for the long term.
Your boots shouldn't be too tight or too loose. Instead, they should hold your feet in place without making your toes cramped or your heels moving more than 1/8 of an inch. There should be a little room for your feet to wiggle. If the pair you're testing for fitting allows your feet to slide in but you feel a bit of resistance that makes your feet feel firmly in place, the boots are tight fitting and therefore not ideal.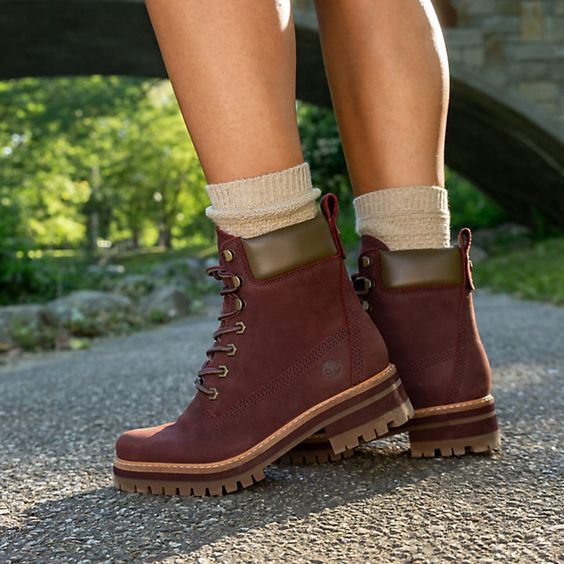 What about boots?
Does their sizing matter or are they an exception? In particular, should boots fit too loose or too tight?
Let me say this:
Whether you'll be using a pair of boots on a regular basis, occasionally, or only on special occasion, you have to make sure they run true to size. Too fit or too loose, and you're gambling with your feet's health and natural stride, much less a bad user experience.
But finding boots that fit straight out of the box right off the bat isn't going to be as easy all the time. From my experience, some of what's on the shelves will fit too tight. Some will feel too loose. And some will run true to size.
Also Read: How to Fix Heel Slippage in Boots
So what should you go for?
Should Boots Fit Too Loose or Too Tight?
You shouldn't wear loose boots because they encourage a content up and down heel movement that results into inflamed Achilles tendon, heel pain, plantar fasciitis, and overpronation.
And don't try tight boots because they can trigger constant rubbing and friction between your toes, which can lead to pinched nerves, blisters, and calluses.
Another problem with boots being too loose or too tight is the lack of even weight distribution. Quite too often, tight fitting boots will make your feet tilt to the side or move forward. And loose ones tend to cause your heels to slip up and down all the time. The tilting and the movement cause an unequal weight distribution across the sole unit, and this can be quite problematic.
Also Read: How Often Should You Apply Mink Oil to Leather Boots?
How Do I Know if Boots are Too Tight or Too Fit?
First, you don't need to go to a cobbler to check if your boots are too tight or too loose. That's a simple activity that you can do from the comfort of your home.
One option that I like to recommend is the foot after foot wiggle technique. Wear the boots, stand up straight, and wiggle your feet one at a time. If you don't feel like your toes are moving, that pair of boots is probably too small for your feet.
Take this further and walk in the shoes for about three minutes. Are your feet sliding around? If so, you should consider getting a new pair of boots because these are too big.
Another stupidly simple technique you can use to check if boots are too tight or too loose is to use your fingers to check the space between the back of your heel and the back of the boots.
If one finger fits in the space, the sizing is right up the standard. If just one of your fingers fit but makes your toes feel jammed, the boots fit too tight. If you can fit two fingers in between your heels and the boots, their fitting is too loose.
How Do I Make Sure I Buy the Right Pair of Boots?
Don't overly depend on the feet size you took a long time ago to buy a new pair of boots. I suggest you measure your feet's current size and then use the fresh info instead.
You can use a paper, a pen, and a standard ruler to get the right measurements of the pair of boots to buy.
Below are the steps to follow:
Place a piece of paper on a flat surface and step on the paper with your feet.
Trace the entire right foot, and then do the same for the left one.
Use the rule to measure the length between the back of your heel and the longest toe for both feet
The reason I recommend taking a measurement for both feet is that you might have a slightly different length on your left or right foot.
Note that the measurement you get is your ideal foot length.
For whatever reason, many people make the mistake of using these measurements to buy a pair of sneakers and boots. You'll end up getting the wrong fitting footwear if you do this.
Your feet's size should be different from the boots' size. More often than not, the ideal length should be somewhere between 0.25 and 0.5 inches longer than the length of your feet.
The math is quite simple. In this case, just take the measurement you got above and add any number between 0.25 and 0.5. The new measurement should be the correct boots size to buy.
Should I Care About the Width of the Boots? 
It's important not to ignore the width of your feet when determining the size of the best boots to buy.
Keep in mind that the normal foot width for women is usually about 3.5 inches. That of men is often around 4 inches. In this case, the average width of a pair of boots should be just fine.
It's a different case if you have wide or narrow feet. For wide feet, you may need a half an inch or more outside the average width.
Conclusion
So, Should Boots Fit Too Tight or Loose? Your boots shouldn't be too tight or too loose. But keep in mind that some boots will require a break in period, particularly if they are made of leather. Once your feet break into them, your toes should not press against the front of the boot. If they do, your feet will feel cramped and uncomfortable.