The work boots market evolves fast.
Just when you thought that heel boots were fashionable and trendy, wedge sole work shoes and the zero drop models appeared.
When we'd all thought that the lace-up design would be the only go to footwear in the market, slip-on work boots emerged.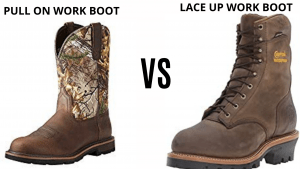 The invention of tomorrow is a different story. Maybe we'll have boots with springy rubber boots or models with remote controlled lacing systems. Who knows?
And if you're anything like me, you've probably debated about slip-on boots and lace-up boots with yourself to death.
The question is:
Are there any differences between slip-on and lace-up boots or can you buy any model and do your work just fine?
The main difference between slip-on and lace-up work boots is that slip-on are boots without laces while lace-up boots features eyelets and laces.
We'll get to more differences between slip on and lace up boots in a bit. First, let's make sure you understand what both phrases mean.
What are Lace-up Boots?
Lace-up work boots are boots that features eyelets and laces, which are necessary to give your feet a snug so that you can walk and work better. Unlike pull on, the lace-up design work boots offer better ankle support thanks to the laces.
What are slip-on Boots? 
 Slip-on boots are footwear without laces. With the eyelets and laces fully stripped out of the design, and given their wider boot opening, slip-on boots offer an easy to wear experience than footwear with laces do. While they don't have a system for a snug fit in place, brands construct pull on boots into the right shape and size. Therefore you end up getting a proper fit at the end of the day.
Slip-on Vs Lace-Up Work Boots: Fit
Pull on boots are good because of their ease of wearing mechanism.  No eyelets to fumble with, no laces to work around, and definitely no time to spend tying the shoes. Even then, the challenge with pull on boots is that they don't offer a proper fit like boots with lace up designs do. You also have to be very careful with the size you choose, keeping in mind that it's important to pick a size that fits before paying for it.
Since lace up boots let you tweak the fitting to your needs, getting that snug or loose fit depending on your preferences isn't difficult at all. As much as tying laces can take your time, the fit and therefore the level of comfort of these boots should be easy to customize to your liking.
Both boot types can offer heel support, but you get better heel support from lace-up boots.
Slip-on Vs Lace-Up Work Boots: Ankle Support  
Ankle support is an important factor to consider when shopping for a pair of work boots. So you have to be careful with this, especially because different boots types have varying levels of ankle support.
Lace up boots offer the best level of ankle support thanks to the lacing system. Your feet will feel more stable and comfortable in this type of boots than the pull-on model.
Pull on work boots do provide ankle support, but I can only describe as moderate. As such, you should consider wearing them to job that don't require a lot of walking.
Slip on Vs Lace-Up Work Boots: Ease of Wearing and Convenience
You'll love pull on work boots because they're easy to wear. The ones I use for weekly shifts only take me around 5 seconds to slip my feet in and off I go to work. I've heard some folks say that these are only good for people working in the oilrigs, but that's a lot more subjective than reasonable. You can wear pull on boots to any kind of job as long as they fit you well. But you do have to ensure that the make you choose meets your workplace's safety standards.
Obviously, there's no ease of wearing mechanism with lace up work boots. You have to bend, fix the laces in the eyelets (if you haven't), and tie them to get snug fit. If you feel like you've tied them too tight, you have to loosen them up a little and tie again. And just like pull on boots, you can wear work boots with laces to just about any kind of job, provided the pair you choose meets workplace standards.
Slip-on Vs Lace-Up Work Boots: Protection
There isn't any difference between the two types of boot when it comes to protection. In other words, they both have safety features that can keep you safe as you go about your daily routine.
For example, pull on and lace up boots feature alloy, steel, and composite toes, which offer better protection against accidental falls. Some even have an EH rating, which means they can protect you from electric hazards just in case.
For the lace up designs, all you have to do is to be careful about how you tie the laces. Make sure the fitting is up to the standard and wrap the laces well around the boots if they're long.
Pull On Vs Lace-Up Work Boots: Traction Level
The matter of the sole is an interesting thing, mostly because the build tends to be similar both on pull on and lace up work boots.
So when it comes to traction, let me just say that either type of boot can offer the stability you need to get by properly, provided you have a good fitting.
What are the best slip on work boots?
Here is a list of the best slip on work boots:
What are the best lace up Work Boots 
Lace-up work boots:
Final Thoughts
My experience with both boots type ended up with less differences and many similarities. Pull on boots offer a fast wearing experience whereas lace-up models demands tying the laces to get a snug fit. Although both boot types feature shafts raised above the ankle, pull on boots tend to have a longer shaft and larger opening circumference to make wearing easy.
Lastly, the most important thing to remember is that when it  comes to choosing between pull on and lace up work boots, it's up to you to make the decision.