In your search for safety toe shoes, you will come across a wide array of options with safety toe caps designed using various materials like TPU. So today, I'll tackle the question, what is a TPU toe cap?
A TPU toe cap is a protective toe box in work or safety boots made of Thermoplastic Polyurethane. This material is waterproof, highly flexible, and commonly used in products like outsoles, insoles, and shoe toe caps and soles. Moreover, TPU toe caps can withstand intense impact hits.
TPU toe caps are designed to safeguard your toes from heavy or sharp objects as TPU is abrasion-resistant, solid plastic.
To help you fully understand TPU toe caps, I'll look at their pros and cons and compare them to steel and composite toe caps.
What Does TPU Toe Cap Mean?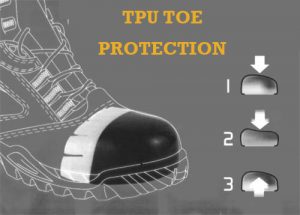 Before answering this comprehensively, you should know what TPU and toe cap mean.
TPU refers to Thermoplastic Polyurethane, a material with exceptionally high resistance to abrasion used in numerous products, ranging from medical devices to toe caps.
TPU falls between plastic and rubber and offers the advantages of plastic and rubber, and is highly desirable because it's adaptable. The material is built of block copolymers variations with alternating soft and hard segments
You will find TPU in many items like toe caps and soles of shoes, trays, outsoles, insoles, and wire casings.
On the other hand, a toe cap is a part of a safety or work shoe, commonly boots, fitted over the footwear's front to reinforce and protect the toes.
With that, a TPU toe cap means a toe cap made of thermoplastic polyurethane. Shoes with TPU toe caps are resistant to abrasion, flexible, waterproof, and able to withstand damages from heavy or sharp objects.
What Is A Toe Cap For?
A toe cap protects your toes from sharp or falling objects by adding an extra protective layer to the toe box. Toe caps are prevalent in shoes worn in workplaces with a high risk of falling or sharp objects, such as a construction site.
Individuals working in a farming community typically wear work boots with steel toe caps for protection from horses' hooves. In addition, chefs usually wear work shoes with toe caps to prevent injuries from falling knives.
The toe caps in chefs' work shoes are usually undetectable and made of TPU.
The protection level offered by a toe cap depends on the material used to make it. For example, steel toe caps provide better protection from heavy falling objects than leather toe caps.
Besides protection, toe caps also give boots a mirror shine.
Pros And Cons Of TPU Toe Caps
While toe caps offer certain advantages, they also fall short in some areas. Therefore, it's essential to know their pros and cons to help you gauge what to expect and assess their necessity.
Let's begin by looking at the pros.
TPU Toe Caps Pros
They Don't Conduct Cold Or Heat
TPU toe caps are made to keep moderate temperature conducive to your feet at all times, even when the temperatures are extremely low or high. Therefore, you will not get a burn or frostbite when wearing boots with TPU toe cap.
They Are Lightweight
TPU toe caps weigh less than alloy or steel toe caps; hence you can walk in them for many hours without feeling exhausted.
Provide Excellent Ventilation
Although they are non-conductive, TPU toe caps provide great ventilation, thus lowering heat. Therefore, your feet won't swell up or overly sweat even in extreme heat.
Doesn't Conduct Electricity
These toe caps do not allow electrical or thermal conduction as they are non-conductive. On the other hand, being plastic, TPU toe caps make the perfect insulator, preventing electrocution.
They Won't Trigger Metal Detectors
You won't have to dread going through a metal detector while wearing shoes with TPU toe caps because they won't trigger it. For that reason, going in and out of work is stress-free.
TPU Toe Caps Cons
They Can Withstand Less Weight
While TPU toe caps conform to every OSHA requirement, they can take on lesser weight than alloy or steel toe caps.
Expensive
TPU toe caps will cost you more than their alloy or steel counterparts since they are regarded as more advanced technologically and modern. In addition, they come with highly desirable qualities.
You Must Replace The Entire Shoe In Case of Toe Cap Damages
You have to discard the shoe if the TPU toe cap gets damaged as it's not possible to replace only the toe cap. For that reason, you are better off not using them in working environments susceptible to rolling or falling objects.
Requires Replacement After An Intense Impact
You will have to replace this toe cap once it endures a substantial impact. Keep in mind that multiple hits will push the toe cap.
TPU Toe Cap Vs. Steel Toe Cap
If you consider getting a steel toe cap or TPU toe cap, make sure you evaluate every aspect to ensure you choose wisely. In that regard, TPU toe caps are generally better than steel toe caps.
For instance, while TPU toe caps do not conduct electricity, heat, or cold, their steel cousin conducts electricity and heat. Therefore, TPU toe caps are better suited for areas susceptible to electrical accidents and low or high-temperature environments.
Furthermore, TPU toe caps are lighter hence more suitable if your working condition involves climbing and walking.
TPU toe caps are also more comfortable than steel ones because they are non-conductive, lightweight, and offer more incredible ventilation.
On the flip side, steel toe caps are cheaper and better for environments susceptible to falling objects.
TPU Toe Cap Vs. Other Composite Toe Cap
TPU toe caps ate arguably the most prevalent composite toe caps the market offers. However, others, including carbon fiber, Kevlar, and fiberglass.
Kevlar is among the best choices if you want the lightest composite toe cap, which can also handle substantial weight and impacts. However, it absorbs water or is pricey.
Conversely, carbon fiber can handle a substantial weight, is lightweight, and contains excellent tensile strength. However, it can break under pressure and conduct electricity and heat.
Lastly, fiberglass has good insulation and tensile strength and is cheaper than the others, but its weight to strength is the lowest.
TPU toe cap protection is better than fiberglass, Kevlar, and carbon fiber because you get relief from low and high temperatures, electricity, and impact. Moreover, a TPU toe cap is easy to use and comfortable.
The 3 Best TPU Toe Cap Boots
When shopping for TPU toe cap boots, consider the following options.
1. Under Armour Men's Valsetz Rts 1.5 Military and Tactical Boots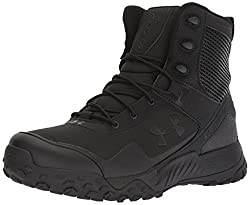 You can wear these boots as tactical boots, work boots for construction, hiking, or even hunting boots. These under armour TPU toe cap boots have a welded perimeter-surrounding polyurethane (PU) film for resistance to abrasion. Click here to see price on Amazon.
They are resistant, long-lasting boots with a rubber sole and about 6.75-inch shaft measured from the arch. It's also manufactured using 100% textile or fabric coupled with a leather sole.
2. Timberland PRO Men's 6 Inch Boondock Comp Toe Insulated Industrial Work Boot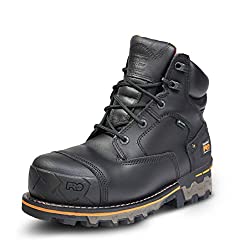 Your feet will be happy in these boots as they are made with anti-fatigue technology featuring geometrical, shock-absorbing technology. They are also sleek, comfortable, and protect your feet. Click here to see today's price on Amazon. 
These boots are 100% leather, have a synthetic sole, about 6.5-inch shaft from arch, and are fully waterproof. In addition, they are durable.
3. ROCKROOSTER Work Boots for Men, Steel Toe, Slip On Safety Oiled Leather Shoes, Breathable (AK227, AK222)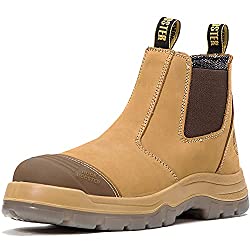 These boots have thermoplastic polyurethane sole and a COOLMAX and PORON Xrd-made fabric. COOLMAX technology helps keep you dry and cool when hot, with the fiber structure keeping you insulated in the cold. Click here to see today's price on Amazon. Click here to see today's price on Amazon.
In addition, they are slip-resistant and water-resistant, and the footbed is anatomically contoured and cradles your feet for maximum support and comfort.
ROCKROOSTER work boots are ideal for heavy industry, warehouse and manufacturing, mechanic, transportation, construction, welder, and concrete.
FAQs
Is TPU Toe Cap Osha Approved?
TPU toe cap is OSHA-approved, meeting all the requirements that alloy and steel toe caps also meet. However, before buying any safety shoes, ensure they meet every safety specification and are made by a reputable brand.
Are TPU Toe Caps Better Than Steel Toe Caps?
TPU toe caps are generally better than steel ones because they are non-conductive to electricity and thermal, lightweight, give excellent ventilation. Consequently, they handle electrical currents, moisture, and temperature better.
However, steel toe caps are better if you prioritize protection against massive compression and impact.
Final Thoughts
The main takeaway from this post is that TPU toe caps offer tremendous benefits to individuals working in risky environments.
While they are not as robust as steel toe caps, they offer protection against falling sharp or heavy objects.
Moreover, they will serve you well if you tend to walk or climb a lot since they are lightweight; thus, they won't feel cumbersome.