This is a comprehensive list of the best pull on work boots.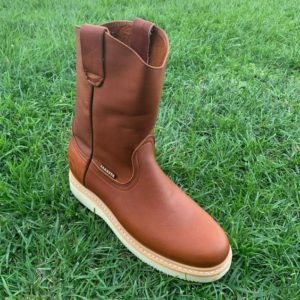 In short, if you want laceless work boots, wear shoes with shafts raised above your ankle, and work like a pro, you'll love this guide.
Look:
There was once a long period when lacing systems took the upper part of work boots' persona. But that changed with the introduction of slip-on. Then we had the best pull on work boots added to the category, giving you a number of stylish options on workplace footwear ever since.
But what are pull on boots exactly?
They're simply pull on work boots with shafts 8 inches tall or higher. Some have steel toes. Some have soft upper.
Pull on work boots takes regular lacing and unlacing of boots out of the way, making it easy for you to put them on and take them off. So if you want to go laceless, get yourself some slide on boots, wear your finest pair of socks, slide your feet in, and done. You're good to go.
Unfortunately, there are just too many pull on boots out there. So we narrowed down the list to only the best pull on work boots that can give you the biggest bangs for the buck.
See them below.
Quick Comparison Table – Pull On Work Boots
9 Best Pull on Work Boots 2022
1. Ariat Men's Work Groundbreaker Pull On Work Boots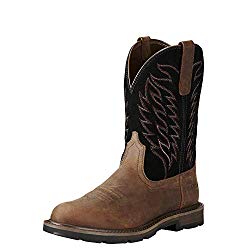 Ariat has had us going from "Oh-My to Aha" with the Groundbreaker. They're revolutionary for sure, a new innovation in its line with a rugged tough design that can stand up to the test of time. Wear them to the toughest job, they'll hold up. And even if you subject them to daily use and abuse, these men's pull on boots will still survive. Click here to see today's price on Amazon.
Design & Performance
For the hard grinders and hustlers who love country-style work boots, there can't a better choice than the Groundbreaker.
To begin with, its mesh-lined shaft has two handles, each on the side, which makes it easy for you to wear them in less than 30 seconds.
The Four Layer Rebound footbed is one of Groundbreaker's strongest selling points. Combined with the additional metatarsal support on the upper, what you get for the price are comfortable pull on boots that your feet will enjoy.
Ariat takes the design phase further, adding a block heel to the rubber outsole, allowing arches and heels to rest nicely and easily on the EVA midsole. Even the lugs hold up quite well, mostly because they're aggressive enough to improve your gait, allowing you to walk more naturally as if you were barefoot.
The Groundbreaker is a pair for both easy and tough job. The leather upper and Dura treated rubber outsole are tough, able to stand up to extended period of walking and working and keep servicing you for months to come.
Also read:Are Ariat Boots Good?
The design mix includes a moisture-wicking sock liner, which guarantees sufficient airflow to keep your feet cool and dry. And while the pair features a solid construct, it takes a very short period to break them in and achieve a perfect fit.
Pros
You'll love Ariat Groundbreaker pull on boots because they provide sufficient ankle support, not to mention that they're suitable for wide feet.
Features 4LR footbed with moisture wicking technology, which keeps your feet dry and cool throughout the day.
The treat profile is downright aggressive, providing you better grip so you can work well even on slippery floors.
Cons
The Groundbreaker doesn't have steel toes.
These one aren't waterproof.
Also Read: Slip on vs Lace up Work Boots
2. Wolverine Men's Floorhand Waterproof Steel Toe Work Boots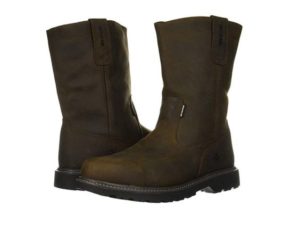 Wolverine has always been about safety, comfort, and better performance. And that's something we see even with the 10-inch Floorhand work boots for men. Sister to the boots with soft toes, this steel toe version is a great buy if you work around equipment that could easily fall and injure your feet. They are the best pull on work boots under 100, good for you if you're on a budget and steel toe pull ons are a must-have. Click here to see today's price on Amazon.
Design & Performance
Like you, we take comfort seriously. And boots that don't factor this in performance are duff and not simply not worth it.
Wolverine understand this better, which is why they add a rubber midsole to the design mix to give you the comfort that your feet needs to get up and get going. The rubber outsole has better lugs, which give you what we like to call a one-of-a-kind grip, making it easy for you to get through even the most slippery surface out there.
The waterproof panel does its job right, ensuring that your feet stay cool and dry in all wet conditions.
Pros
Cheap work boots, good for someone on a budget.
Integrates a lightweight cement construction for easy break in.
Cons
They're not 100% waterproof.
3. Timberland PRO Powerwelt Wellington Boots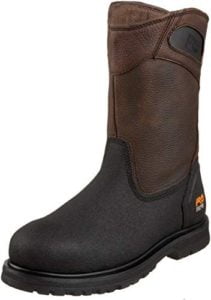 Timberland's pull on work boots are some of the well-made models currently in the market. But if you're a man who's looking for cheap slip on with raised shafts, something like the 6-inch Pit Boss simply won't cut it. Fortunately, even Timberland has laceless boots that you can buy and wear right now, the Powerwelt. The brand takes away the lacing system from these workplace shoes to give you exactly what you want: no lace work boots you can wear under 10 seconds.Click here to see today's price on Amazon.
Design & Performance
From a design point of view, the black-brown leather combination, with a shaft about mid-calf from the arch, gives the pair a sleek appearance that can match well with blue jeans and white t-shirt. And the rubber outsole is tough on rough jobs, able to offer decent performance even if put to daily use.
Since Powerwelt lack the waterproofing mechanism, not to mention that there's no Thinsulate insulation added to the design, these aren't boots you want to wear in wet environment or arctic conditions. They can easily outperform most conditions, though, but that's only possible only after you give them a proper wax coating.
The removable insoles aren't anything special. They're quite standard. And they won't last much longer. You'll lose their comfort and feel after a while, but that shouldn't worry you because they're replaceable. Simply buy better insoles and swap them with the default ones.
If you prefer work boots with steel toes, then you will love Powerwelt Wellington. No more worries about heavy objects falling and hurting your toes. To put this into perspective, your feet are safe from the time you slip these on to the time you take them off after work.
Also Read: Best work boots for sore feet
Then there's the ASMT compliance, which makes Powerwelt a good pair to use in workplaces subject to electrical hazards. So if you're an electrician, a mechanic, you do a lot of roofing work, or you climb electric poles more often, these work shoes are for you.
Pros
Feature steel toes, which protects your feet from harm often triggered by fallen objects.
Cheap pull on work boots, good for those under budget.
Made of tough leather for strength and durability.
Cons
These boots aren't waterproof.
4. Georgia Boot Men's Athens Pull-on Work Boots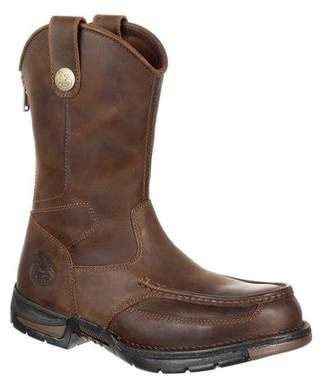 Whether you need the most comfortable pull on work boots replace your lace shoes or you want to try slip on for the first time, Georgia Athens may be for you. Click here to see today's price on Amazon.
And understand this:
Athens isn't some cheap stuff that will only last so long. It's a solid workplace footwear, a great piece of art that keeps going even if subjected to daily use and abuse. In other words, if you so crave for boots that can hold up well, grab these. Your feet will thank you for the pair.
Design & Performance
Among all the best pull on work boots that we've seen, tested, or even read reviews about, Athens seems to have multiple stitching patterns at best. This gives it a one of a kind appearance. But then again, you don't want the looks to overshadow your perception on performance.
Generally, these are some of the best performing boots that money can buy. Everything about the design, from the stitching on the leather upper all the way to the rubber outsole blends together to give you the comfort you need to log hours of work in these boots.
Pros
Features anchor disk technology that offers good heel support.
Made of rubber outsole and has EVA midsole for better traction and additional comfort.
Cement construction makes the boots easy to break in.
The Advanced Memory Polyurethane insole provides additional comfort, helping you to achieve a more natural walking pattern throughout the day.
Cons
These boots are heavy.
They're also pricey.
5. Wolverine Floorhand Waterproof Soft Toes Work Boots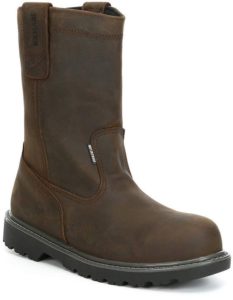 Wolverine knows how to weave its way around work boots design, always bringing to the market pairs that can stand up to tons of abuse and keep working just fine. Their Floorhand is one of our favorite pairs from its pull on category, mostly because it provides maximum feet protection while surviving in dangerous work environments.Click here to see today's price on Amazon.
Design & Performance
Wolverine wanted to design a pair of boots that you could take to any job. And they definitely nailed it with Floorhand. Whether you're a truck driver, a salvage worker, a constructor, or a factory employee, this black model is enough to provide the comfort and protection you need to work in the best of time. And although the pair doesn't feature steel toes, we're confident that they're still protective.
In the days when you must work in rain, wade through grass, make your way through wet mud, or simply from one water point to another, these boots will work well for you. The full-grain waterproof leather will keep your feet dry, allowing you to focus more on getting your work done and worrying less about athlete's foot and blisters.
We wish these pull on work boots had steel toes. Still, the soft toe didn't leave us screaming "meh". In fact, from our experience, these turn out to be pretty much impressive in all environments. But you do have to be careful not to let heavy objects land on your toe areas.
Afraid of slipping and falling? No problem. Floorhand runner outsoles have sturdy lugs that provide solid grip even on wet surfaces, making it easy for you to work more and worry less about tripping.
Pros
Lightweight work boots that you can wear and walk in for long hours.
Waterproof, keep your feet cool and dry even when you get into contact with water.
Suitable for nearly any work environment.
Cons
6. Timberland PRO AG Boss Pull-On Alloy-Toe Waterproof Boot
Ever since we started reviewing Timberland Pro work boots, we've been nothing but impressed by the quality of their production. Their AG Boss has the looks, features a quality build, and are the kind of shoes you can wear to even a tough job site. We wish it were affordable, because, given the careful construction, they'd appeal to every worker out there. Click here to see today's price on Amazon.
Design & Performance
AG Boss takes on a more laid-back appearance, simply mimicking the same brownish colors scheme common in Timberland Pro's lace up boots lineup. The upper is 100% leather and its shaft is about 10 inches from the arch.
AG Boss's pull on boots has an opening of 14 inches round. And there are two shaft handles that make the boots easy to put on and take off.
Just because you aren't getting vibram outsole with this doesn't mean you aren't getting quality. At the very least, AG's synthetic rubber outsole still provides sufficient traction to support walking and working for long hours.
We've experienced the comfort of Timberland Pro's boots when it comes to performance. And it's good to see that they've maintained the same on AG's persona.
You begin to feel the comfort the moment you slip these on, and walking in them for an extended period becomes easy after that.
The rubber outsole provides the solid grip you need to stand on surface. And the lug profile is standard enough to provide better traction as you walk. It's even spot on in terms of slip and abrasion resistance, enabling to focus on being more productive even on slippery floors.
The collars have a cushy padding that provides a soft environment to lay your feet on. Plus, the full-grain waterproof leather allows you to use these boots even in watery conditions.
Pros
The cement construction makes the boots easy to break in.
The waterproofing, padding, and element resistance make AG Boss some of the most comfortable work boots for men.
Cons
These ones are expensive.
Related: Best Men's Slip on Work Boots
7. Caterpillar Men's Revolver Pull On Steel-Toe Boot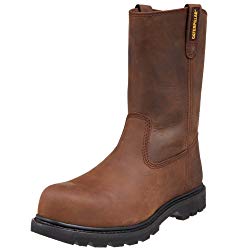 Caterpillar Revolver pull-on is plain brown with black sole, appealing to men who aren't into sleek appearance but more in comfort and performance.
Rugged, strong, tough, long lasting! The Revolver is the kind that takes regular abuse and survives. Put them to every day work, they'll serve. Move in them the whole day and they'll still feel like new when you finally take them off after a long day under the sun. Click here to see today's price on Amazon.
Design & Performance
Caterpillar always gets its design spot on with each pair in its lineup. And we clearly see that the design pattern of the Revolver is the same to other models, only the lace system doesn't exist here.
A pure leather material makes the upper and a durable synthetic rubber graces the outsole. And just when you think that's enough, Caterpillar makes the sole slip resistant, so you can work even in damp environments with ease.
Learn how to make your shoes slip resistant
The lugs on the outsoles do their job as expected, providing you with a better grip even in slippery conditions and giving you the traction you need to move about. And to ensure sufficient air circulation, Caterpillar adds a nylon mesh lining, which ensures your feet remain cool and dry even in the days when you're too busy to stop.
There's even more to the Revolver than just the slip resistance. The PVC mid sole doesn't just mean another layer that adds to the sole unit. Because apart from addition comfort it also absorbs shocks. And given that it's ASTM-rated, these should be good to use in workplaces susceptible to electric hazards.
Pros
Made of high quality leather and long lasting rubber for strength and durability.
Has rubber soles with uniform tread pattern for better grip and traction on different surfaces.
Good boots without laces, with an easy-to-pull shaft that goes high above your ankle.
Slip resistant, holds up well in slippery workplaces
Cons
They take a long time to break in, but fit perfectly thereafter.
Not easy to wear before they break in.
8. ARIAT Groundbreaker Pull on Steel Toe Work Boots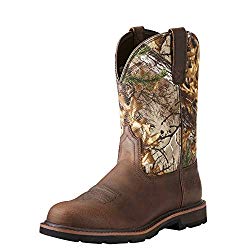 Even before you fully take advantage of Work Groundbreaker soft toe boots, Ariat spoils you with another option – the Groundbreaker with steel toes. We aren't sure if this is an upgrade of the original build or a completely new design. What we do know, however, is that these work shoes are among the best pull on in Ariat's boots category. Click here to see today's price on Amazon.
They look fashionable you'd think they're for women. Yet with many men taking interest in modern fashion and wanting to look good, it's easy to see why Ariat took such a bold step to give the pair such a glossy appearance. You can complete them with blue or red jeans. But if you don't love an appearance that rather shouts a lot, a pair of black pants will do.
Design & Performance
Groundbreaker's design screams quality right from the start. The full grain leather feels smooth on touch, but it's tough to last long. The round toe is complete steel, good for protecting your feet from heavy objects, so you can worry less about toe accidents and focus 100% on your work.
To keep your feet cool and dry so you can walk and work comfortably even for long hours, Ariat adds a breathable mesh lining to the upper, helping to promote enough airflow even in extremely hot weather like during summer. They've also made the boots as slip resistant as possible, so you can work comfortably in water and oily environments without worrying about slipping and falling.
Pros
Good for working in areas subject to electrical hazards as they're ASTM rated.
Heavy duty and durable, built to offer you long-term service.
The insole adds comfort to the sole unit, and even has a good rebound that your feet will enjoy.
The four-layer footbed cushioning provides the comfort level you need to walk naturally and work comfortably. Best pull on work boots for plantar fasciitis.
Cons
The color may not appeal to all users.
Doesn't provide the best traction in winter.
9. Dr. Martens Men's Icon 2295 Steel Toe Heavy Industry Boots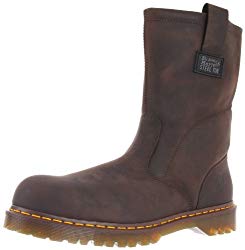 Dr. Martens has maintained the quality of its footwear persona from the beginning, which is exactly why they're one of the most popular boots brand out there. Icon 2295 is one of their best, particularly because it features steel toe that makes it suitable for heavy-duty work. Click here to see today's price on Amazon.
Design & Performance
There's nothing special or unusual about the appearance of the Iconic 2295. And we find calling them iconic to be a complete over statement. The pair is pure black from the raised shaft all the way to the sole. They look plain, and that's what they really are at best, plain.
The appearance isn't a big deal anyway, because these aren't the kind of casual boots that you'd put on for an upcoming date on a Saturday night.
To our eyes, a pair would go well with blue or black pants. In terms of material, the whole persona consists of a leather upper and synthetic rubber outsole.
It's hard not to love the footbed of the Iconic 2295. Welted in construction, it provides the stability you need to walk and work properly even during long shifts. Plus, it contributes to the durability of the boots, which means long-term use before you can itch for a replacement.
As with every pair in Dr. Martens' lineup, the comfort level of the Iconic is pretty much up to the standard. The ankle support is spot on, thanks to the extra padding. The EVA footbed enhances stability, allowing you to walk naturally as if you were going barefoot. And the air-cushioned PVC sole adds to the comfort exactly as intended.
Pros
Comfortable pull on boots that you can walk and work in for long hours.
The Air Wave midsole and the padded insoles make these boots comfortable to walk in.
The rubber outsole is oil and slip resistant.
Cons
While these are generally good no lace work boots, the outsoles don't last long enough.
Heavy despite the good fit.
What to Look for Before Buying Pull on Work Boots
Choose pull on boots that have snug opening, but make sure the area isn't too tight. In short, make sure the boots you choose easily slips through your heels.
Make sure the boots you choose features soft inner linings. These will not only be easy on your skin but will also ensure the boots align well to the shape of your foot. And this is a good thing because you're able to achieve a natural walking pattern over time.
There's really no one-size-fits-all shaft height when it comes to pull on work boots. The goal here is to go completely laceless. So whether you pick pull on boots with a shaft 10 inches higher or you just prefer slip on that goes a few inches above the heels, it all comes down to a personal decision.
The whole point of buying work boots is to make sure you're as comfortable as possible in your workplace. Whether you do light outdoor work or you are in a heavy-duty workplace, you need to make sure that the boots you choose are as slip resistant as possible.
Check the tread profile underneath the outsole. Make sure the lugs are up to scratch. Because, after all, the last mistake you want to make is to invest in boots that won't offer you better traction.
Frequently Asked Questions (FAQs)
What are the best pull on work boots for men?
Here is a list of pull on work boots for men:
 1. Ariat Groundbreaker Round Toe Pull on Work Boots.
2. Wolverine Men's Floorhand Waterproof 10″ Soft Toe Work Boot.
3. Timberland PRO Men's Powerwelt Wellington Boot.
4. Georgia Boot Men's Athens Pull on Work Boots.
5. Caterpillar Men's Revolver Pull On Steel-Toe Boots.
6. Dr. Martens Men's Icon 2295 Steel Toe Heavy Industry Boots.
7. ARIAT Groundbreaker Pull on Steel Toe Work Boots.
Are pull on boots bad for your feet?
No, pull on boots are not bad for your feet as long as you ensure you get the right sizing.  Your toes should not slide in your boots. The heels of your feet should not rub against the inner-back side of your boot. The sided of your feet should not feel pressurized or in pain. There should be at least 1 inch of space inside your boots.