If every Tom, Dick, and Harry could walk and work on water, there would be no need for the best waterproof work boots.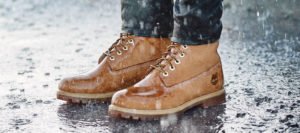 The truth?
Only the gods have that kind of power.
For the rest of us mortal humans, who have to work hard for long hour under harsh conditions, proper work wear is a must-have. That includes well-insulated, waterproof work boots that can stand up to any condition.
Look:
Wading through stream, standing in deep water, or powering through mud is a real struggle for every last one of us.
Your footwear gets drenched, your socks become wet, you're likely to lose your grip, and, if you live in a cold environment, your feet can dance to the chilly weather like a loose leaf.
But when you have the best waterproof work boots on, that's when you can kick the cold in the ass and work well at the best of times.
 Quick Comparison Table
List of the Best Lightweight Waterproof Work Boots 
1. Timberland PRO Boondock 6 Inch Composite Toe Boots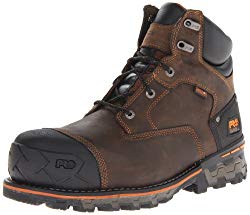 For men, the sleek look in a pair of work boots has never been anything more than just appearance. Even Timberland Pro Boondock looks somewhat plain in its brown-black blend.
And it's its functionality that matters more for the price that it demands. Boondock's design is solid, the performance doesn't miss the mark, but like every footwear that money can buy, even the Pro has its flaws. Click here to see today's price on Amazon.
Design & Performance
Easy to put on and take off, rugged to handle even the cruelest work environment, and featuring a superior tread profile for a firm grip, the Pro Boondock has all the basics you'd want in work shoes. Then there are premiums, too. From a waterproof membrane and TPU outsole to a damp resistant leather upper and antimicrobial treatment, Timberland stop at nothing to give this 6-inch model its best treat.
When it's time to work for long hours in your shift, the dynamic anti-fatigue technology will manage impact beneath your feet while keeping energy at the right zone so you can keep moving. And while these are non-insulated, the cold formula added to the outsole can easily manage chills, allowing you to work easily even when temperatures drop down to negative 40 degrees F.
Boondock has a Pro label for a reason. They're tough and strong, good for low to high-risk work. Whether you're an electrical engineer, a technician, a warehouse geek, or an industrial repairperson, these should appeal.
The most vulnerable area of the boots, on which objects could fall on and hurt your feet, have a superior leather coating for superior protection. The cushioning in the midsole cottony, so much that it provides an extra layer of comfort the same way the padded collar does. When working in these, you won't feel a rubbing on your feet. And when we say they're truly abrasion-resistant, we mean just that.
Pros
These boots meet the ASTM electrical safety standards.
Made of full grain leather with ever guard for maximum comfort, strength and durability.
Enough cushioning to provide the comfort you need to work all day.
They have steel-toes, good to use in all season, including summer.
Cons
These steel toe work boots runs wide not suitable for people with narrow foot.
They're heavy.
2. Wolverine Men's Waterproof Insulated Work Boots
Wolverine has stayed true to its hallmark of quality for over 130 years. And these 8-inch waterproof boots are a true symbol of the future and legacy they've build from the beginning. They're comfortable, hardwearing, functional, and stylish. And they're the kind that you can use in just about any workplace. Click here to today's price on Amazon.
Good for rough surfaces, wet conditions, and cold weather, these boots are well-built and tough enough to last 1,000 years. And while that's truly as symbolic as it sounds, you don't have to read between the lines to understand what it means. It's more like "buy once and use them for years before you have to itch for a replacement".
Design & Performance
Wolverine hasn't tried to "pimp" the looks of these boots. It comes in plain gold with a black collar, gray outsole, and greenish midsole. While they've kept the appearance downright simple, they've excelled a lot in integrating the right technology to make these boots as functional as possible.
Wolverine's waterproofing mechanism is really on point. The upper features a Gore-Tex membrane, which is quite handy in keeping water from seeping into the inner parts of the boots. To help you fight fatigue often developed from standing and walking for long hours, Wolverine adds a lightweight shank to the design mix, which also excels well at lowering stress on feet.
The vibram rubber outsole has a uniform tread pattern that digs deep to the ground under your feet, grip the surface and provide maximum grip so you don't skid. The lightweight, polyurethane midsole add comfort and durability to these lightweight work boots.
With Wolverine waterproof work boots, walking and working on ice and in snow is, in fact, possible. The 400 grams Thinsulate insulates the inner part of the boot, providing the maximum warmth your feet needs to survive extremely cold environment.
Pros
Has breathable fabric lining that improves airflow to keep your feet cool and dry.
Waterproof with a 400 grams Thinsulate lining, making them useful even in icy conditions.
Rubber outsole enhances grip while providing better traction.
The best waterproof work boots
Cons
The lace hooks messed up the design of the lacing system of these boots.
Also Read:
3. Timberland Men's White Ledge Mid Waterproof Ankle Boots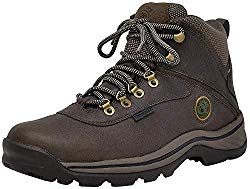 We've for a long time now praised White Ledge for being the best hiking boots from Timberline. But did you also know that they also double as lightweight waterproof work shoes? They're lightweight and simply versatile, good for working in workspaces that don't necessarily demand steel toes. Click here to see today's price on Amazon.
These are full leather boots with zero side arms and wide rubber outsoles. Plus, they're inexpensive, good for you if you're on a budget – or if you just need work boots in the lower price range.
Design & Performance
Like with the rest of its boots, Timberland has paid close attention to the comfort of the White Ledge, adding sufficient padding on the ankle, collar, and the upper tongue, making these fit to work in for long. The rubber outsole is wide, providing a decent base, which allows you to make every step without stressing either foot.
If there's one area Timberland can do better on is the traction. It's pretty standard on dry ground. But it's somewhat so-so on wet terrains, especially after a few months of use. We can understand why these boots lose traction overtime. Mostly, it's because the outsoles are made of soft rubber, not vibram.
If you run these through an immersion test, you'll learn that they aren't exactly waterproof. We'd say they're water-resistant to a high degree and not waterproof beyond the 10th minute. These ones are good to wear in wet areas like grass or job sites where there is water splashes, but you don't want to wear them for two long in an area full of water, they simply won't stand the test.
Pros
Good for work as they are for hiking.
Water resistant enough to get you through wet areas.
Cons
These work boots don't provide the best ankle support.
While they have a large following, they aren't as durable.
4. Carhartt Wellington Waterproof Steel Toe Work Boots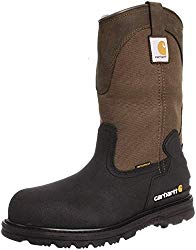 Working in a construction site without protective footwear can be tough, not to mention risky. But when you have the right pair of comfortable waterproof steel toe work boots, you can work your long shift just fine and go back home safe. Carhartt pull on work boots are a good option to consider. And while they may be a little expensive, they're comfortable and safe to use in all environments. Click here to see today's price on Amazon.
Design & Performance
We wouldn't praise appearance of these boots nearly as much as we always talk about performance. But the black-brown blend makes these boots look so good that we can't ignore the colors scheme. Far from appearance, Carhartt combines leather and nylon for the upper and synthetic for the outsole. Added to the brown tanned leather is the abrasion resistant Cordura, which enhances the durability of these boots.
Carhartt Wellington pull on work boots perform quite well in difference capacities. If you're an electrician, or you do many roofing jobs, these boots can help you get the job done right. Rated as ASTM 2413-11 EH compliant, these are electric proof. Once you wear them, you can worry less about electric hazards and focus on getting your job done instead.
Protection from electrical hazard is just one thing. These boots also features PU cushion insole and dual density strobel pad, which provide the comfort you need to walk around as you work. The outsole gives you better traction on different paths and the better grip also makes these boots chemical, slip, and oil resistant.
If you work in arctic environment or get into contact with snow once in a while, these should hold up just fine for you. The 400 Lite Fire insulation, together with the Storm Defender protection, will provide the warmth you need to survive the chilliest environment.
Pros
Good waterproof work boots to use in different environments. Hold up well even in extremely cold condition.
They have an ASTM rating, which means they offer good protection from electric hazards.
They have good insulation.
Cons
They may be a bit tight on the side of the toes for some workers.
Take time to break in.
Also read: Best American-Made Boots
5. Caterpillar Threshold Waterproof Industrial Work Boots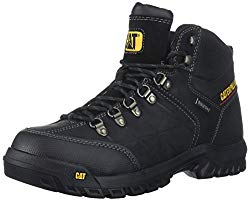 Caterpillar Threshold is not the "you get what you pay for" kind of boots. They may be cheap. But even for under $100, they're sturdy to stand up to any tough job out there. Click here to see today's price on Amazon. 
Take lying tiles, for example. It's one tough task that can easily send regular work shoes to their deathbed in just a few weeks. You can relate to this, can't you?
But when you replace your regular footwear for work with Caterpillar Threshold, that's when you can slap your chest for making the right purchase decision. Running true to size, with a good combination of rubber soles and leather upper, caterpillar waterproof work boots makes a good fit for even the meticulous industrial and construction worker.
Design & Performance
Caterpillar has pulled in many of its resource on this, making it one of the best performing pair of construction work boots in its product line. There are simply no loose ends with Threshold. And expect for a few drawbacks here and there, these still weather the test of time really well – or so we think.
Vibram outsole would have been a better option for Threshold than a rubber build. But the tread profile is so solid that these perform well in damp environment, giving you better traction even on wet grounds. The grip may not be the most exceptional, but expect it to be firm enough to give these boots oil and slip resistance power.
Caterpillar Threshold also features a breathable mesh lining that wicks moisture really well. Together with the waterproofing mechanism, the all-around airflow keeps your feet dry throughout the day, even during shifts where you walk for long and your feet sweat a lot.
There's more to comfort than just waterproofing and cushioning. And it's good to see Caterpillar going as far as ensuring the Threshold is ASTM rated. Add to this the abrasion resistance power and what you get for the price is a pair of cheap waterproof work shoes that can stand up to electrical hazards without compromising your feet's comfort and protection.
Pros
Cheap yet high quality work boots, good for buyers on tight budget.
Waterproof, oil, and slip-resistant.
Safe to use in all environments, including areas likely subject to electrical hazards.
Cons
These are not steel toe boots.
6. Chippewa Men's 29416 8″ Waterproof Insulated Work Boots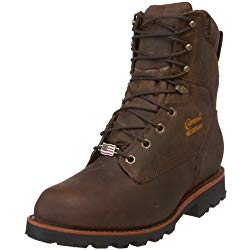 Chippewa has maintained its vintage-inspired artisanship since 1901. And every pair of boots and shoes they manufacture reflects their hallmark of quality and heritage. The 29416 model in their footwear line are tough and durable for every purpose, including working in water. Click here to see today's price on Amazon.
Design & Performance
Chippewa hasn't stopped paying attention to details ever since it made its first appearance in the market. No wonder the look and feel of these boots speak highly of the brand's quality and value. The golden nubuc leather is 100% waterproof, able to keep water far away from your feet even during work days when you have to spend a lot of time in moist condition.
You sure can take these boots even to the most extremely cold environments if you want to. Because, beyond the waterproof leather construction, they also include a lightweight, 400 grams Thinsulate that provides sufficient insulation to help you walk on ice and wade through snow without ever having to worry about frostbite.
To make these shoes even more comfortable to wear for an extended period, Chippewa adds a polyurethane midsole, which is sturdy and soft on feet. Then there's the removable orthotic cushion, which adds another layer of comfort to the boots so you can walk, work, and stand in them for long hours and never have to worry about blisters or fatigue.
You might be interested in Loggers Boots
Rubber is good for the outsole. But instead of using this material on the 29416 men's work boots model, Chippewa takes even a better approach. They add a vibram honey 132-plug outsole to complement the solid upper design. This way, you get high quality boots that can pull through every condition you put them to.
Pros
These boots are truly waterproof and they have a good insulation that outperforms cold weather.
Comfortable, you can even wear them for 24 hours straight without any issue.
The cottony insole is comfortable enough for long-term use, and you can even replace them with orthotic inserts if you have some.
Cons
The laces they come with aren't of good quality, change them as soon as you can.
7. Timberland PRO Men's Hyperion  XL Steel Toe Work Boots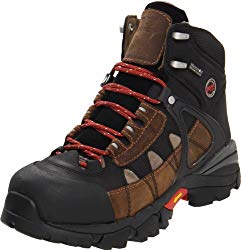 Timberland has been the king of work boots for decades, always surprising the market with its artistry, which by the way, never seems to get out of fashion. Click here to see today's price on Amazon.
The Pro Hyperion pair is one of our favorites. Having tested this in at least three work conditions for 30 days in a row, we're pleased with the purchase. To put this into perspective, if you're looking for good work boots for any kind of outdoors work, like electrical and construction, go with these.
Design & Performance
These boots look sleek. But there's more to their design and performance than just the iconic appearance. First, they're fit to use in wet conditions. The waterproof membrane bars water from getting in them, thus their ability to keep your feet dry even if you work in wet weather conditions all the time.
Rugged, tough, and abrasion resistant, these are the kind of boots you can use even in a cruel work environment. Whether you're an electrician, a tile fixer, or a casual laborer working for a construction company these should be ideal. The molded rubber sole, double layer toe guard, and the safe toecap all enhance comfort while ensuring your safety throughout your shift.
Pros
Includes a Dynamic Anti Fatigue Technology that absorb impact and enhance energy flow to improved stamina.
Lightweight work boots with comfortable EVA midsole.
We like the cushioning around the ankle, as it provides additional comfort and support.
Cons
These aren't steel toes boots, so they aren't suitable for asks that require more safety.
8. KEEN Utility Men's Milwaukee 6″  Waterproof Steel Toe Work Boots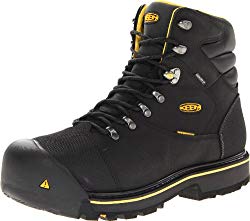 KEEN! That isn't just a brand name. It's a group of budding footwear enthusiasts who pay close attention to details to bring you the best of the most breathable waterproof steel toe work boots. KEEN is all about comfort, protection, and quality. And in the case of Milwaukee, what you get for the price are high quality boots that can stand up to any kind of environment and keep you going even on the toughest work days. Click here to see today's price on Amazon.
Design & Performance
Milwaukee's dual density EVA footbed benefits you in two ways. First, it provides sufficient cushioning for your feet, enabling you to walk and work easily even on extended shifts. Second, it provides a surface that naturally contours your feet flat, allowing you to take more natural steps as you walk around in your workplace.
KEEN pays close attention to durability in a way other brands don't. From welt material and patented toe protection to waterproofing and breathable full leather upper, every feature blends well together to make up a pair of boots that will last longer – if not a lifetime.
Pros
Hardwearing boots that perform well in all environments.
Sturdy and durable, good for walking and working on hard floors and even doubles as hiking footwear.
These work boots are breathable and waterproof, so they can keep your feet dry and warm throughout the day.
Good for walking and standing on wet floors as they are oil and slip resistant.
Cons
These boots are somewhat heavy.
They are also expensive.
What to Look for When Buying Work Boots With Waterproof Features
Forget canvas and nylon. They're durable and popular. But they fail terribly when it comes to water protection. Choose boots made of leather or rubber, as they are thick, flexible, and waterproof.
Test the boots before making a final purchase. Make sure they offer a solid grip on all surfaces. Also, make sure the boots you choose are oil and slip resistant. They offer better grip as you stand and the best stability as you walk.
Also Read: Non slip work boots
Boots have varying ankle support and the one you choose depends exactly on how much support you need for your ankles. Boots with low shafts have less ankle support, but they make mobility easily. Those that have high shafts offer a lot of ankle support, but they may affect mobility in a way. How much ankle support you need depends on you at the end of the day. Decide wisely.
Waterproof leather boots are a good investment. But if you get a pair that features membranes and liners, buy them. Membranes and liners add a layer of water repulsion on boots without adding to the overall weight. Should the leather upper get compromised, the membranes and removable liners can continue to prevent water from getting into your boots, keeping your feet cool and dry.