We've tested and reviewed dozens of work boots from different brands. And we've learned that every pair is downright is a big deal – and interesting – in so many different ways.
Perhaps one class of work boots that we've been itching to review is the rubber boots. Unlike the many models in the market, these have their own kind of design. And the features you're used to seeing in regular boots, like easy-to-use lacing system and pre-built insoles, aren't attached to these.
In this guide, we'll introduce you to some of the best rubber work boots for men and women in 2021.
 Comparison Table
Whether you need a pair for farm work or you're ready to spend on a more flexible pair that you can wear to multiple jobs a day, you'll love the recommendations on this list.
To be clear:
The best rubber work boots don't exactly fall in the high-end spectrum.
Rather, the best should be lightweight without feeling thin, warm enough to beat extreme cold, breathable to keep your feet cool and dry, feature midsoles that feel soft on the feet, and outsole that's easy on feet and unforgiving even on hard surfaces.
Eventually, everything about the best rubber work boots fall back to state-of-the-art design, better performance, and durability.
With that said, here's a list of top rated rubber work boots.
7 Best Rubber Work Boots – Best Brands
1. Muck Boot Women's Arctic Ice Tall Rubber Work Boot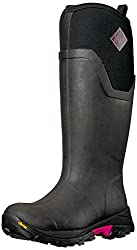 We haven't seen rubber work boots that look this good. And if anything, we're more than willing to admit that beauty and quality don't collide one bit. With its shaft going up to 17 inches from the ankle, and insulated to provide enough warmth to kick arctic conditions, Muck Arctic Ice work boots are suitable for cold treks even in region where temperature is as low as -50 °C. Click here to see today's price on Amazon.
Muck Arctic Ice Tall rubber work boots are waterproof, so you can take them to any wet environment and water won't soak up and leak into your feet. The slip on design makes the pair easy to put on and take off.  The tread profile of the outer sole provides just the right grip and traction to enhance your stability as you walk on dry ground as well as on ice and snow.
These are the kind of rubber work boots that a woman can put to any kind of job, from landscaping and ice blowing to chopping firewood and snow shoveling.
It's hard to shy away from the thickness of these boots. Combined with the soft fleece lining underneath, the warmth provided and the level of heat retention is undeniably incredible. The mid-section isn't just large for your feet to land on and rest comfortably. It even offers incredible underfoot insulation to keep you going.
While the consensus remains that Muck Arctic are warm, versatile, and function, some women may not find them to be the most comfortable models as they're bulky and heavy. Muck most likely attributes the weight to the durable and up to the standard design. In which case, these boots are highly likely to give you the value for your money by serving you for many months to come.
Related: Best farm boots
2. Muck Boot Arctic Sport Rubber Men's Winter Boots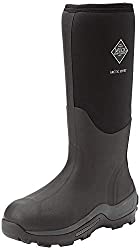 Sleek look, durable construction, higher level of warmth, these are the phrases that best describe the Muck Arctic Winter Boots for men. The appearance alone puts the brand's persona atop the footwear line. Not to mention approve their experience, which has already lasted more than 50 years. Click to see today's price on Amazon.
Muck knows that if you toil in the winter in regular work boots, you're not doing your feet a favor.  But with the Arctic Sports boots, you can keep your feet warm even when the temperature drops down to the negative 40°C, thanks to the soft and durable fleece lining. Plus, the shaft is about 17 inches from the arch, so you can wear these even in deep snow.
One of the things we love about rubber boots is the inclusion of neoprene, in which case the thicker it is the better the quality of the build. The Arctic includes a 5mm neoprene, which benefits you in a number of ways.
First, Arctic's 5mm neoprene enhances heat retention to keep your feet warm all day. Second, it absorbs shock from the ground beneath, so there's minimal impact between the surface and your feet. Third, it helps to contour the footbed of the rubber boots to the shape of your feet, so you walk naturally without worrying about blisters and chaffing.
Muck Arctic's outsoles are solid, less stiff at first, and flexible after a few weeks of use. The rugged molded lugs add to the comfort of the boots. More often than not, they provide the kind of traction that you need to walk on different surfaces, while providing a solid grip with every step you take.
3. The Original Muck Boots Scrub Boots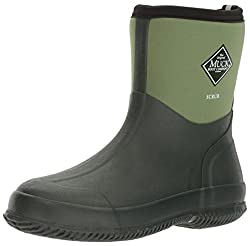 Quality work boots isn't something you get for cheap. But sometimes there's a compromise on cost despite the quality of a product. This is the case with the Muck Scrub Boots. Going for under $100, it's hard it hard to imagine that the pair will hold up well – until you put them on the first time and wear them for a month. Click here to see today's price on Amazon.
There's a reason why these are currently the best women's hunting boots. And no, it has nothing to do with the lower price point. These are popular because they're comfortable, durable, and flexible.
On versatility, the Scrubs are the kind you can wear to any job. Whether you're a landscaper, a gardener, a construction worker, or a budding hunter, these are the boots to wear to the job.
At 4.63 pounds, the Scrub work boots are neither light nor bulky, although opinion on whether they're lightweight or otherwise vary from woman to woman. These won't make you feel like you're walking on clouds, but they won't put stress on your feet either. Again, owing to the quality of the design, the overall weight of these isn't exactly a deal breaker.
With these rubber work boots, you can wade in mud, walk through paddle, and work in rainy weather without sweating up your feet. That's because they're waterproof enough to bar water entrance to the footbed. Only the shaft is 8 inches from the arch, so they won't cut it in areas where mud or puddle is deep.
Like other boots in the Muck's family, this pair also features the breathable air mesh lining that keeps your feet cool and dry, so you don't have to worry about sweaty feet.
4. Muck Chore Classic Men's Rubber Work Boots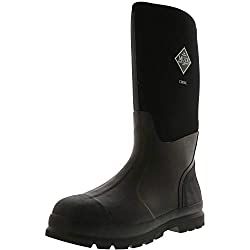 Regular shoes won't cut it for you if you work in a cold, messy, and wet environment. You need work boots that aren't just comfortable but also durable enough to handle light and heavy-duty assignments. You need the Muck Chore Classics, the best rubber chore boots. Click here to see today's price on Amazon.
We love how Muck Chore Classics kick out the cold, leaving the feet warm and cool throughout the day. For what they're worth, the pair beats discomfort down to the dust, and provides you with the highest level of comfort, support, and safety instead.
For the lovers of pull on boots, these are the grab-and-go. Or what's interesting in the lacing system in a pair of work boots more than an easy on and off? To say the least, you slide one foot in, and then the other, and you're good to go.
You probably won't use the pull-tabs on the rear frequently, but they can help you wear the boots with ease. The pair even feature kick off lugs, and these are handy when taking off these rubber work shoes.
The shaft is 15.5 inches from the arch, making the Muck Chore Classic suitable for working even in deep mud and puddle. In the design mix is a 5mm neoprene, which bars water from soaking in the boots while absorbing shock from every step you take. Not to mention enhance grip and provide traction without undermining your feet's natural gait.
A pair of men's rubber work boots is never complete without durable outsole. And the Muck Chore Classic's sole construction looks just about right for the price point. This pair's lugs are a deep to grip on dry and wet surfaces, and this provides stability and traction as you walk. Instead of feeling stiff, the outsole flexes well, so every step you take in these shoes feel a lot more natural.
5. Muck Woody PK Rubber Women's Hunting Boots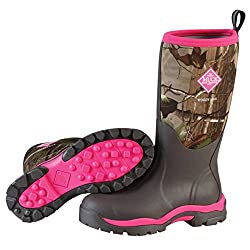 Muck Woody PK every woman wouldn't mind for a pair of work boots. No doubt they'll turn heads as easily, and that's why they make a good pick for adventurous women. Coming in bark, real tree, and hot pink, these women's hunting boots are sleek at their best. Click here to see today's price on Amazon.
With a shaft about 14 inches from the arch, these can almost reach the knees for short women. And the better part of it is how the height makes it easy to work even in extremely deep, damp environments.
Neoprene is common in the design mix of rubber boots, and for good reasons. In the case of the Muck Woody, it provides full waterproofing to protect your from damp conditions and rainy weather. The shock retention mechanism adds to the value of the 4mm, because it ensures minimal impact, if at all, between the sole of your feet and the ground.
Muck Woody pair is lightweight, but the build is still thick enough to stand up to heavy-duty use. The breathable mesh lining ensures your feet doesn't sweat one bit, and it still retains heat to keep your feet warm even in cold temperature.
Perhaps these women's rubber work boots wouldn't be as great without the pair of EVA midsole. For what it's worth, not only do the insoles enhance cushioning but also ensure maximum impact resistance so you can walk and work comfortably in the best of time.
The outsole is supposed to be tough on every floor a pair of work boots steps on while remaining flexible enough to maintain your gait as you walk. That's what you get from Muck Woody PK Rubber work boot for women.
6. Bogs Men's Rancher Winter Snow Boot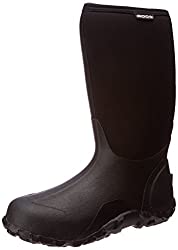 Hats off to Bogs! They've designed some of the most comfortable rubber work boots. From what we know, the Bogs Rancher snow boots have been a big hit from the beginning, thanks to the durable design and exceptional level of comfort. With the Ranchers, you can kiss the damn cold weather goodbye and worry less about dirt and mud. Click here to see today's price on Amazon.
For starter, Bogs Rancher's 17-inch circumference them easy to take off and put on. With a shaft 16 inches from the arch, you get a fit that covers part of your work pants, and this goes a long way to keep your legs warm.
To be clear, the waterproof design isn't the only feature that makes Bogs Rancher stand. Even the neoprene stretch and the round toe box play the role of fitting the pair in the list of the best rubber work boots. For what they're worth, the features you get the best level of comfort that you need to work in the boots even for an extended period.
As good as these are, especially because they run true to size, there isn't a generous amount of airflow to expect. To get around this, get a full size instead of a half size; this will promote proper airflow as you go about your daily work.
You're going to sweat when it's hot and dry where you work, and you'll sure feel cold when it rains and snow. But your feet don't have to bow to the weather's injustice. If you wear Bogs Rancher winter boots, and you should, the pair's Max Wick will keep your feet cool and dry and the heat retained by the 7mm Bogs Neo Tech insulation will keep you warm even when temperature drops to as low as -40˚F.
The slip-resistant outsoles are not only self-cleaning and non-marking, they also provide the grip and traction that you need to walk on all surfaces.
7. Muck Boot Adult MuckMaster Hi-Cut Boot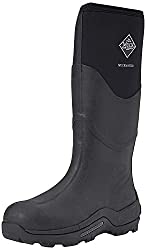 Whether you walk soft or hit the ground hard, the MuckMaster Hi-Cut Work Boots can handle the pressure from your feet for an extended period. Black in tone, waterproof in design, and built to be versatile and functional, these are the boots you can put to any kind of job, from farm work to truck driving and landscaping. Click here to see today's price on Amazon.
The color scheme of the MuckMaster Hi-Cut isn't anything fancy, but the quality of the build is unquestionably up to the standard. In addition to keeping your feet dryer as you do your work, the calf-high rubber overlay of the boots also easily resist punctures. And that means they're just perfect to put to heavy-duty work.
The boots' air mesh linings and the thermal foam particularly catches attention because of their benefits. Located underneath the footbed of the boots, the thermal foam provides a generous amount of heat to keep you warm no matter how many hours you spend working. Add to this the air mesh linings that promote consistent airflow, and what you get is a pair of  rubber work boots that also keep your feet cool and dry so that you don't have to worry about sweaty feet.
Neoprene is becoming quite common in rubber work boots, and the thicker it is the better the pair of footwear. Muck adds more of it to this model more than they have others. At 5mm, this neoprene does a good job in contouring to your feet's natural shape, absorbing shock, while retaining heat so you keep warm throughout the day.
We like how Muck crowns these boots with modeled rubber outsoles that can stand up to even the roughest working environment. If anything, they provide up to standard grip and better traction, regardless of the nature of the ground you're walking on.
Buyer's Guide: How to Choose the Best Rubber Work Boots
Many of us get comfortable with any pair of rubber work boots as long as they run true to size. And there's nothing wrong with that. But if you're serious about finding the kind of work shoes that fit and last, you'll have to think beyond just the size. So the following are 7 things to consider before buying rubber work boots.
1. Appearance
Does looks even matter when it comes to work boots? Or can you just wear any pair provided it's up to the standard?
Well, there's no consensus in this. But if you care to know our thoughts, how you present yourself with work boots matter, the same way it does with regular shoes.
Besides, you don't want to buy a pair of boots that won't match your other outfit. So the looks do matter, even if it means to some degree.
So choose the rubber work boots that can matchup your work's outfit.
2. Waterproofing
You don't have to be a footwear expert to know what rubber work boots do. More often than not, these are the kind you'll wear to any work environment, from wet grounds to icy pavements. And that means they had better be waterproof, or you'll end up drenched, cold, and shaking like a leaf, especially in arctic condition.
Waterproofed boots make a big difference. They let you wade in puddle, walk through mud, and stand in rainy weather without soaking the sole of your feet. And that means you can work in any environment regardless of the condition of the weather.
3. Breathability
If you aren't wearing breathable work boots, you are simply doing it wrong. Think about it, you're on your feet the whole day, the inside of the boots heating up slowly, and eventually forming moisture. If this results into too much sweat, your feet will end up drenched and that can be a breeding ground for blisters. And at the very least, you are more than likely to slow down.
You can forget this kind of discomfort by simply investing in breathable rubber boots. The likes of Muck Arctic include breathable air mesh that wick away moisture all the way from underneath your feet, so they remain cool and dry even on your busiest days.
4. Stability and Traction
Rubber boots are useless if they don't guarantee better traction.
Think about it:
You don't know where your next work hour will take you. Often, you'll walk and work on all kinds of surfaces, from rough concrete to slippery pavements filled with snow and ice.
If you don't wear rubber boots that that grip surfaces and enhance your stability as you take every step, chances are you'll trip and fall. That's especially true if the floor in question is slippery.
Thankfully, the rubber work boots that we've reviewed in this guide are well built all-around. They feature sturdy rubber outsoles with thick lugs that not only grip different surfaces fully but also provide that traction you need to walk freely while enhancing stability in the process.
5. Weight
Some people don't think of weight when it comes to choosing the right pair of rubber work boots. But it matters a lot, especially for those of us who plan to walk a lot throughout the day. Lightweight is always better, and that's what we recommend you spend your money on.
The benefit is that you don't add a lot of weight to your feet. And that makes walking even for an extended period of time easy.
The Muck and Bogs rubber boots on this list are reasonably lightweight, so they should be a good fit to consider already.
Conclusion
Now that you know the rubber work boot that suit men and women, plus what to look for before buying a pair, it should be easy to find something suitable for the money. The brands we've mentioned here are the best rubber work boots. So you can be sure you'll get the value for your money.