Today I'll show you how to get rid of foot odor in boots fast. In fact, these are exact same tips that I use repeatedly to make sure that my boots never smell. You can follow along and keep yours in the "smelling good" zone even if they're not new.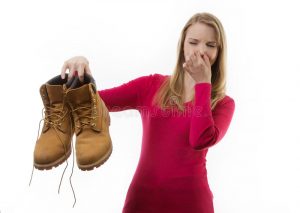 To be clear:
I've had days when my boots smelled like poop after a long day of walking. And if I'm being honest, those were embarrassing moments.
I've since learned that stinking boots isn't something I ever have to leave with, and you shouldn't, too. Here are handy tips you can use to eliminate the odor and leave your pair of work boots smelling fresh.
Also Read: How to stop feet sweating in work boots
10 Ways to Get Rid of Foot Odor in Boots
1. Rotate Your Work Boots
You're going to have a difficult time getting rid of bad smell from your work boots if you only have one pair. So I suggest you get yourself a couple more pairs so that you can alternate them from time to time.
It's okay if you're on very tight budget and can't afford expensive work boots. You can get yourself some comfortable work boots under $100 and they'll work for you just fine.
To be clear, rotating footwear goes beyond increasing their lifespan. It equally helps to get rid of the smell fast. When you leave your shoes to "relax", you give the pair the space to breathe, the moisture within to evaporate, and the shoes to dry.
2. Clean Your Work Boots Often
In theory, this is a no brainer. In practice, only a few of us ever remember to give our pairs of work boot the perfect touchup.
I get it. You're busy at work all day long, tired by the moment you get back home, and you definitely have little time between dinner and sleep to clean your shoes.
But what's worse?  Missing a few minutes of rest to clean your work boots or not cleaning it at all?
I suggest cleaning your work boots regularly as it's the perfect recipe to getting rid of the odor. And you don't have to wash them every day anyway. You can do so at least once a week.
Also, don't throw boots in a washing machine because they're made of animal fabrics such as leather, vinyl, and suede, which the machine can easily damage. Clean you leather and suede boots by hand instead.
Also read: How To Get Dog Poop Out Of Shoes
3. Spray Some Alcohol in the Boots
What you know alcohol for isn't the only thing that it's good for. Apart from being the taco that adds some cooling buzz to an outdoor grill party, it's also a strong solution that you can use to get rid of foot odor in boots.
Why?
It's because alcohol is a strong disinfectant, which can get rid of the bad smell from any type of footwear, and it works fast.
This method is incredibly simple to implement.
Mix alcohol and water in the ratio of 7:3.
Pour the mixture in a small spray bottle.
Spray the content inside the shoes and leave the solution to rest overnight.
Since you've mixed the content in just the right ratio, the alcohol will get rid of the bad smell on its own. Also, you don't have to wipe the inside of the boots because the alcohol will evaporate on its own.
4. Use a Boot Dryer to Get Rid of the Smell
Some people like to take the shortest route to keep work boots from stinking, and that's perfectly okay. Quite too often, the easiest approach would be to use a boot dryer. The PEET Boot Dryer and Warmer is a good option to use. Not to mention that it's quite affordable.
A boot dryer, such as this one, is a good solution because it does two things really well. First, it eliminates sweat and odor from your work boots. Second, it deodorizes the boots, leaving the pair smelling good and ready for the next day use.
The reason why DryGuy DX Forced Air Boot Dryer is popular is that it's versatile. It works well for all types of work boots, whether they're made of leather, rubber, suede, or vinyl. Moreover, the machine takes about 3 to 8 hours to deodorize your shoes and it doesn't consume a lot of power.
5.  Use Dryer Sheets to Remove and Prevent Odor from Work Boots
I've used dryer sheets to remove stinky odor from my pair of Timberland boots before cleaning, and I can tell you that the method works really well.
The good thing is that these sheets are readily available. You can get these ones here if you need some. Plus, they are very easy to use. All you have to do is to insert them in the boots and let them sit overnight so that they can soak up the smell.
You can also use the sheets in conjunction with talcum powder and wear the boots right away.
6. Wear Moisture Wicking Socks
Moisture wicking socks are great. They not only keep your feet cool and dry; they also make sure you never have to deal with stinking feet and boots all the time.
The best ones are made of fabrics that are good at enhancing air circulation in and out of boots. These materials include cotton and merino wool.
And their working concept is quite simple:
Since the cotton and wool fabric are good at absorbing sweat generated by your feet, particularly in the days when you are too busy to stop.
7. Alternate Your Socks
I find alternating socks to be the most effective and cheap way to get rid of feet smell from boots.
Think about it:
Have you ever worn a pair of socks for two days in a row and smelled a bad scent thereafter?
I have. And to be frank, it's disgusting.
The simplest solution is to alternate your socks from time to time. Never wear the same pair for more than 8 hours a day, even if they're good at wicking moisture.