Work boots safety hasn't always been a constant concept, although it's possible to think that it has always been. And if you've ever looked into the sabots, you'll agree with me that there has been a tremendous evolution in the work shoes persona.
Even with their laidback and boring design, with a shape hollowed from a single block of wood, the sabots were the first protective boots ever made. While they're no longer in the shelves, their design concept did yield the idea of designing some of the most protective work boots in the market today.
In fact as history would have it, with the Red Wing Shoe Company being on the front line in steel toe boots design from as far back as 1930, we currently have some of the safest shoes that you can wear to any workplace.
And in the spirit of enforcing and meeting workplace safety standards, there has been quite more to work boots than just the safety toe design. Today, metatarsal protection has become a big deal, hence the need for the best metatarsal work boots.
Also Read: Best welding boots
In this guide, I'll walk you through everything you need to know about metatarsal guard protection. I'll review some of the best work boots with metatarsal guards. And I'll also go as far as to give you some handy tips that you can use to buy the right pair for yourself.
Let's get to it, shall we?
The Best Metatarsal Boots in 2022
1. Dr. Martens, Men's Ironbridge Met Guard Heavy Industry Boots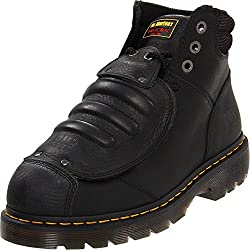 Dr. Martens has built a name for itself for designing work boots that run true to size. And as if that's not an enough case with the Ironbridge, they've even added an external met guard to the footwear to make them safe for use in extremely dangerous workplaces. Click here to see today's price on Amazon.
Made of leather that doesn't develop wrinkles fast even from rigorous use and featuring leather outsole with tread pattern for grip, stability, and traction, these are the boots to wear to work every day. The water-resistant leather upper is also breathable, allowing your feet to stay cool and dry so you don't have to worry about sweating all over the place.
For the price, you get more protection because Dr. Martens cares about your safety. At least, the boots have steel toecaps and met guards made of steel.
Related: Difference Between Steel Toe Boots And Metatarsal Boots
2. Iron Age Men's Ground Breaker IA5016 Work Boot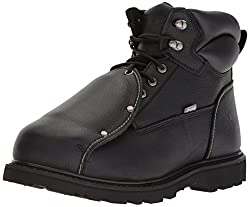 Iron Age work boots are tough on everything and soft on your feet. While it's made of imported materials, the quality isn't in any way substandard. Click here to see today's price on Amazon.
The full grain leather upper feels tough and durable. And while these aren't suitable for damp conditions because they lack the waterproofing membrane, at least they have a breathable lining that can keep your feet cool and dry. The lace up system with metallic eyelets allows for a secure fit, and the pull loop at the back makes the pair easy to wear.
Iron Age guards your feet against heavy objects thanks to the reliable external metatarsal guard. The footbed is all EVA, so there's sufficient underfoot cushioning and support for your arches. The sole aren't just slip and heat resistant. They also have lugs that ensure better traction as you walk and work.
Also Read: How much do work boots weigh?
3. Ariat Men's Workhog WST Met Guard H2O Composite Toe Work Boot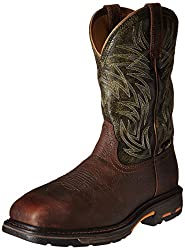 For the grinders that like to bundle up for work fast, the Ariat Workhog is the pick to consider. These don't have a strong fashion statement, but at least they do look good. Again, they're pull on work boots, so if you want to go completely laceless, go with these ones. Click here to see today's price on Amazon.
The boots' opening is about 11 inches round, so these should be easy to put on and take off.
These leather boots have super-met metatarsal guards. That's premium protection for your feet, and at a price that does feel pocket-friendly. The rubber outsole offers reliable traction on different surfaces, not to mention that it's oil and slip resistant.
4. Carhartt 8″ Men's Waterproof Composite Toe Internal Metatarsal Guard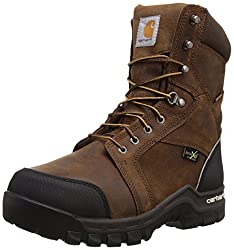 Carhartt CMF8720 8-inch composite toe boots looks just too good to the eyes. The pair can blend well with blue or black jeans. And you can even use it as a casual wear for the weekend. And if you like, you can match them with your Friday night date's outfit. Click here to see today price on Amazon.
Since the pair's toe box features composite construction, you don't have to worry about compression hazards. Composite toes already meet the ASTM standards, so these boots are safe to use in harsh working environments.
More importantly, they feature the PORON XRD internal met guard, which meet the ASTM safety standards. The guard will protect your feet against impact, so you don't have to stop working just in case an object hits your toes or insteps hard.
5. Timberland PRO Men's 40000 Steel Toe Met Guard Boots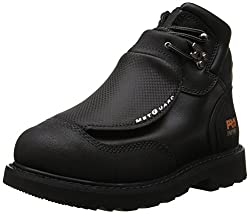 Timberland PRO Men's 4000 work boots aren't just great because they run true to size. They're also an ideal option because they're super protective. First, these 6-inch steel toe boots are super protective, especially because they feature an external waterproof met guard flap. Click here to see today's price on Amazon.
These lace-up work boots even have closed-cell PU footbed, which adds cushioning that makes every step you take easy on your feet. The Ever Guard waterproof leather upper, with its Goodyear welt construction, bars water against soaking up into the boots. And as such, they're ideal boots that you can use in damp and wet environments.
Timberland Pro Men's 4000 Met Guard work boots, with impact and compression protection that meets all the ASTM standards, are completely safe to use in hazardous work environments.
6. KEEN Utility Mt. Vernon 6″ Steel Toe Boots With Metatarsal Guard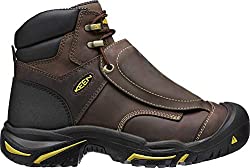 If looks were anything to go by when choosing a pair of work boots, you seriously wouldn't leave Keen's Mt. Vernon on the shelf. But these aren't just stylish metatarsal steel toe boots for women,  Keen utility has also made them with toe protection and maximum metatarsal bone impact resistance in mind. Click here to see today's price on Amazon.
They're waterproof, suggesting you can use them for work in environments that get damp easily or even in rainy weather. Plus, they feature a moisture-wicking lining, which abet consistent airflow to keep your feet cool and dry even if you're in constant move.
These American built work boots meet all the ASTM safety standards. Not to mention that they are fully EH (electric hazard) resistant.
What are Metatarsal Guards and What Do They Do?
Unless you're in a white-collar job, where you grind in a posh office with a ceiling fan above your and open windows that lets in fresh air from sunrise to sunset, the need for safety work boots is something you should consider.
Think about it:
Working outdoors can mean anything from accidentally stepping into mud and wading through puddles to being in cold refrigerated room and being in bizarre workplaces where falling objects are common.
Even if falling objects aren't as common where you work, it doesn't mean things won't fall to the ground. And give that we can only be so careful, what happens when an object lands on your feet could be fatal.
For effective protection against unexpected injuries, of course in addition to the warmth, breathability, and comfort that comes with, footwear professionals have introduced metatarsal guards, which are now a significant thing.
Metatarsal guards are personal protective equipment added to work boots to help manage the impact that heavy objects may otherwise have when they land on your feet by accident. They're made of aluminum, steel, or lightweight composite. In terms of performance, metatarsal guards deliver exactly what they promise, giving you full protection against objects that would otherwise crush your feet the moment they hand on the instep or the toe area of work boots.
Types of Metatarsal Guards
There are three types of metatarsal guards. These are:
Internal metatarsal guards.
External metatarsal guards.
Super-met guards.
Let's further expand on each type for more understanding.
Internal Metatarsal Guards
Located just beneath the boots' laces behind the tongue, internal met guards can be made of soft absorptive materials or flexible scales wrapped in cushioned padding.
Although smaller than the external met guards, the technology still offers more protection by absorbing sudden impact from fast falling objects.
Also, these met guards are good at managing the speed of a falling object as soon as it lands on your boots. Therefore, it has the ability to displace the energy and lower external compression.
External Metatarsal Guards
External met guards are shell-like covers added to the top of the work boots' insteps a few inches from the safety toecap. They are made of metal or plastic and covered with a dense foam padding sandwiched into leather.
The combination of different materials makes for a great impact absorption.
When an object falls on the boots, the shell feels and absorbs the impact. The cushioning lowers the compression. And therefore there's maximum protection for the fragile metatarsal bones.
Super-met Guards
They're more like a combination of internal and external met guards. For the construction, the design features a triple guard system, with a PORON XRD internal guard and a two-piece metatarsal guard.
Super-met guards aren't just stylish with about 1.5 inches of clearance. They're also comfortable and safe enough.
What are the Differences between Steel Toe and Metatarsal Boots?
Steel toe boots only protect your phalanges, an area more prone to injuries mostly due to the lack of skin muscles. By protecting your toes, there're minimal chances of putting your metatarsal bones at risk. Although steel or composite toe designs are good, they cover only up to 1.5 inches of a foot, leaving the long bones, which connect the toe to the ankle, unprotected.
Metatarsal boots, on the other hand, extend the protection beyond the 1.5-inch length. Work boots with met guards can have either steel or composite toes. And they are good because they extend the protection from the toes to the ankle joint. That means more protection to your metatarsal area, so you can work without worrying about foot injuries if your workplace is prone to falling objects.
Why Should You Wear Metatarsal Work Boots?
With safety first being a thing that many employers now take seriously, even how you bundle up for your next day at job can go a long way to make a big difference. And if you among the persons that work in environments where falling objects are common, work boots with metatarsal guards are a must have.
Here's why:
Met guards can shield your feet against sharp objects
Boots are even ideal for workers who spend a lot of time in workplaces where they have to deal with sharp objects all the time. For example, they'll come in handy for those who use power cutting tools and high power saws. Since they are made of steel or aluminum, they can even offer protection against other dangerous tools like angle grinders.
And since these boots offer protection against sharp objects, you don't have to worry about penetration  from objects such nail guns and firing tools. Quite often, the met guard will cause the tools to bounce off, and that means such boots will always keep you safe.
They protect the entire metatarsal area
All the three types of met guards do one thing: They protect your feet so you can work well even in places where risks of injuries are common. Whether you are a construction worker, a plumber, or a mechanic, you can use boots with met guards to protect the upper part of your feet, which in turn will keep the metatarsal bones in the best (safe) condition.
Work boots with met guards offer protection against chemicals and flames
While a landscaper can do fine with soft toe boots, someone who works with chemicals and heat needs more. This is where met guards come in. When you wear these boots, your feet can even stand up to molten and burning substances with it. And your feet won't even realize it.