Today you'll learn how to clean leather and suede Timberland boots in different ways. These are the exact strategies I use to give my yellow iconic pair a touch every once in a while.
So if you're ready to make your pair clean in under 20 minutes, and you're looking for an effective way to do that, you'll find this guide helpful.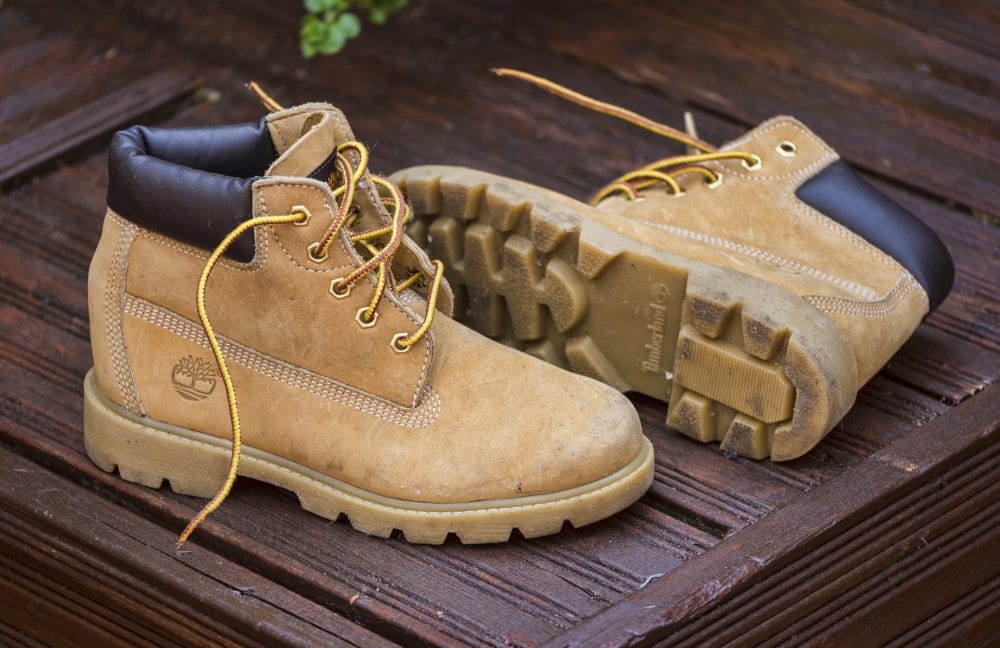 It doesn't matter if the boots have dirty spots all over. Or if they have deep stains after weeks of putting them to use and abuse. Or if they have dirty stains that water alone won't clean out.
Also Read: What to Look for When Buying Work Boots
The cleaning methods I've shared in this article will make them spotlessly clean and ready for the next workday or outdoor use.
Why You Should Clean Timberland Boots Frequently
Cleaning Timberland boots goes beyond just making them look good inside out. In addition to keeping their color as bright as new, cleaning lengthen the lifespan of the boots and keeps the leather in good condition.
Different Ways to Clean Timberland Boots
Before we discuss the methods you can use to give Timberland boots a perfect touchup, it's important to keep in mind that they can be made of either leather or suede. And each requires a unique cleaning approach.
So here we go:
Cleaning Timberland Leather Boots
Timberland leather boots are the most popular make from the brand's product line. Designed with comfort and style in mind, these good-looking boots can log miles of walking, stand up to harsh working condition, and only give up after years of use and abuse.
Like other brands leather boots, the Timberland models can get dirty quite fast. And when that happens, you had better clean them up or they'll look too old to be anything significant.
With that said, let's look at the different ways to take care of your Timberland boots so that they look as good as new.
 Remove Dirt from Timberland Leather Boots
Follow these steps to clean off dirt from your Timberland leather boots:
Use a soft brush to remove excess mud from the footwear.
Soak a soft cloth in warm, soapy water and use it to clean the leather. You can also use a sponge soaked in cold water to clean the leather evenly.
Use a clean towel to dry the leather and then leave the boots in an open, well-ventilated area for about 12 hours to dry.
Also Read: How to clean poop off bottom of shoes
Cleaning Timberland Suede Boots
Let me say this:
I have worn several pairs of suede shoes and boots and I must admit that the material is quite great. However, don't expect your pair of suede boots to last long if don't clean them regularly.
When it comes to cleaning, you need to make sure you use the right cleaning accessories so that you don't damage the material.
Removing Dirt from Timberland Suede Boots
Follow these steps to remove dirt from your Timberland suede boots:
First check how much dirt the boots have before you start removing them. If the boots have a lot of mud, leave it to dry overnight and the remove as much dirt as you can by hand.
Get a soft brush and use it to clean the dirt off the suede, and while you're at it, be as gentle on the boots as possible
Use a wire brush to wipe down the boots, fully focusing on the areas that have foreign spots and marks
Suede boots tend to have fibers that can damage easily. To make sure this doesn't happen, brush the suede in the direction of the fiber.
Cleaning Timberland Leather and Suede Boots
While you have to take distinct approaches to remove dirt from leather and suede boots, you can use the same method to remove water, grease, and tough stains from both leather and suede Timberland boots.
Clean Water Stains from Suede and Leather Timberland Boots
We often recommend waterproof work boots because they bar water from soaking up inside and getting our feet wet. However, these boots will still have water stains, which will affect the quality of both materials.
Fortunately, you can easily remove water stains from leather and suede using the same approach, with your goal being to remove the stain completely and making the boots look good again.
To clean stains left by water on suede or leather:
Use water at room temperature to dampen the area with the water stains. You can use this restorer brush for suede and a soft piece of clean cloth for leather.
Let the moisture from the water soak in the suede or leather material, and then brush or rub the material, paying close attention to the satin itself
Place the boots in a well-ventilated space to dry.
For the suede Timberland boots, stuff the pair with pieces of paper. This will ensure the boots stay in shape and that the material doesn't show signs of creasing.
How to Remove Grease Stains from Leather and Suede Timberland Boots
Grease on suede or leather Timberland boots sucks big time. However, that's a kind of dirt you'll have to deal with often, as long as you wear the boots to work in workplace prone to grease. While it might be involving to remove off the boots, the process shouldn't be hard or time consuming as long as you use the right approach.
To remove grease stains from leather or suede Timberland boots, you should:
Use a tissue or an absorbent paper to blot the area of the leather or suede if the grease stain on the material is still wet.
Next, sprinkle some absorbent powder on the boots' area that has the stain and then leave the boots for about 12 hours.
Rub off the powder after 12 hours to remove the grease stains
For leather Timberland boots, you can use a clean piece of cloth to rub off the absorbent powder in the morning hours. In the case of the suede material, I recommend that you use this suede brush to clean the powder from the area that had the grease stain.
Cleaning the Tough Stains from Leather and Suede Timberland Boots
The tough salt stains on leather and suede Timberland boots can be a pain in the ass just like dark spots and grease. However, they aren't hard to clean off either.
Below is how to get your head around this one:
Start by brushing off the salt stuck on the boots
Mix vinegar and water in the ratio of 1:2, dip a clean soft piece of cloth in the mixture, and then use the cloth to run the boots
Allow the mix to settle for some time, and then use a clean, dry piece of cloth to wipe the residue
Place the boots in an area that has good ventilation and let the pair dry overnight
The Right Way to Clean the Wheat Nubuc Timberland Boots
The wheat nubuck Timberland boots are some of the good-looking pairs from the brand. The problem is that since they have a clear color, dirt and stains can easily be visible and make your general outfit feel somewhat out of place.
Still, like standard leather and suede, the wheat nubuc isn't difficult to clean at all. Below is how you can give the pair a perfect touchup.
The first thing you do is to remove dirt and dust from the boots using a cloth or rag
Now take a bristle brush and use it to brush the wheat nubuck, making sure you brush in the same direction
For the sole, you can use a hard bristle brush to get rid of the dirt or mud stuck in the lugs
Now use a normal toothbrush and dish soap to remove any dirt left on the shoes
Even with this method, you still need to leave your boots in a well-ventilated space for them to dry after thorough cleaning.
My Final Thoughts on Cleaning Timberland Boots from Home
You don't necessarily have to clean your Timberland boots on a daily basis. You can clean them once a week or every time you notice they're too dirty to wear to your next outdoor activity. Doing so can go a long way to not only make them look new but also prolong their lifespan.
After all, the steps highlighted above are simple and easy to follow, so you shouldn't have a hard time taking care of both suede and nubuck leather boots.
Generally, dirt build up is quite easily to clean off from these boots. All you have to do is to use cold or warm water to clean off the dirt. And then use a restorer brush to give the boots a good finish.
Also, you've learned the right way to remove grease stains from both suede and leather. But you don't have to stop there. You can give the boots regular care using a stain repellent spray, which is quite useful in protecting the leather or suede from different kinds of stains.