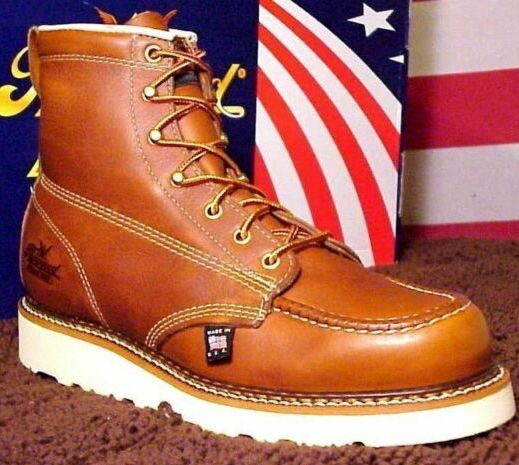 For those of us who grind hard and sweat under the hot sun, just like the folks in white-collar jobs, the work boots we buy must be nothing but the very best. And even if we were to argue that quality is a relative term as footwear design is concerned, and it is if you ask me, some boots will always be better in terms of features and performance like American Made Work Boots.
American-made boots always take the lead, first for their quality design and second for being the best performers.
Besides investing in American's artisanship, these brands consider the work you do and the type of boots right for the job, so you have an easy time selecting what's right for your bucks.
Think of good material selection, water resistance, grippy and stable outsoles, toe protection, oil and chemical resistance, and everything in between, and American made boots meet all the standards.
A List of American Made Work Boots
Buying Guide: What to Look for in the Best American Made Work Boots
Comfort
Whether you'll be working a four-hour shift or you need boots that can brave long hours of work, comfort is an important factor to consider before buying American made work boots.
For starters, the construction of the boots must be up to American boots design standards. At least, choose boots that are made of 100% leather upper. And they should have robust rubber outsoles with solid treads for better grip, stability, and traction.
Check to make sure that the footbed, the resting place for the insoles, have a decent cushioning, especially because this is necessary for long shifts.
If work boots are American made, then they must be breathable. If the boots don't allow even circulation of air, why would you want to buy them in the first place?
Aside from being oil and slip resistant, the sole unit should be good at absorbing shock so that there's minimal impact between your feet and the ground.
The entire boots persona should guarantee your safety. Choose American work shoes with steel or composite toes, and make sure the meet the ASMT and EH standards.
Also see: Best Wedge sole work boots made in usa
Weather Protection
The American made work boots that you choose should offer sufficient weather protection to be suitable for work.
Think about it:
You don't know where your next shift will take you. You've no idea what time your supervisor will need you to be at work. And with the weather always being unpredictable, you can't risk bundling up for your next assignment in the wrong pair of work boots.
This requires you to consider weather protection before you invest in a pair of American made work boots.
Make sure the pair you choose can protect you in cold, muddy, rainy, and any weather condition you can think of.
If the boots feature Gore-Tex, go with them because the material is good for offering protection against different elements and keeping you safe. If you work in wet and damp environment, go with American made waterproof work boots.
Also, make sure the outsoles guarantee a good grip on any environment, because the last thing you want is to slip and fall in the middle of your shift.
Insulation
With all other factors that make a pair of boots suitable for work, insulation is something you'll have to look into if you live and work in arctic environments.
This is where insulated work boots made in America comes in. These boots are good because they provide a shield, which prevents cold air from getting into the boots so you can work in freezing temperatures.
We measure insulation in grams, with the lowest being 200g and the highest being 2000g. Insulation adds some weight to the boots, but the kind of warmth and comfort that you get makes the extra weight almost an absolute bargain.
Price
When it comes to American made work boots, the lingo on price is a different story. Better than imported boots, American made boot will always be a lot pricier than your expectation. But there are cheaper options lying around as well.
Even if you're going to spend between $300 and $500 for a pair of American made work boots, you can bet that what you get for the price is a pair that will last for long. In fact, they last longer and almost begin to feel like an eternity before you buy a new pair.
And there are cheaper options, too, mostly for the folks that would like to walk in boots for out of the pride of their country.
Also Read: Wedge Sole vs Heel Work Boots
Footwear companies such as Timberland, Carhartt, and Thorogood sell some of the best American made boots for cheap. However, you do have to keep in mind that some of the boots made by these brands are imported.