Moc toe boots are some of the best work boots in the market. And while they tend to be a lot less appealing as far as aesthetics hold, they're protective and more performance optimized than standard work shoes. Owing to their uniqueness in the overall design and the kind of protection they offer, it's not surprising anymore to find people confusing between Moc toe and steel toe designs.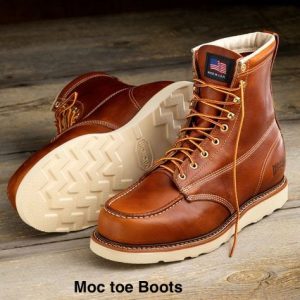 Perhaps a better question would be:
Is Moc Toe the same as steel toe?
Moc toe is not the same as steel toe. The term refers to a unique design pattern on the upper inspired by traditional footwear first worn by the indigenous folks. Moccasin boots feature a distinctive stitching, and they're lightweight, comfortable, and a lot more flexible than standard boots are.
In this guide, you'll learn more about Moc toe boots, from what they're to the features that set them apart from regular footwear in the category. We'll also give you some of the best examples to consider if you're ready to try these ones.
Let's get started.
What are Moc Toe Boots?
Initially made from Buffalo skin, Moccasin toe boots are some of the well-made footwear options in the market right now. Many modern picks feature toecaps made of leather, and it's possible to find a few options made of buffalo skin.
These boots have a u-shaped stitching running from the toe through to the vamp. Instead of a single leather piece, which is common with many standard boots, the Moc toe models feature at least two separate panels, which not only make them lightweight but also comfortable and flexible. A raised seam and narrow design are also typical to these boots.
The one thing that sets Moc toe boots from standard boots is the protection they offer. Their ability to offer protection from falling objects makes them ideal for professionals such as construction workers, electricians, and paramedics.
It's important to note that some Moc toe boots have steel toes built into them. This is a next-level design approach, which makes such shoes ideal for workers who grind day and night in environments subject to falling objects. Keep in mind that such work shoes are a little heavier. And although the addition of steel to the toe generally means carrying more weight with every step you take, they are worth the price point for the level of protection they offer.
Moc toe boots aren't the most stylish versions of boots. Yet combined with the right outfit, such as blue denims and white t-shirt, they can make you stand out for a Friday night out and regular day job.
Examples of the Best Moc Toe Work Boots
There are many Moc toe boots out there. They come at different price points because they are from different brands.
Here are two of the top ones that I recommend, especially because they're American made boots:
These boots are not only designed to keep your feet safe as you go about your daily business. They will also last a very long time thanks to the durable design.
What are Moc Toe Boots Good For?
There's more to Moc toe boots than just the unique design that sets them apart from other models in the market. Here are reasons why you should consider getting them instead of buying the plain boots:
1. Moc Toe Boots Offer Sufficient Support
Are you looking for the best work boots for flat feet? Or maybe you're in the market for boots that provide ankle support but don't know which one to choose? Moc toe boots can make the biggest difference.
The construction in the midsole is such that your feet gets the most comfortable resting place, making every step you take feel a lot more comfortable, even when walking on hard surfaces like concrete.
After breaking them in, usually within a period of just a week, the footbed not only becomes comfortable but also ends up contouring to your feet so you can maintain your natural stride as you walk.
2. Moc Toe Boots Can Keep Your Feet Safe
Moc toe work boots are suitable for professionals in the construction business they can protect feet from falling objects. In fact, they are among the types of boots that meet ASTM and other safety regulations that employers must adhere to in the workplaces.
With a robust design that's much better than what you get from plain boots, the Moc toe boots offer a great level of protection from slipping, compression, and puncture.
Given that these work boots provide the protection you need to work for long hours even in environments prone to safety hazards, they should be good enough for heavy and light-duty work.
3. Moc Toe Boots Have a Great Level of Insulation
There's no better way to brave chilly weather than to bundle up well for it. When it comes to footwear option, you want to consider a pair that can keep your feet warm throughout the season.
All the boots that bar water from getting to your feet are great. But they don't offer the kind of protection mandatory for arctic weather. Which is why insulated Moc toe boots are important.
These boots have a great level of insulation, which range from 200 to 2,000 grams. Although every gram of insulation adds extra weight to the boots, there just can't be a better way to keep your feet warm than to get them. Sure, you're going to drag that extra weight with you wherever you go. But your feet will stay in their best condition so you can work well for an extended period, even in places where temperatures drop to zero.
Conclusion
From what I understand so far, Moc toe boots aren't the same as steel toe boots. While the former refers to stylish design of the boots, the latter refers to the addition of a metallic reinforcement in the toe box to provide sufficient protection when a work.