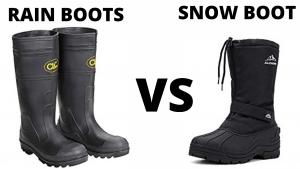 So the cold, chilly weather has finally struck and you're wondering whether to wear rain boots like hunter rain boots or snow boots instead? You've come to the right place. In this guide, you'll learn about the difference between rain boots and snow boots, so you can know what to settle for and make a better buying decision.
In general, you can wear snow boots when temperature drops below zero because they have a higher level of insulation. Rain boots are suitable for temperatures above 5 degrees. While snow boots are stylish and versatile enough to wear to any occasion, rain boots are only suitable for work so much so that you can't wear them to some formal events.
To be clear, there's more to these boots than just the level of warmth they provide and where you can use them. There are differences in construction, weight, and even style. That's why it's important to look at rain boots vs snow boots to make the differences between the two clearer.
Rain Boots Vs Snow Boots: What are the Differences?
Put rain and snow boots on the same table and you can easily tell the difference between the two, at least from a design standpoint. And given their structure, there's no way you can assume that they are similar in appearance and function.
So in the following section, I'll tell you the difference between the two boots, so you have more insights on the two.
Differences in Construction
Rain boots are made of 100% rubber or PVC. The material runs from the lugs under the sole all the way to the boots opening. Their linings are made of either cotton or polyester, which provides a decent level of warmth for normal temperature environments. Beyond that, the only other noticeable addition might be the brand's logo imprinted to the side.
Snow boots, on the other hand, are made of a combination of materials. The upper is an embodiment of leather with uniform stitching that attaches every piece together to create a unique masterpiece. There's a waterproof lining just below the leather, a layer that bars water from soaking into the boots. Snow boots even includes a decent level of insulation, although that differs a great deal when you compare snow and winter boots.
Difference in Weight
Rain boots are the most lightweight footwear category you'll ever come across. That's mostly because the design is simple and often the manufacturers try to keep them as lightweight as possible. But while they tend to be a lot more flexible, they are only suitable for work, which means you can't wear them to any other occasion.
Snow boots are heavier, and for a good reason. In addition to the standard weight of the boot is the Thinsulate insulation in the range of 200 and 2,000 grams. Every gram of insulation added to these boots means additional weight. And while that means you have to carry more weight with every step you take, at least you get a decent level of warmth that rain boots simply can't offer.
When to Use Rain Boots vs Snow Boots
You can wear rain boots when the outdoor temperature is at least 5 degrees. And remember, these are ideal for farm work. For what it's worth, you would look completely out of place if you wear rain boots for every use, although such an opinion is undeniably subject to debate.
Related: Best Rubber Work Boots
Snow boots are perfect for cold weather. Featuring a layer of Thinsulate with a decent level of insulation, snow boots provide the warmth you need to stand, walk, and work even when temperature falls below zero degrees. And provided you chose the right pair, you can match them with any outfit in your closet and wear them to any occasion.
Differences in Traction
Rain boots are great, no doubt. But they're not the most slip-resistant work shoes on the shelf. They have rubber soles that offer better traction on most surfaces, especially on dry surfaces such as concrete, and pavements. They seem to stand up to wet grass quite well and can easily navigate through mud paddles. However, they don't seem to hold up pretty well in extremely slippery environments.
Snow boots offer the best traction on slippery surfaces, which is why they're the best option to consider if you live in a region with frequent snowfalls. Generally, their outer soles feature thick lugs, which dig deep into ice or snow that's a few inches thick and then grip the surface well. Combined with the force from your body, the non-slip rubber soles keep you on your feet even on the surface that's extremely slippery.
Frequently Asked Questions
Can you wear rain boots in the snow?
You can't wear rain boots in the snow because they don't offer the insulation require to keep your feet warm in cold conditions. Moreover, manufacturers don't make them for icy conditions. So while they can stand up to rainy weather by allowing you to wade through water, they aren't non-slip to stand up to snowy and icy conditions. So wearing rain boots in the snow can actually cause you to slip and fall.
Can you wear rain boots in light snow?
It's possible to wear rain boots in light snow. Still, they won't give you a good level of traction to move faster. And given that they are not skid-resistant, we can't guarantee that they'll hold up nearly as well even on light ice and snow as actual snow boots do.
Conclusion
The differences between rain and snow boots are pretty much clear. If anything, snow boots are the right footwear to walk in when in the falls. And given that they have an insulation suitable for the condition, you can expect them to keep your feet warm even when temperature falls below zero. Rain boots, on the other hand, are only suitable for rainy conditions, not to mention that they are suitable for activities such as farming, landscaping, and wading through mud puddles in the garden provided you're careful enough to not allow water to get into the footbed.