I've tried tens of pairs of footwear on different work conditions, and I can tell you with confidence that work boots are a beast. From where I sit, I can tell you for certain that if you want the best work experience, especially in a heavy-duty environment, work boots are far much better a choice unlike the typical dress shoes and canvas that many of us wear to work. So where exactly can you buy work boots?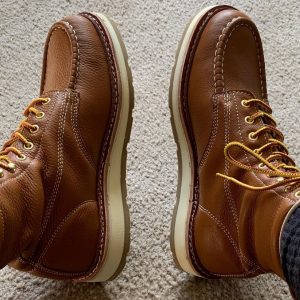 You can buy work boots online on Amazon, Zappos, Walmart, eBay, and brand websites. You can also buy work boots from the local store, which is a good option if you want to try them out before buying. Prices vary from dealer to dealer, and some sellers even allow you to bargain the price.
For many of us, buying work boots online is a more convenient option because you make an order with the click of a button and get the pair delivered at your doorstep.
For others, the thought of shopping at a local store appeals the most, especially since it allows one to test the footwear for fitting. Not to mention an open possibility to bargain the price.
Where Can I Buy Work Boots? (5 Stores to Consider) 
Whether you need a new pair of work boots or you need a replacement for your old ones, here are five best places to buy work boots right now:
1. Amazon
Amazon is the first place I go to when I plan to buy almost anything online, and for a good reason. For what it's worth, at least I can read customer reviews to determine whether a product in question is worth buying in the first place. And if the reviews are promising, I never see why the product in question wouldn't hold up.
It's also the place I highly recommend for buying work boot.
I've bought Wolverine Overpass and the typical Carhartt Wedge Steel Toe Work Boots on Amazon. And I must admit that after 6 months of use, they still look as good as new.
Since it's the most popular e-commerce platform on the web, Amazon allows you to shop for any kind of work boots you want.
Whether you need waterproof work boots to keep your feet dry in damp environment, or boots to keep your feet warm as you work, or boots that suit different feet conditions, there's something for you on Amazon.
Related: Tips When Buying New Work Boots 
2. Zappos
Zappos is growing to become one of the most popular stores online. As a niche relevant platform that deals only in footwear, Zappos is another great place to buy your next pair of work boots.
The platform features some of the best boots brands in the world right now, from Avenger and Ariat to Caterpillar and Thorogood.
I spent about 240 minutes looking at this site before adding it to this list. And I must admit that it comes second specifically for being a footwear site where you can buy your next pair of favorite work boots.
You won't find all the boot brands in the world on this platform as you probably would on Amazon. Yet given that some work boots come from companies such as Keen Utility, Merrell, and Nine West, Zappos isn't that a place to buy a pair of work boots.
3. Walmart
Just because I'm not a big Walmart's fan doesn't mean the brand doesn't sell and ship the best work boots.
After all Goodyear, Timberland PRO, and Wolverine are some of the top brands that have their boots listed on the website. If anything, it makes Walmart one of the go-to ecommerce stores to buy your next pair of work boots.
One thing I love about Walmart's listings is that they include the shipping duration, telling you exactly how long you have to wait before your order gets to your doorstep.
The only thing that's a deal breaker with Walmart is their shipping cost. You pay between $17 and $65, which is quite high. That's almost 100 times what Amazon charges for shipping. So keep this in mind if you wish to buy work boots on Walmart.
4. eBay
For some of us, eBay is the last place we want to buy anything. For others, eBay isn't an option at all because the buying and selling process can take longer than expected.
But it's still a good marketplace to consider if you're looking for pair of work boots for your next job.
So whether you're looking for pre-owned work boots in good condition or you wish to deal with someone who sells new pairs straight from your favorite brand, eBay is the best place to go.
To be clear, your favorite boots brand won't be selling you the footwear on eBay. It means that even if the Thorogood boots are made by the brand, someone else who has bought them is the one who will be selling the work shoes to you.
In other words, eBay is nowadays the marketplace where anyone can sign up as a seller and sell anything they have on offer, including a pair of work boots.
5. Brand Website
Up until this point, all the buying options we've looked at are third party sort of, and they're quite a few good places to buy work boots.
However, if you're the one person that would rather buy work boots from the brand itself, the best option to order your next new pair of work boots is the website's brand.
In other words, if you wish to buy Timberland boots, get the directly from Timberland's website. And if you're a fan of Ariat work boots, go get them from Ariat's website.
Conclusion
Now that you know where you can buy work boots, it should be easy to find a pair to wear to your next day job. It doesn't matter whether you're a construction worker, a first responder, a landscaper, or a motor cyclist, you can be sure you will find the best work boots from the options listed in this guide.