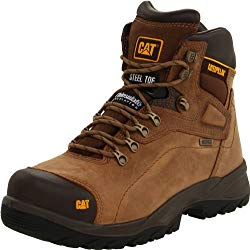 There was a time when we thought that boots with the usual standard toes were a thing. But when Red Wing released their first steel toe boots in the 1960s, footwear safety took a new shape and became a truly big factor.
For those of us who work hard under harsh conditions and in places where objects can easily fall and injure our feet, steel toe boots are the best footwear that comes to the rescue. Thanks to Dr. Marten, Ariat, Red Wing, and Timberland Pro, we can now work in environments where objects fall to the ground more often and never have to worry about our feet getting hurt.
To be clear:
Steel toe boots are popular because of their safety factor. Not to mention that they are durable and readily available for multiple uses. So where can you buy steel toe boots?
You can buy steel toe boots online from e-commerce stores such as Amazon and Zappos. Buying directly from the brand is also a good option, especially since you can always get a good deal when the run promotions. You can also buy steel toe boots from a shoes store near you.
If you consider buying steel toe boots online, it's best to stay away from eBay because the marketplace asks for a rather high shipping fee. For what it's worth, I don't think it makes sense to buy pre-owned steel toe boots for about $100 and pay a $65.9 as shipping fees.
Also Read: Tips on How to Make Steel Toe Boots More Comfortable
What Are Steel Toe Boots?
When someone tells you they wear steel toe boots, they mean their footwear feature a protective reinforcement in the toe area. Designed with industrial workers in mind, steel toe work shoes can protect your feet from compression caused by falling objects.
Related: What Is a TPU Toe Cap?
The first steel toe boots made by Red Wing featured steel construction. These days, though, some brands feature protective reinforcement made of composite materials such as aluminum or thermoplastic polyurethane.
Whether or not you need to buy steel toe boots depends on your type of job. Quite too often, these boots are idea for professionals in occupations that require safety, including construction, manufacturing, and first respondent jobs to mention just a few.
Steel toe boots have labels that indicate the national and international standards they meet. At the same time, they identify the level of protection that they provide, making it easy for you to buy the right pair of the best work boots for the right job.
Related: Is Moc Toe The Same As Steel Toe?
Where Can I Buy Steel Toe Boots?
Steel toe boots are such a big deal these days. So much, in fact, that even those who don't work in extremely hazardous conditions find them to be quite helpful. And although they are quite heavy from the additional weight of the steel construction or composite materials, they're worth the money for the protection that they offer.
So if you're ready to buy steel toe boots and wondering where you can get the best deals fast, here are four places to consider right now.
1. Amazon
Whether you're into Timberland Pro and Thorogood boots or you wear by Merrell and Ariat boots, there's no better place to find the right pair than on Amazon. Because Amazon is the largest e-commerce website on the web, it's unlikely you'll miss your favorite boots brand on the platform.
Amazon is a good place to start because, in addition to the product descriptions, you can read what other buyers have to say about the pair of steel toe boots that you wish to buy.
Of course, Amazon's review section can be such a heated place where people don't hold back their thoughts on a product. And that's a good thing because, at the end of the day, you want to get the best value for your money.
Click here to see the best steel toe work boots on Amazon.
2. Zappos
Zappos isn't as huge as Amazon is, but it's a good place to buy steel toe work boots if you wish to shop from a niche specific ecommerce platform. Zappos is an Amazon owned company, so you can expect it to have the same level of credibility and trust.
One thing you'll notice about this platform is that it doesn't feature all the best steel toe boot brands in the market. And that's actually a disadvantage.
Like Amazon, Zappos has a review section under each product where buyers who've used the product can share their view about the footwear in question. This information can be incredibly useful in helping you make the right purchase decision as far as steel toe boots are concerned.
3. Brand Website
By far the best place to buy steel toe work boots is on brands websites. This option allows you to browse a collection of different shoes made by the same brand, and you can often find what you're looking for fast without doing countless searches on the web.
Here's how it works:
Let's say you're a big fan of Timberland boots. All you have to do is to go to Timberland's website, check out the styles of steel toe boots that they have on offer, create a customer account, place an order with the brand, and then track your shipping.
It's that simple.
One thing that makes brand sites incredibly interesting to use is their find a store feature. With this option, you can  find stores that sell these work boots near you. That way, you can skip the waiting period for shipping and get your work boots right away.
Conclusion
As you can see, there's more than one place where you can buy steel toe work boots. Whether you buy on Amazon, Zappos, or brands' websites, make sure you're choosing the right size of boots to avoid the problem of incorrect fitting.
Also, remember to check the price when buying, as they tend to vary from website to website. Price comparison will help you a great deal to buy a pair of steel toe boots within your budget. Also, don't forget to check the quality of the construction.